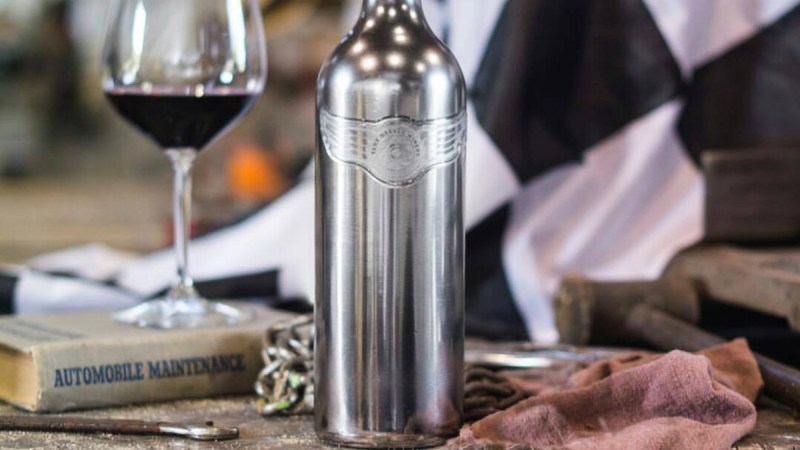 We've all been there. You're going to a dinner party hosted by your partner's coworker and you've been tasked with going out to get the bottle. You were told to get a red. If you were to walk into a store, you'd find quickly that there are five aisles of reds. What if you didn't have to worry about that? What if you had a bottle, waiting for this exact moment, that would stop everyone at the party in his or her tracks because the bottle is just so damn pretty? It wouldn't matter that you got drunk and insulted the host's kid at the last Christmas party, because the moment they laid eyes on this bottle, all would be forgiven.
That bottle exists. Introducing Chrome Dreams.
Chrome Dreams, produced by Tank Garage Winery in Napa, is a Cabernet Sauvignon-based blend (87 percent Cabernet Sauvignon, 8 percent Cabernet Franc, and 5 percent Petite Syrah, to be specific), but we need to take some time to discuss the true talking point here: the bottle.
The bottle is chromed glass. Chrome. That fact alone literally ranks it among the top five most badass wine bottles ever. I mean, do we even need to say more than that? (No, but you know we're going to.) Tank spent over a year developing the bottle as a nod to classic American automobiles.
If you happen to make it past the packaging — it took us a while, we admit — you're greeted by crème de cassis and vanilla notes; a body of rich, ripe dark fruits; and hints of star anise to round it all out.
Want to get your hands on a bottle of this? Well, you're going to need to head to Napa, as only 500 cases of Chrome Dreams were produced. Originally, they were sold exclusively at the winery, which is located in Calistoga. (Did we mention that the winery itself is housed in a converted 1930s service station?) Now, though, you can find the wine for purchase online here.
Come on, could it get much cooler? A bottle will run you $75, but that seems like a trifling amount when you consider the badass points you're going to gain from your car-loving friends and family.
Need a little more reason to head to Napa than just one bottle of wine? Good thing for you, we've got you covered. Check out where else to visit in Napa and Sonoma while you're out there.
Feature image courtesy of Tank Garage Winery/Facebook.