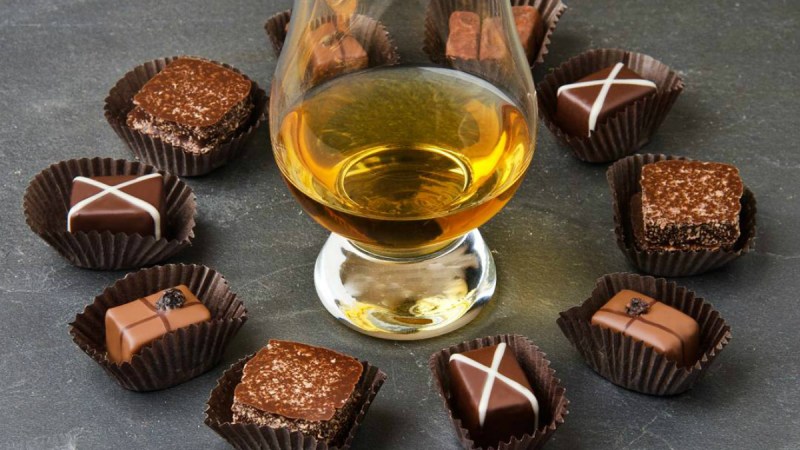 Every January 25, people around the world gather to celebrate the life of the Scottish poet Robert Burns by reciting poems, drinking whisky, and, in general, having a damn good time. The tradition of Burns Night is one that's been going on since 1801 and (thankfully) shows no signs of slowing down. This year, Burns Nighters will have a little extra something to help revel in: a special collection of Scotch-infused bonbons made by L.A. Burdick Handmade Chocolates.
The chocolates were originally created for a dinner club of Scotch whisky fans back in 2004, but it wasn't until 2009 that chocolatier Michael Klug decided to flesh out an entire collection that would be available to the public. There are seven pieces in total, featuring six different whiskies.
You might need a napkin, because you're probably going to start salivating when you read these descriptions:
Lagavulin truffle:  Chocolate truffle with a pronounced peat and smoke note and a hint of Lapsang Souchong tea (though it doesn't have actual tea in it).
Macallan: A square bonbon with two layers of filling. First, a dark ganache flavored with Macallan cask strength whisky. Second, Macallan-flavored pistachio almond paste. Coated with dark chocolate and topped with a split pistachio.
Talisker: A rectangular bonbon coated in milk chocolate with a currant as garnish. Ganache made with hazelnuts, currants, and Talisker whisky.
Springbank: A large rectangular bonbon flavored with honey and the mildest of our 5-different scotch whiskys. The chocolate is enrobed in dark chocolate and garnished with a double fork design. Springbank whisky is medium bodied with hints of vanilla, dried pear and almost floral notes.
Highland Park: A square bonbon with the flavor of grapefruit blended with one of the finest all-round single malt whiskies. Enrobed with dark chocolate and sprinkled with shaved milk chocolate.
Glenfarclas: A small rectangular bonbon with a diagonal white chocolate cross resembling the shape and look of the Scottish flag. The flavor is a medium peat whisky that is paired with dark chocolate and dried figs.
Lagavulin Honey Truffle: Honey truffles in the same way as always with the exception that the thin ganache center is made with Lagavulin instead of rum.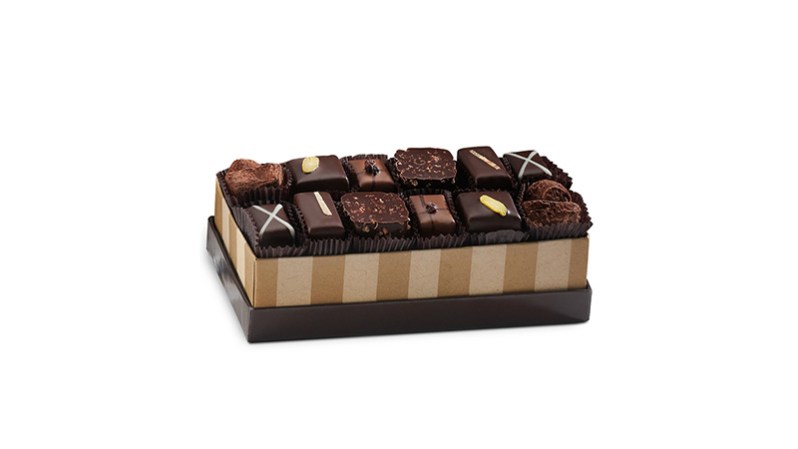 Each of these special-edition chocolates was designed to match the flavor profile of the whisky being used.
"For example," Klug says, "the Highland Park is scented with some grapefruit zest, since the whisky has a citrus note in its profile. Glenfarclas is paired with fig, since the dried fruit note is very pronounced in the whisky. The same is represented in the Talisker and its currant notes."
The amount of whisky used, too, also differs for each chocolate.
"We want to have the whisky be in dialogue to the chocolate. As you find different strengths when tasting the whiskies on their own, we also added the amount that would represent it's flavor strength within the chocolate. Lagavulin is by far the most intense of all the chocolate bonbons, as the whisky would be in a taste comparisons when consumed neat," Klug adds.
Hungry yet? Thirsty? You can pick up your Robert Burns Scotch whisky chocolates here. The quarter-pound box will run you $26 and the half-pound box is $42.
Feature image courtesy of L.A. Burdick Handmade Chocolates/Facebook.
Editors' Recommendations