The enthusiasm for the hamburger cuts through Chuck Sillari's thick Boston accent like a steak knife through a sirloin.
As one of the co-founders of mini empire, Boston Burger Co., you'd expect nothing less. The Boston native is at the helm of a business that has three locations across Massachusetts, plus nine in the works across the Middle East.
As his burger bounty grew, though, Sillari saw his next opportunity almost by accident. He recalls, "We were in the office one day and one of our employees had a Hello Fresh box delivered. I thought 'this can't be real' – people are getting groceries delivered by FedEx?"
That was in early 2016. He'd spend the next six months developing a way to package and send his famous Boston burgers around the country. That September, BurgaBox was born.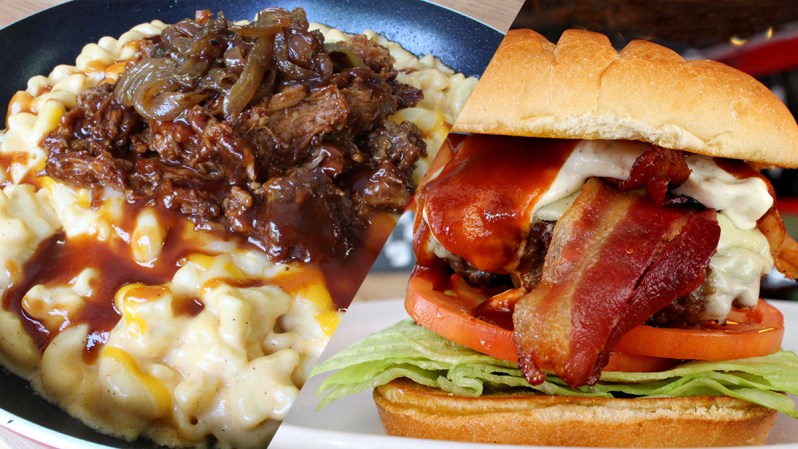 The concept is similar to the general meal-delivery service: place an order online and within 48 hours a bounty of goodness will arrive at your doorstep. You can choose between an interval delivery subscription and a one-time delivery.
That's just about where the similarities end. Where the major players pride themselves on healthy, sustainable options, BurgaBox is a gluttonous feast.
Prospective buyers can peruse through a number of options with names like "The Hot Mess (bacon, sweet potato fries, jalapeño) and their most popular, "The WTF Burger" (onion ring, pulled pork, pickles). Each box comes with two gigantic burgers and a bevy of sides.
It's not just a smattering of over-the-top food plopped in a box either. Everything comes from Burgabox's own kitchen, including their lauded mac and cheese, which is loaded with pulled pork. (Sillari says a new flavor of the side is in development monthly).
People are coming back too.
"We see more than 70% of our buyers return," Sillari estimates. "Once they've tried it, people are referring others or buying boxes as gifts."
Burgabox is a continually evolving culinary beast. Sillari says they're working on a new West Coast distribution center, which will make delivery even faster to those on the other side of the country.
You can see their entire culinary collection here.
Editors' Recommendations