You might not be able to have your cake and eat it too, but the same might not be true when it comes to drinks. Around the world, spas and hotels offer guests the opportunity to be the garnish in various alcohol baths and soaks. From champagne to vodka, there are boozy baths out there for everyone. Just like with drinking, though, these treatments should be enjoyed in moderation (unless you're into getting contact drunk).
Champagne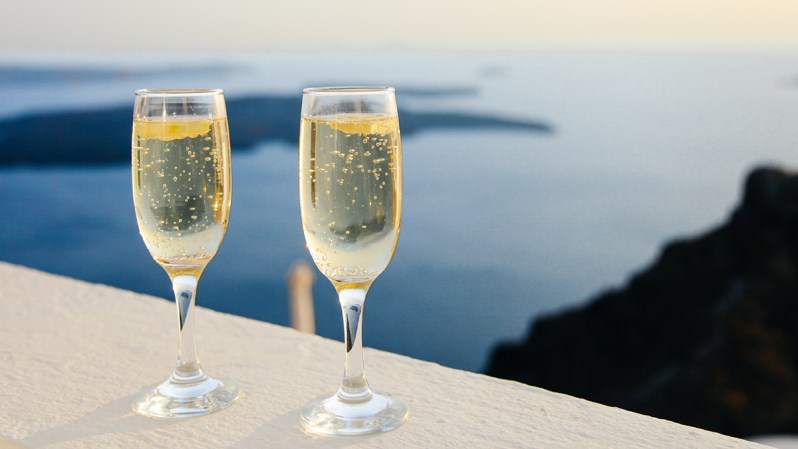 What no one tells you about a champagne bath is that you can probably only stand a few minutes of it. Hotels and spas typically pour bottles directly into a tub which means certain…orifices will absorb a little alcohol. Add bubbles to mix and you'll definitely feel like you're floating on cloud nine. Waiting for the champagne to go a little flat is your most comfortable bet…if you trust that housekeeping won't accidentally pull the plug. Though not officially on many menus, several high-end hotels and resorts will provide the service upon request, mostly for the cost of the bottles used. If you have the patience, resources, and a sword, this might be best saved for your tub at home.
Wine
Odds are high that you've heard of vinotherapy, much to the delight of the French couple behind Caudalie Paris who own several patents in relation to its modern applications. Caudalie Paris has spas around the world that offer a swath of treatments based on wine. Outside of this empire, vinotherapy is typically found in areas with an established wine country. From California's Kenwood Inn & Spa that offers a pinot noir bath to Il Salviatino's grape seed wine baths in Italy, you don't have to wander too far from a vineyard to enjoy the detoxifying effects of wine.
Beer
Ready to trade your shower beer for a beer bath? Unlike other alcohol baths, the tubs at Prague's Beer Spa Bernard (Pivní lázně Bernard) aren't filled with the product they tout. Much like a regular bath, beer ingredients (hops, yeast, etc.) are poured into a tub as hot water is added, so you get the aroma of beer without the osmosis. In Iceland, their Beer Spa (Bjórböðin) uses a small amount of beer in their treatment. Both spas offer a personal, bath-side keg full of real beer to further enhance your relaxation.
If you'd rather not spring for the international airfare, several spas in and around Denver, Colorado offer foot soaks that capitalize on the local brewery scene. The Denver Ritz-Carlton and Vail's Four Seasons provide the most popular and luxurious soaks in the area.
Vodka
If full alcohol baths aren't your thing, many American spas use vodka in pedicure treatments, either diluted or in a scrub. In addition to its effectiveness at softening calloused feet, vodka also provides some respite for those with particularly odorous feet. If you have a particularly active job or a bad case of athlete's foot, this is the treatment for you.