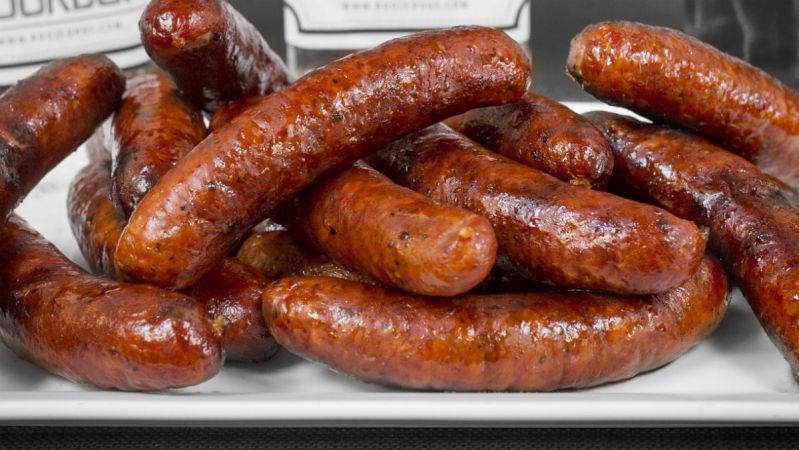 When you think of the words "booze dogs," one thing probably comes to mind: Saint Bernards. You're not wrong to think of those Alpine heroes, but there's a new association you can make when you hear that phrase — and we think you're going to like it.
Booze Dogs, a relatively new company based in Greenville, North Carolina (and winner of a 2018 FedEx Small Business Grant), makes liquor-infused bratwursts. They're available now and they're perfect for any summertime activities you might be engaging in.
The company is run under the guise of Mr. Hughes, a dapper AF boxer who just wants the world to enjoy good smoked meats (who also happens to be the pet of real Booze Dogs owner Joe McGowen).
Booze Dogs come in three different flavors: Jolly Rover Rum, Prime Ginister, and Bourbon Bluetick. All Booze Dog brats are made with pork and smoked in small batches after being marinated in actual spirits. They are pre-cooked, which means all you need to do is thaw' em out and pop' em on the grill (or however you're cooking them).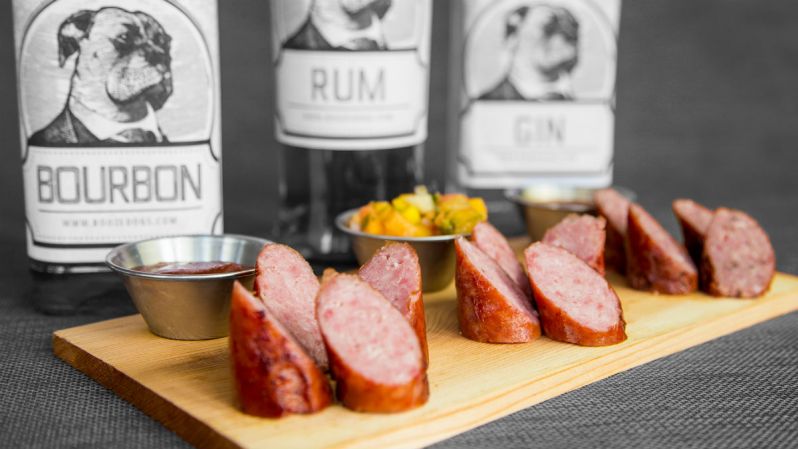 From the outset, you can tell these dogs have booze in them. The nose upon opening the packages isn't overwhelming, but it is there. This carries through cooking and, of course, eating them. Never is the taste overpowering — with fake flavors, or when food has been soaked too long in alcohol, you run the risk of that being the dominant seasoning. Instead, the boozy taste blends with that of the smoked pork for a pleasant experience from one end of the brat to the other.
Of the three flavors, our favorite was, by far, the bourbon. With a nice smoky body, these dogs were great with just a swizzle of spicy brown mustard on a lightly toasted bun. The rum came in next, thanks to a hint of sweetness and molasses that was accentuated by some baked beans. The gin, we admit, we were hesitant about (who thinks to pair pork with gin, after all?), but were pleasantly surprised with the lemony notes and some herbal flavors that played off the smoked pork. We served the Prime Ginister dogs sliced in a pineapple fried rice. No matter what flavor you get, you'll be in for a treat.
For the philanthropic folks out there, a portion of all sales is donated to Best Friends Animal Society for the well-being of Mr. Hughes' (and man's) best friends.
You can buy Booze Dogs online here.
Editors' Recommendations