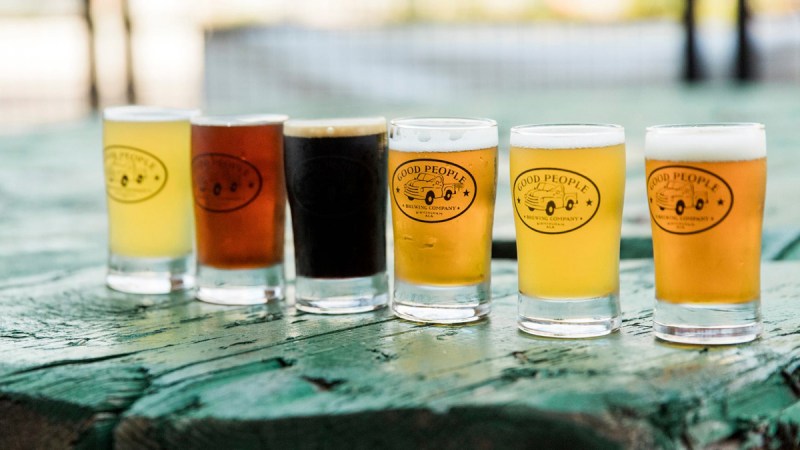 Alabama's craft beer scene has come a long way over the last few years. Like many southern states, Alabama long suffered under archaic, post-Prohibition laws that limited alcohol percentages, rendered unfair taxes, and kept breweries from distributing their own libations. Thankfully, times have changed, and cities like Birmingham are brimming with creative craft breweries — so many, in fact, that it warrants a Birmingham craft beer guide. The next time you visit The Magic City, try a local beer from one of these hometown mavericks.
Good People is somehow the elder statesman of the Birmingham craft movement, even though they haven't yet reached 10 years in operation. The taproom, located in the Parkside district, is a great place to see the bustling, kinetic energy of the brewing team while you sit back and relax at the horseshoe-shaped bar. Be sure to get a glass of Good People's flagship beer, the Double India Pale Ale Snakehandler.
TrimTab may be relatively new on the scene, but it is making waves with its high quality limited lineup. Pillar to Post is a Rye Brown Ale that features seven different malts and citrus-forward hops. TrimTab's seasonal Raspberry Berliner Weisse is a tasty thirst quencher for those hot Alabama days.
Cahaba has some of the most adventurous brews in Birmingham, including Bourbon Barrel Aged Oka Uba IPA and Kiwi Kolsch. For those looking to expand their beer knowledge, Cahaba created a nine-part, single-hop pale ale series so you can really taste (and smell) how different hops affect the drinking experience. You'll enjoy any of these beers even more if you consume them in the brewery taproom, a large, industrial space outfitted with high ceilings and skeeball machines.
If you're only passing through Birmingham and don't have time for the full brewery experience, stop in at Highland Package Store or the local Hop City location to grab some bottles and cans to share with friends back home.
Editors' Recommendations