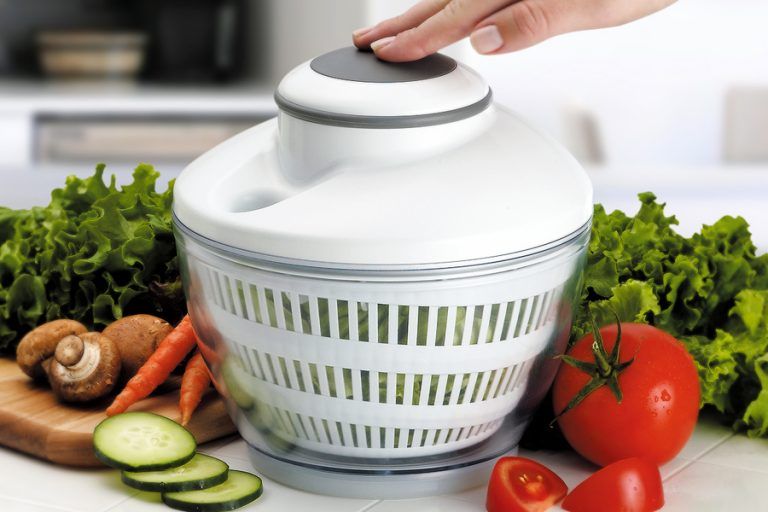 There are few things more disappointing than a soggy salad. But at the same time, you don't want to forgo the lettuce-washing process. Otherwise, you can risk eating dirt, pesticides, and other nasty stuff that can cause food-borne illness.
Salad spinners are essential for any leaf-eating human being. Designed to wash and dry vegetables and fruit ,and notably, lettuce heads, the salad spinner works like a clothes dryer, spinning water droplets that collect on the outside of the container.
Related Guides
The best salads have leafy greens that have recently been washed. Washed greens taste fresher and are more crisp. Buying a salad spinner can help you get restaurant-quality salads for a fraction of the cost.
Here's the rundown on the best salad spinners on the market today.
Best Overall: Cuisinart Salad Spinner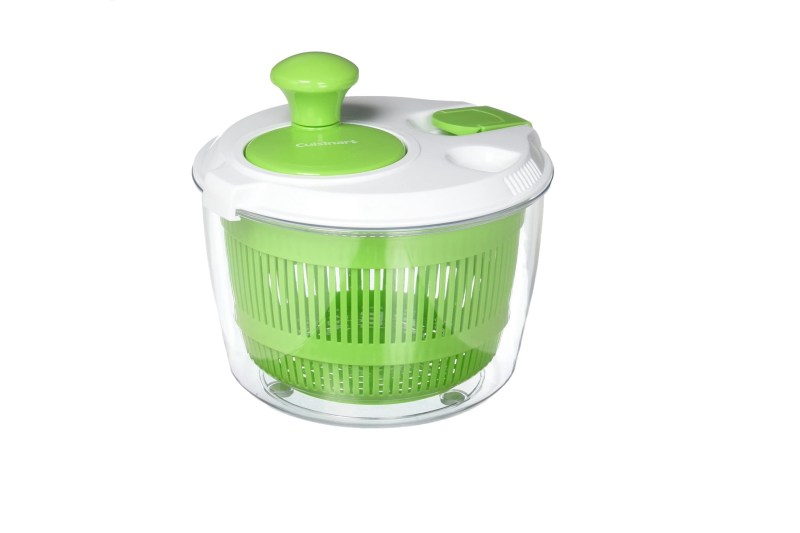 This spinner has a bright, fresh green and white design. There is an accessible opening at the top, allowing you to add water without removing the entire lid. With a 3-quart capacity, the Cuisinart is big enough for a 2-person serving of vegetables, salad greens, or fruit. This salad spinner also gives you some impressive 'bang for your buck, coming in at a price lower than most.
Best Small Salad Spinner: The OXO Good Grips Salad Spinner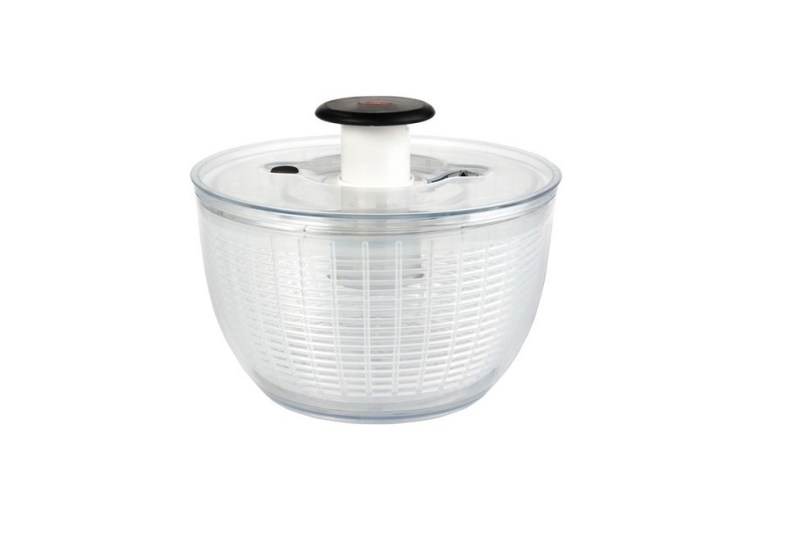 This easy-to-use spinner is compact in size and versatile. It features a brake system, allowing you to stop mid-spin to drain or add water, or remove the lettuce. The spinner's basket doubles up as a colander for drying wet fruit and vegetables or even pastas. The OXO salad spinner is covered with OXO's comfort grip, comprised of soft rubber making it a pleasure to use.
Best Durable Salad Spinner: OXO Steel Salad Spinner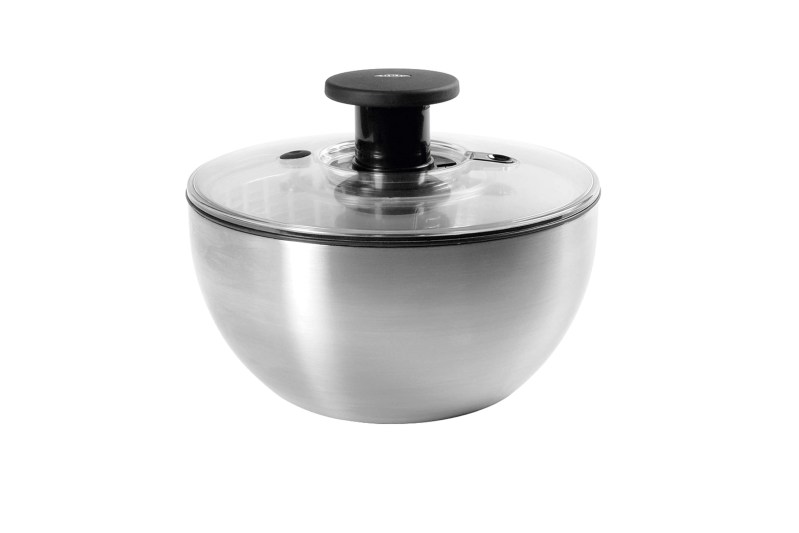 This OXO salad spinner has a bowl made from stainless steel. The bowl can be used separately and is constructed with a non-slip base, making it sturdy to use on countertops. The lid contains OXOs spin brake and is clear, allowing the user to see into the salad spinner. The best part of this spinner is the steel bowl, which is a useful addition to any kitchen. Stainless steel is long-lasting, and easy to clean.
Best Multi-Use Salad Spinner: FAVIA 6 Quart Large Salad Spinner with Vegetable Slicer
If you are in need of a salad spinner and a vegetable slicer, then this device is for you. The FAVIA Salad Spinner has been cleverly designed to include interchangeable heads that allow for chopping, slicing, grating, and grounding of a variety of foods like vegetables, fruits, nuts, cheese, and chocolates. The spinner has a 6-quart capacity and has a clear bowl and a unique side-to-side spin mechanism. Save time and money with this jack-of-all-trades kitchen helper.
Best Portable Salad Spinner: Prepworks Progressive Collapsible Salad Spinner
The Prepworks Salad Spinner is small and collapsible, making it a dream if you are tight on space, or if you need something that you can throw in a bag to take to your holiday house. Collapsing to half its size, the silicon-like exterior allows you to simply push the bowl down to flatten it. The lid has been designed with a low profile, and without a handle to further make it compact. Great things do come in small packages with this salad spinner.
Most Affordable Salad Spinner: Eternal Salad Spinner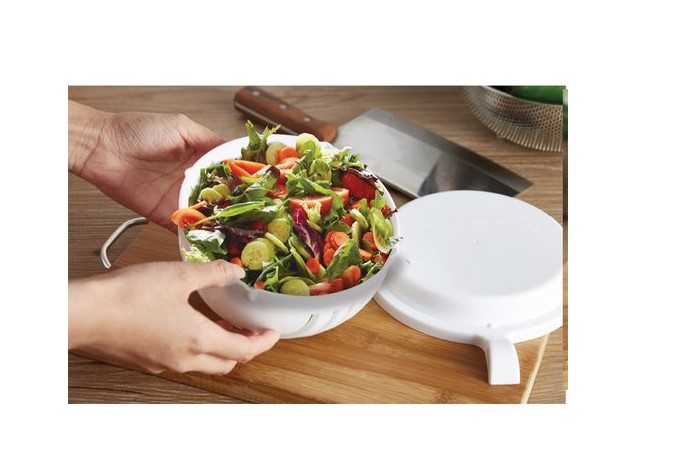 This simple yet effective spinner is at a price that few would say no to. Featuring unidirectional slits, the spinner allows you to slice salad foods with a knife, whilst inside the spinner after washing your salad. Wash, drain, slice, then toss your salad all with one, affordable device.
Easiest to Use Salad Spinner: Your Choice Kitchen 3 Piece Salad Spinner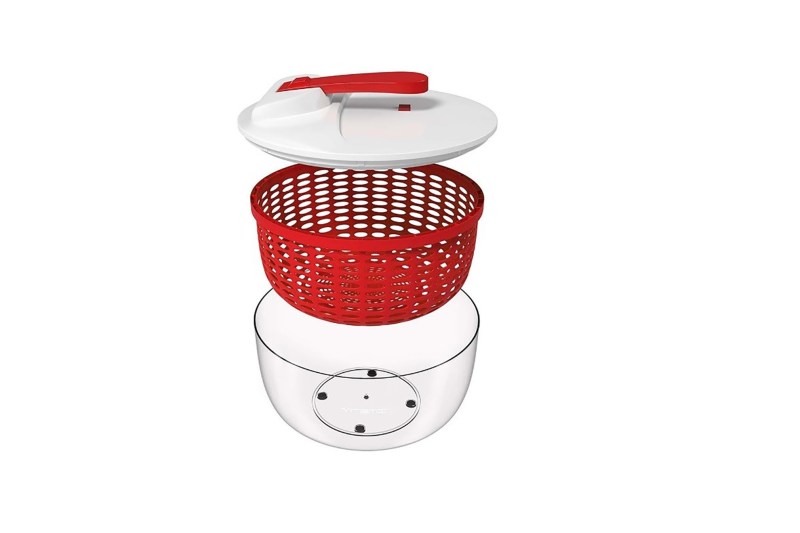 This Salad Spinner by Your Choice is an easy to use, no-fuss product. With a large capacity, transparent bowl, a crank handle, and spout for filling and draining, the Your Choice Salad Spinner has everything esteemed salad makers look for in a salad spinner. It is also affordably priced.
Best Fancy Spinner: Rosle Salad Spinner with Glass Lid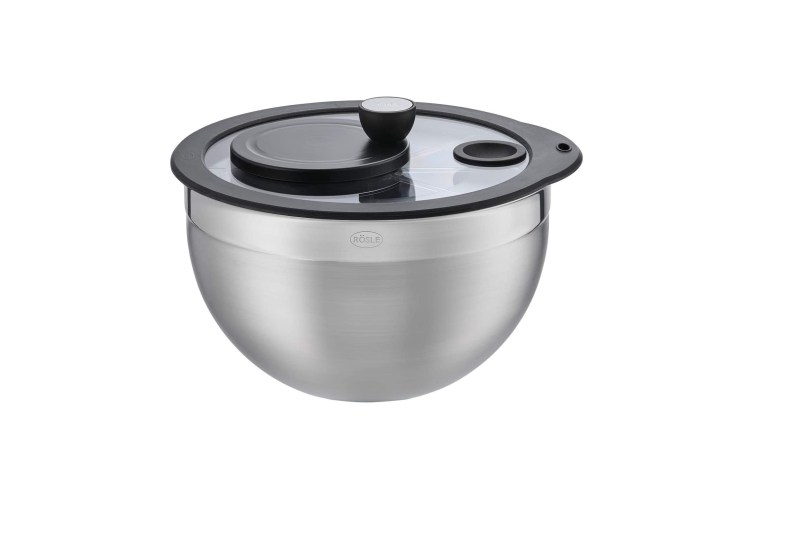 The Rosle Salad Spinner aims to bring a professional experience to home kitchens. Made with a stainless steel bowl and a glass lid, the spinner doesn't pick up smells and cleans easily. This item is for those who want to take their food preparation to the next level. Due to the high-quality material used, the Rosle should last you a lifetime.
Best Design: MUELLER Large 5L Salad Spinner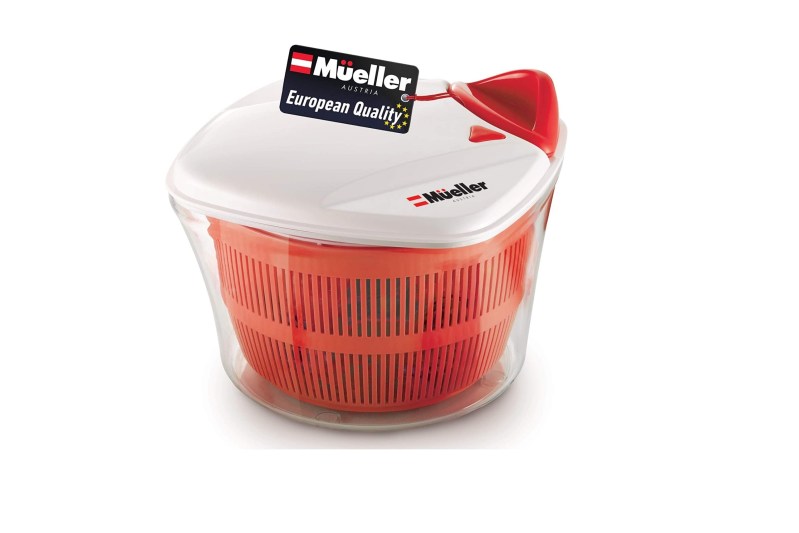 Designed in Europe, this salad spinner not only looks great but has also been assembled to maximize its utility. The manufacturers promise quality craftsmanship that sets a new standard in salad spinners. This spinner has an anti-wobble feature, a pull bar spin system, a braking button, and is crafted from heavy-duty ABS plastic, making it a strong, smart choice!
Most Quirky Salad Spinner: Widgeteer Spin and Serve
Made from high-grade plastic, this versatile salad spinner has an unusual white and green flow design that will spice up your kitchen cupboard's aesthetic. The spinner holds 5 quarts and is made with a low-profile, space-saving spin knob so that it packs away efficiently.
There you have it: the web's best salad spinners in one neat list. Don't worry about searching hundreds of online vendors to find the right salad spinner for you; our list contains the best spinners at the most reasonable prices. Happy spinning!
Editors' Recommendations