It's hard to believe that it was 32 years ago that the first pellet grill was sold by Joe Traeger. It didn't have all the bells and whistles these types of grills have today. Still, pellet grills certainly revolutionized grilling and smoking for home and professional grillmasters. It's really been in the past 10 years or so that pellet grilling has really taken off.
There are many reasons why someone might prefer a pellet grill over a gas grill or charcoal grill. However, the most likely reason is that pellet grills combine the smokey flavor of charcoal with the convenience of gas. You can achieve the heavy sear that gas is known for or do a slow-and-low smoke as with charcoal. With recent developments in temperature-control technology — including Wi-Fi — you can set and forget your meats to smoke.
Pellet grills come in various shapes, sizes, and levels of functionality. Check out our picks for the best pellet grills on the market right now.
Related Guides
Camp Chef 36-Inch Wi-Fi Woodwind Pellet Grill and Smoker with Sidekick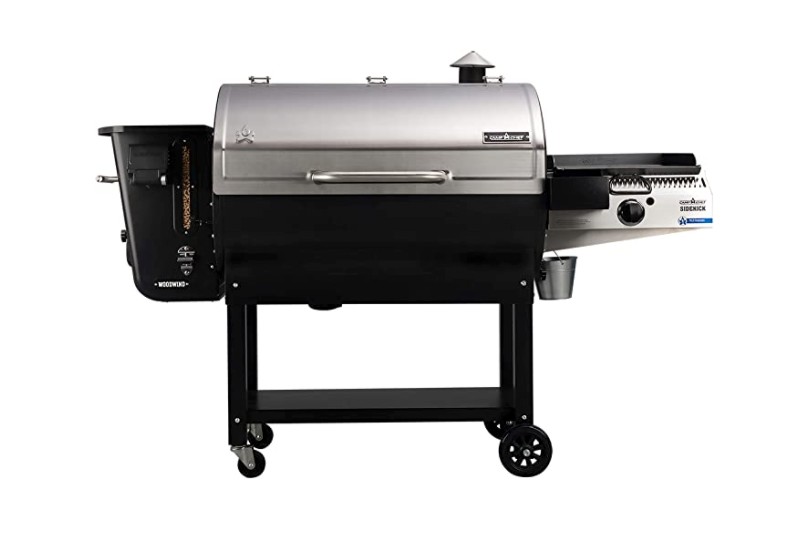 The Camp Chef 36-inch Wi-Fi Woodwind Pellet Grill and Smoker with Sidekick is a beast of a pellet grill that provides versatility and performance. It has a slide and grill flame management system, which under a direct flame will produce temperatures of up to 650 degrees Fahrenheit (although the digital controls range from 160 to 500). The included sidekick, including a cast-iron griddle (shipped separately), also cooks with actual gas and is a handy tool for achieving heavy sears, toasting bread/buns, or any other type of cooking for which you might need a flat-top surface. It has a chamber capacity of 7,000 cubic inches and a cooking rack area of 1,236 square inches. It has a straightforward digital control panel for selecting your temperature and smoke levels. Finally, the icing on the cake is the four-probe Wi-Fi-enabled smart grilling system that allows you to monitor your meat's temperature through the control panel or through a smartphone app. On top of everything, the stainless steel design makes this beautiful grill easy on the eyes.
Traeger Pro Series 575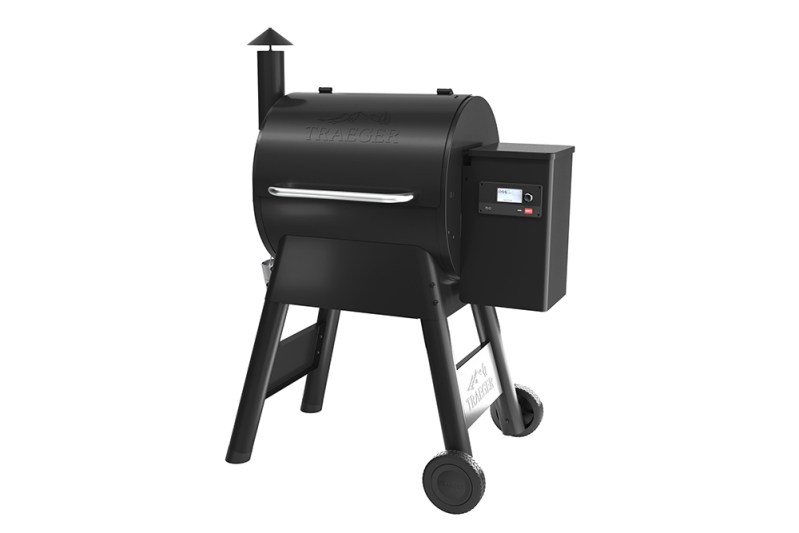 After name-dropping Joe Traeger (the father of the pellet grill), you know we were bound to feature one of his grills. According to Traeger, the Pro Series line of pellet grills is the bestselling in the world. Although we're not going to take the time to fact-check that, it's a plausible claim, so we'll roll with it. The 575 Pro Series represents the amount of square-inch cooking space. This grill is a perfect medium-size pellet grill that can handle entertaining multiple guests. The Pro Series features a new D2 drivetrain that allows for faster startup every time, digital temperature control that goes up to 500 degrees, and app-controlled grilling through Traeger's WiFire technology.
Oklahoma Joe's Rider DLX
This is another beast of a pellet grill that features over 1,200 square inches of cooking space. The Rider DLX from Oklahoma Joe's (by Char-Broil) is a pellet grill that can handle just about everything. With a 578-square-inch primary cooking space made of porcelain-coated cast iron, and it can reach temperatures up to 650 degrees. When ready to switch from smoke to sear, just flip the giant switch on the front of the grill from smoke to sear (which will give you direct flame heat). The Flex Grate technology is excellent, giving you a lot of creativity in your food layout. You easily can smoke a 20-pound turkey for a full 24 hours in this bad boy without refilling the 20-pound hopper.
Green Mountain Davy Crockett Sens Mate Portable Wood Pellet Grill
This pellet grill from Green Mountain Grills is technically "portable,"  but the 57-pound grill is pretty cumbersome and is not exactly the most packable of travel grills. You'll need a sizable trunk to accommodate it. That said, this compact grill is high-performing and versatile. It has a 9-pound hopper and dual voltage control, meaning you can operate it on a 12-volt or 110-volt outlet. It has great Wi-Fi connectivity to go along with the one probe. It has enough grilling area for one large brisket. This is an excellent and affordable starter pellet grill for a bachelor pad or the happy couple.
Pit Boss Classic 700 Wood-Fired Pellet Grill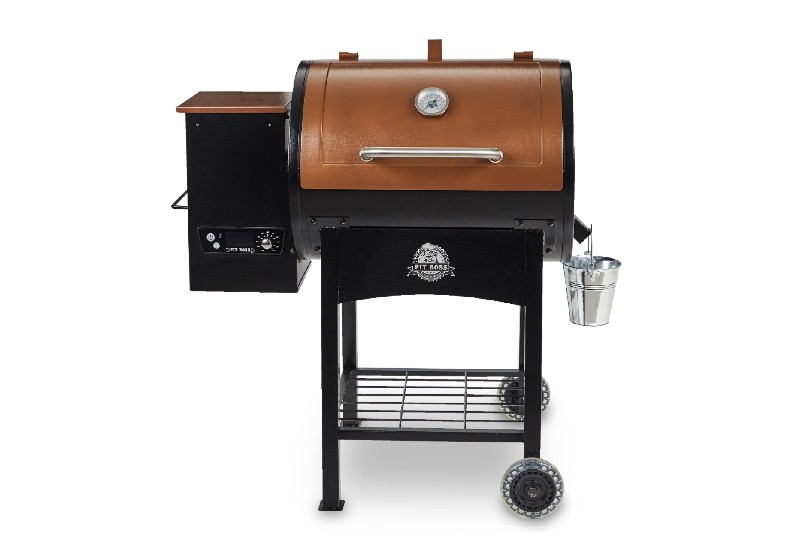 This 7,000-square-inch pellet grill from Pit Boss is a great no-frills grill. If you can live without Wi-Fi connectivity and integrated meat probes, this is grill will deliver delicious smokey foods at an affordable price. This grill has a 21-pound hopper capacity for long smokes. A common-sense feature we liked about this grill was the analog thermometer in the lid which you find in most grills, but many pellet grills tend to not include. It allows you to confirm that the LCD temperature control setting is correct.
Traeger Ranger Pellet Grill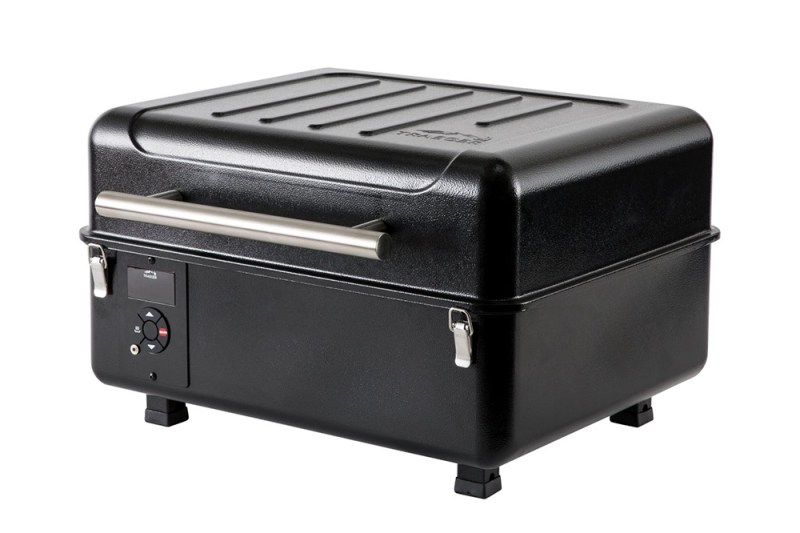 If you're looking for the ultimate travel pellet grill, the Ranger from Traeger is hard to beat. Although this grill is 3 pounds heavier than the Green Mountain Davie Crockett (60 pounds), it has a more compact design making easy easier to pack away. The compact design, however, does sacrifice some grill space. You won't fit a large brisket (perhaps a portion of one), but you can grill 10 hot dogs or six burgers. The included cast iron griddle is perfect for reverse searing two thick ribeyes.
Weber SmokeFire EX6 (2nd Generation)
If you're a Weber fanboy, then you'll probably want to add the SmokeFire EX6 to your collection. Although we expected more in the accessories and storage department from Weber, its performance won't disappoint. It offers 1,006 square inches of cooking space, and the smaller, more affordable model (EX4) offers 672 square inches. With the second-generation model, Weber has seemingly resolved previous customer complaints about pellet ignition issues. A nice feature of this grill is the low-pellet alarm that sounds when your pellets are getting too low. Like most pellet grills these days, it comes with Wi-Fi connectivity for remote temperature control and a meat probe to monitor your smoke. Perhaps the best thing you get when you buy the SmokeFire, as with all Weber products, is a brand that stands behind its products. This grill specifically comes with a money-back guarantee and a mix of three to five-year warranties, depending on the part.
Z GRILLS ZPG-1000D Pellet Grill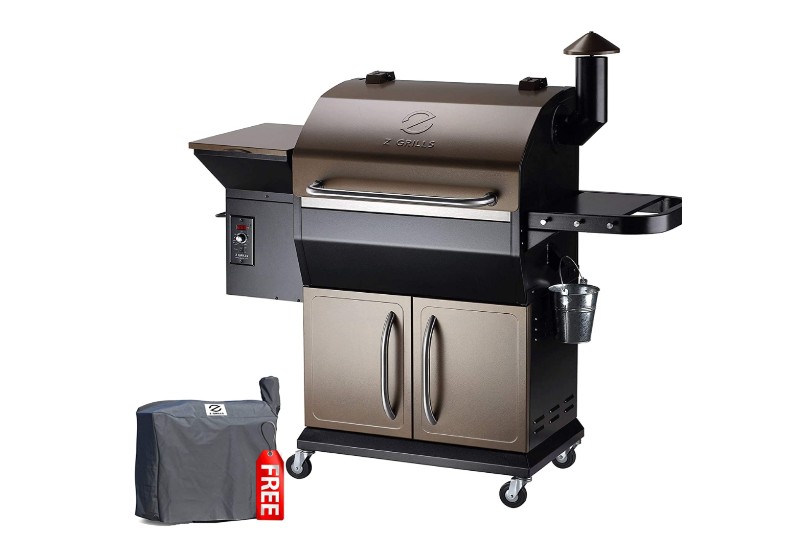 Z Grills seemed to appear on the pellet-grill scene out of nowhere, yet the company seems to be doing well. The brand came to fruition in 2016. However, according to the company's website, Z Grills has been manufacturing grills for other top-named grill brands for over three decades. Though we can't say which brands those are, it's clear that Z Grills has combined all the best features of multiple leading brands into their grills. Their grills are heavily promoted and distributed on Amazon and have good customer reviews. There is nothing particularly outstanding about Z Grills other than the free grill cover with this model — those suckers are expensive. Still, it gets the job done at a great price. You'll be hard-pressed to find more than 1,000 square inches of cooking area for under $800 anywhere. And its gorgeous design makes up for its lack of digital probes and Wi-Fi connectivity.
Editors' Recommendations