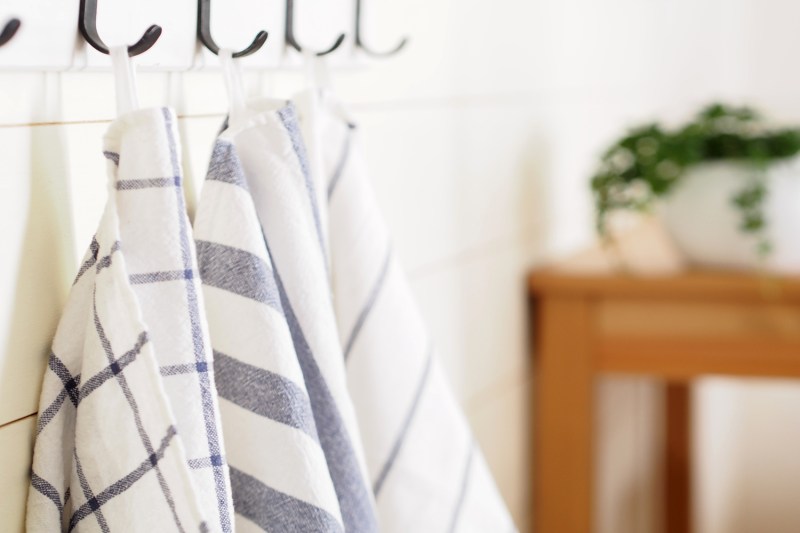 Kitchens can get crazy. Whether everyone is trying to make breakfast all at once or your kids are searching for an after-school snack to call their own, messes, spills, and dirty disasters are bound to happen. It can be as simple as a spilled water cup or as large as a spilled gallon of milk – either way, everyone always lunges for the same kitchen tool: the kitchen towel.
Kitchen towels are typically sold by the bundles. Why? Because kitchen towels get dirty easily and quickly. Usually, you've got multiple kitchen towels in action at the same time, just serving different purposes. Some are dedicated to drying dishes, others are for drying hands, and others help mop up the floor.
Regardless of how you organize your kitchen towels, having a lot on hand can be a lifesaver. Plus, kitchen towels are available in a ton of designs and fabric styles, much like the best aprons for men. Whether you're looking for some that are heavy-duty clean-up tools or ones that are both decorative and efficient, there is a kitchen towel out there for you. How do we know? We found them for you. Here's a list of the best kitchen towels for cleaning up those pesky kitchen messes.
Best Overall: Urban Villa Kitchen Towels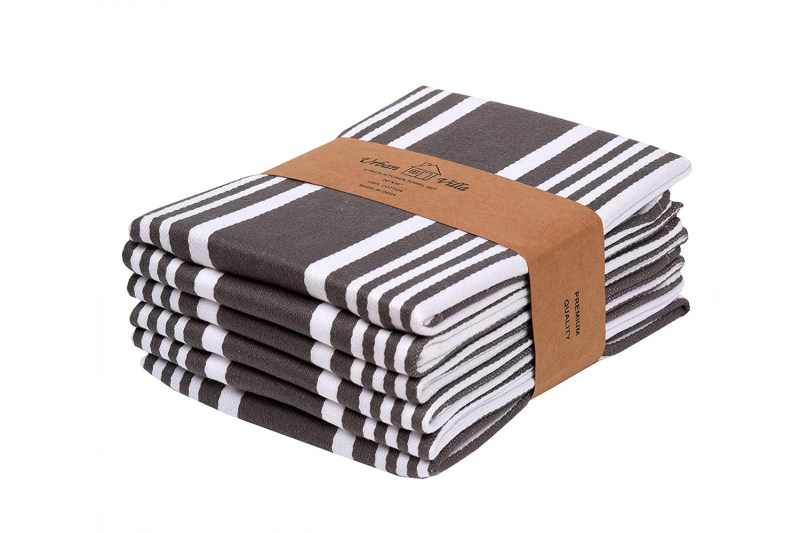 If you're looking for style, affordability, and durability all in one neatly wrapped package, then look no further. The Urban Villa Kitchen Towels offer a modern and sophisticated style that will look effortless in your kitchen space. The highly absorbent cotton structure is ideal when it comes to drying dishes – not to mention its quick-drying abilities. Sold in a pack of six towels, this product is also available in seven color options – a great way to find that perfect color match for your kitchen style.
Best Budget: Utopia Cotton Bar Mops Kitchen Towels
Ultra-soft cotton, durable structure, and large sizes, this value pack of 100% cotton kitchen towels is the perfectly simple option for kitchens everywhere. Carefully woven cotton ensures a durable and long-lasting structure for these towels, making them a great addition to your kitchen cleaning endeavors. Whenever you mop up a mess or dry the dishes, simply toss these towels into the washing machine for a quick clean. Plus, these kitchen towels are available in seven fun and sophisticated colors.
Best Design: DG Collections Kitchen Dish Towels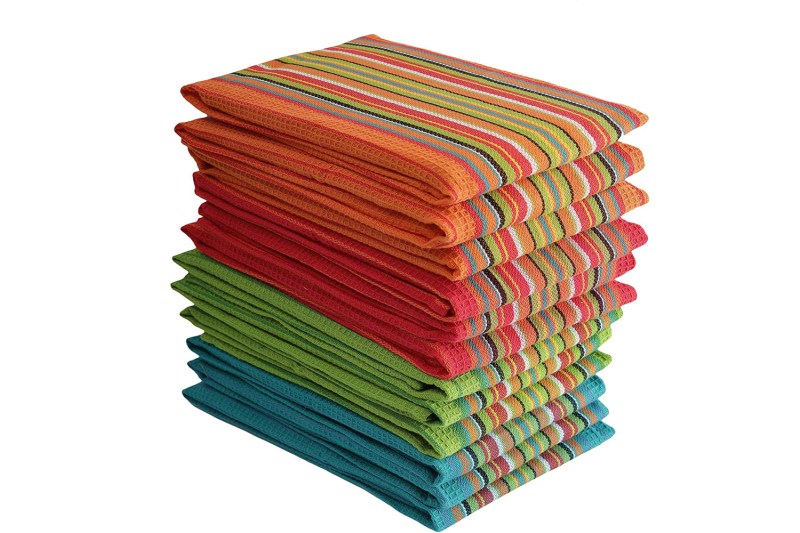 Bring some color and a whole lot of personality to your kitchen with the DG Collections Kitchen Dish Towels. When it comes to fun style, these towels do not disappoint. Each set of 12 comes with three orange, three red, three green, and three blue towels – and the benefits don't stop there. The all-natural cotton structures of these towels make them winners on all fronts. Eco-friendly, highly absorbent, and super durable, these dish towels are the stylish option you've been searching for. Plus, these bright and bold towels feature elastic hangers sewn into the corners for easy storage around the kitchen.
Best Assorted Set: Assorted Dish Cloth (Set of 5)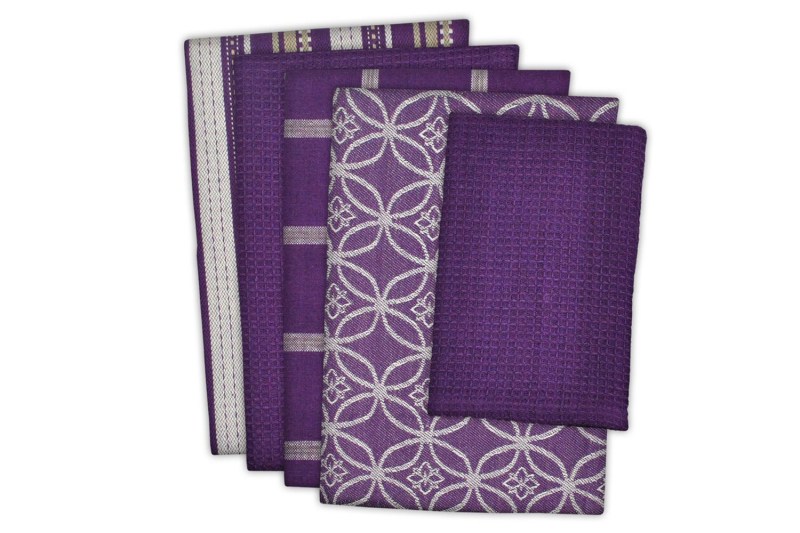 This set is all about texture, texture, and more texture. Each of the five kitchen towels in this dishcloth set celebrates color and texture through a unique design. The assorted designs feature a waffle texture, stripes, solids, and other fun styles. Choose from eight bold and sophisticated color options to effortlessly accentuate your kitchen space. Plus, these unique kitchen towels are the perfect additions to table settings.
Best Eco-Friendly: Zulay Kitchen Reusable Eco-friendly Dish Cloth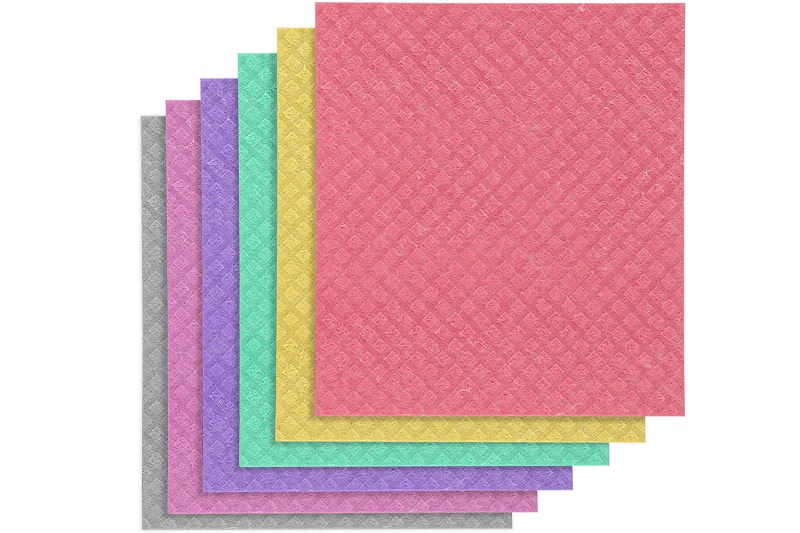 Every product imaginable is headed toward eco-friendly variations – and for good reason. The planet needs more eco-friendly products and that is just what these Swedish Dishcloths are designed for. The biodegradable cellulose and cotton structure of these sponge cloths allow them to biodegrade when they've reached their final days in your kitchen – but that won't be for a while. Built tough, these kitchen towels are durable and long-lasting. You can toss them in the washing machine or even the dishwasher for a quick clean.
Best Cotton: KitchenAid 4pk Cotton Albany Kitchen Towels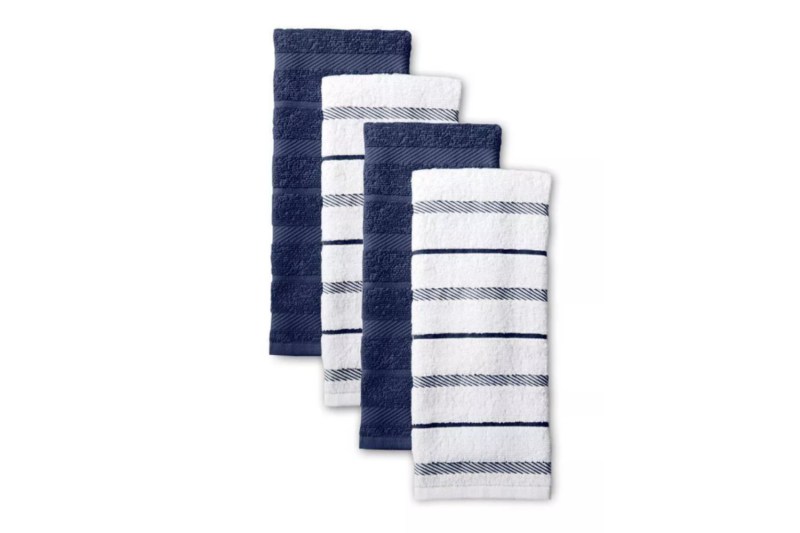 When you purchase cotton products, you need the best of the best. We're talking about all-natural, durable, and super soft cotton – and that is just what the KitchenAid 4pk Cotton Albany Kitchen Towels are all about. Highly absorbent and incredibly durable, cleaning up spills and messes has never been easier. Plus, once the mess is wiped up, all it takes is a quick spin through the washing machine for effortless cleanup. The simple striped design of this 4-pack will never go out of style, making it a great choice for all kinds of kitchen designs.
Best Microfiber: MU Kitchen 16″ x 24″ Microfiber Dish Towel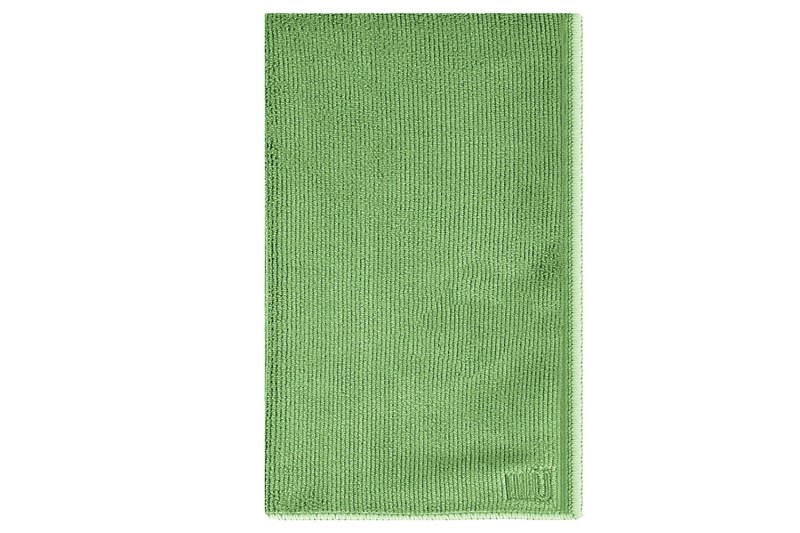 Moisture-wicking, lint-free, and super soft – it's no surprise that microfiber dish towels are so popular in the world of drying and cleaning. Enjoy streak-free cleaning whenever you wipe down the counter or dry the dishes. The extra soft structure of this microfiber dish towel ensures safe and scratch-free cleaning no matter where the mess is located. Plus, this microfiber towel beats out the rest thanks to its high absorbency and quick-drying abilities.
Best Textured: MU Kitchen 2pk Cotton Ridged Kitchen Towels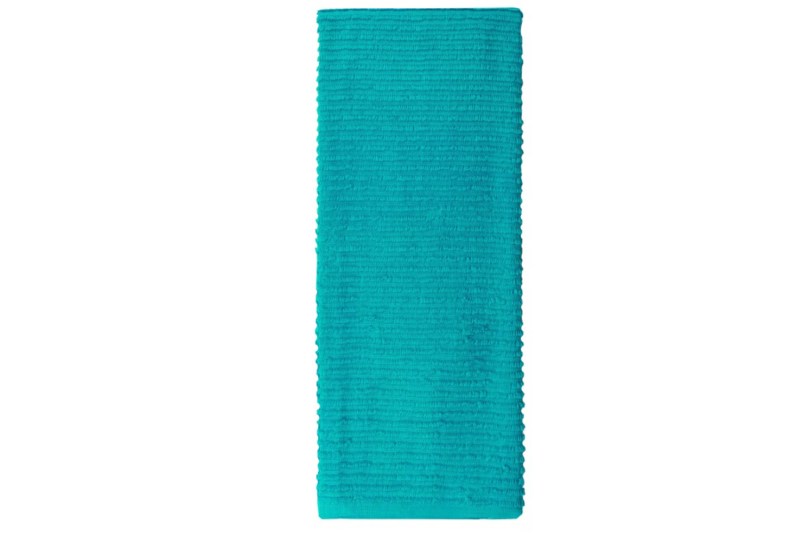 A kitchen towel designed to deliver extra scrubbing power, the 2pk Cotton Ridged Kitchen Towels are textured, setting them apart from the rest. The 100% cotton material makes these towels durable for cleaning yet soft on delicate surfaces. Plus, these textured kitchen towels come with a sewn-in loop – the perfect accent for easy hanging. Choose from bright and bold colors to add a bit of style and spunk to your kitchen space.
Best Versatile: Utopia Kitchen Flour Sack Dish Towels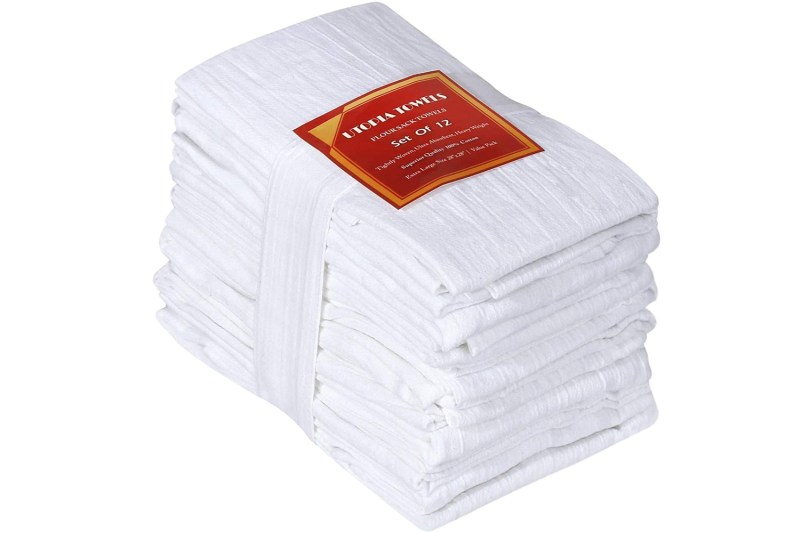 A kitchen towel that can seemingly do it all, these dish towels by Utopia are made from 100% cotton. Perfect for drying dishes, cleaning up spills, drying hands, table placements, cheese straining, window cleaning, salad drying, and so much more, these dish towels don't hesitate to bring versatility. Available in beige, dark gray, or classic white, you'll have no problem finding the right color and style for your kitchen space.
Best Rustic: Design Imports Set of 2 Rustic Sunflower Dishtowel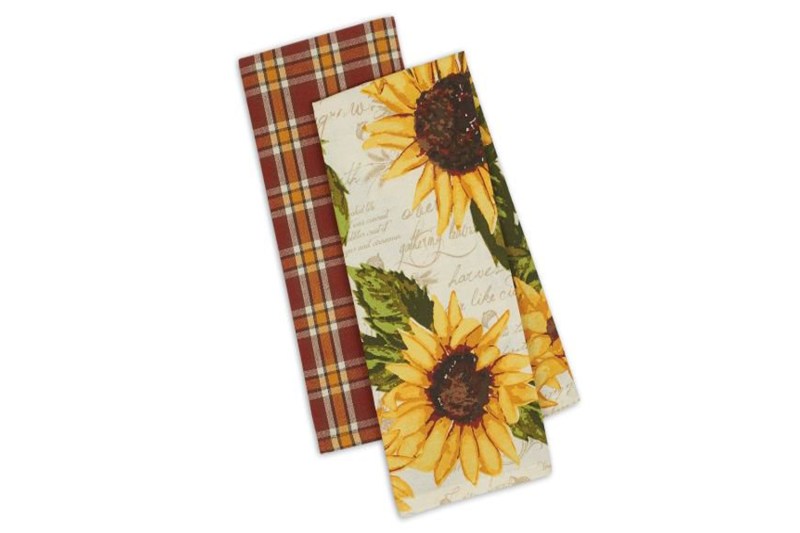 If you can't get enough of rustic design, then you will adore these 100% cotton tea towels. The versatile design of these dish towels makes them perfect for everything from drying dishes to creating elegant table settings. Use these fun farmhouse-inspired designs to create lovely napkins for the table – or utilize them all around the kitchen. No matter how you use this set of rustic dish towels, you'll be impressed by their ultra-absorbent structures, durable material, and sunflower and plaid designs.
The kitchen towel: a product that will never go out of style. A tool that everyone looks to no matter what they're doing in the kitchen, the kitchen towel is undeniably a must-have – and for good reason. Perfect for table settings, drying dishes, draining salads, cleaning your hands, wiping up spills, and so much more, having a high-quality set of kitchen towels on hand can make your kitchen endeavors a lot more convenient.
Editors' Recommendations