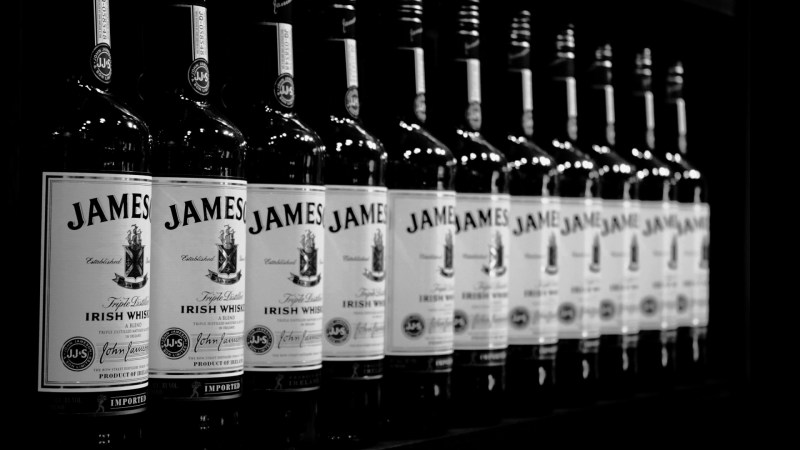 St. Patrick's Day 2014 has officially arrived. And if you properly planned ahead, work has managed to stay off the agenda – as it should. This is a day for celebrating Irish heritage, spending time with friends and family and, of course, a healthy amount of drinking. But before you start loading up on green beer, take note: there are now more delicious Irish whiskies available in the U.S. than ever before. The bad news is, more selection means it's harder to find the bottles worth your hard-earned dollars. Luckily for you, we've already done all the heavy lifting. Here are the five best Irish whiskies to help make this St. Patrick Day (semi-)memorable.
Traditional Jameson may be your go-to shot – but it's also an obvious pick. So skip to something a bit less predictable, like Jameson Black Barrel. Packing the same smooth, mellow taste as your average Jameson dram, Black Barrel upgrades the flavor with rich, deep notes of vanilla and spices, with a lingering finish that will leave you waiting for the next sip.
Bushmills is one of our favorite Irish spirits, and its 21 Year Single Malt takes the corn beef and cabbage as the distillery's top-shelf bottle. Triple distilled and aged for 21 years in three types of barrels, the 21 Year offers imbibers full body notes of mocha, toffee, caramel, and spices. The only downside is its price: At around $200 per bottle, your wallet will be happy that St. Paddy's Day only comes around once a year.
A favorite among salt-of-the-earth Irishmen, the ever-affordable Powers Gold Label is the perfect dram to top off a hard-earned lunch. And the 12 Year version takes that same drinkable flavor a step up with light notes of wood, vanilla, spice, and a hint of smoke. With a hefty barley flavor, Powers starts off strong, but ends with a light, easy finish that makes this bottle one of the best for an all-day affair. Just beware: If you're a Jameson fan, this spirit just might make you switch to a new team.
A relatively new arrival for the U.S. market, Green Spot Single Pot Still is crafted from both malted and unmalted barley spirits, which are triple distilled in a pot still from a single distillery. With fruit-filled notes that combine with oak, salt, and clove spices, Green Spot finishes nice and clean, as an Irish whiskey should. If you're looking for something new to try this St. Patrick's Day, Green Spot may be your best bet.
Like Green Spot, this Redbreast expression is single pot stilled (meaning it leaves out spirits made from anything other than barley). It's also aged in old sherry casks, giving it hints of fig and dark chocolate, with a bit of smoke in the mix for good measure. Just don't drink this dram too fast – at a fiery 115 proof, it's best to enjoy this one before your better judgment has gone off to find a pot at the end of a rainbow.
Editors' Recommendations