Well, here you are, reading an article about can openers. That likely means one of two things. Either you find can openers fascinating. Or, you're researching the best one to buy for your kitchen. We're guessing it's the latter, but no judgment if you have a can opener collection in your basement.
Nothing says adulting like shopping for the best can opener for your home. But depending on your lifestyle and needs, this could prove to be a more challenging task than you ever imagined. With so many options out there, you might be pretty tempted to just can the whole idea. But there's no need to limit your pantry to pull tabs and boxed items. Have you seen the grocery store's massive lineup of canned soups and vegetables? The possibilities are endless. All you need is a handy can opener by your side to tap into that.
Can openers are a helpful kitchen tool that cuts down your meal prep time and makes cooking more simple than ever. In a matter of seconds, a reliable can opener turns your weekday dinner into an effortless feast that satisfies the taste buds. Make your everyday life easier with the convenience of a can opener that allows you to spend less time in the kitchen and more time doing the things you love.
Related Guides
Best Electric Can Opener: Hamilton Beach Smooth Touch Can Opener
If manual can openers are a struggle, you'll fall in love with the Hamilton Beach Smooth Touch Can Opener. With a sleek design that looks great on your kitchen counter, this under cabinet can opener elevates a simple tool to a robust appliance. It's the convenient and safe automatic can opener that leaves a smooth edge on cans of all sizes.
Best Manual Can Opener: OXO Smooth Edge Can Opener
Ergonomically designed to keep your hands comfortable, the OXO Smooth Edge Can Opener features an easy-turn knob and large handles. Ideal for anyone who suffers from carpal tunnel syndrome or similar conditions, this handheld can opener makes it easy to open cans. Plus, it allows you to hold the can from a more natural upper position that makes handling easier.
Best Safety Can Opener: OXO Good Grips Smooth Edge Can Opener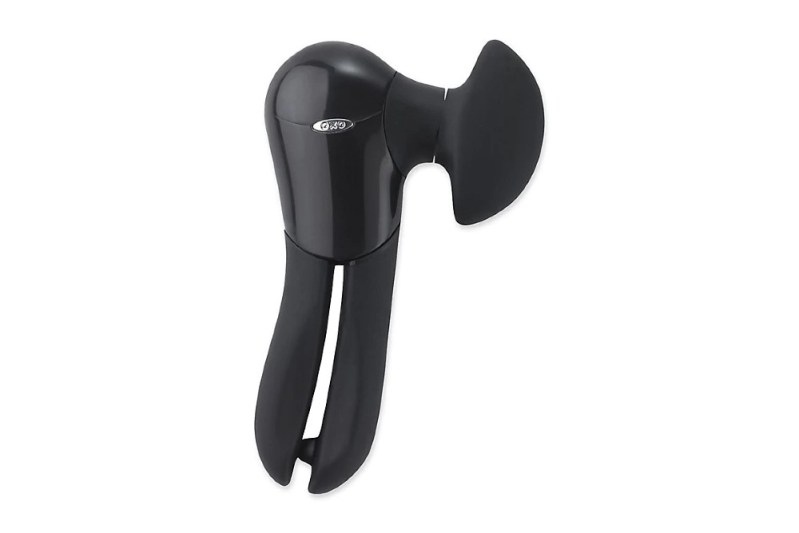 Enjoy peace of mind and ease of use with the OXO Good Grips Smooth Edge Can Opener. This smooth-edge can opener is the top choice of families with kids. It glides easily around cans while leaving you with safe edges that help avoid accidents and make everyday life easier for parents.
Best Rated Can Opener: KitchenAid Classic Multifunction Can Opener
With raving reviews and outstanding consumer reports, the KitchenAid Classic Multifunction Can Opener is everyone's favorite can opener for a reason. Users love its reliable stainless-steel blade and convenient bottle opener feature. Plus, the colorful hues of this model make it a must-have that's as functional as it is attractive.
Best Battery-Operated Can Opener: Kitchen Mama Electric Can Opener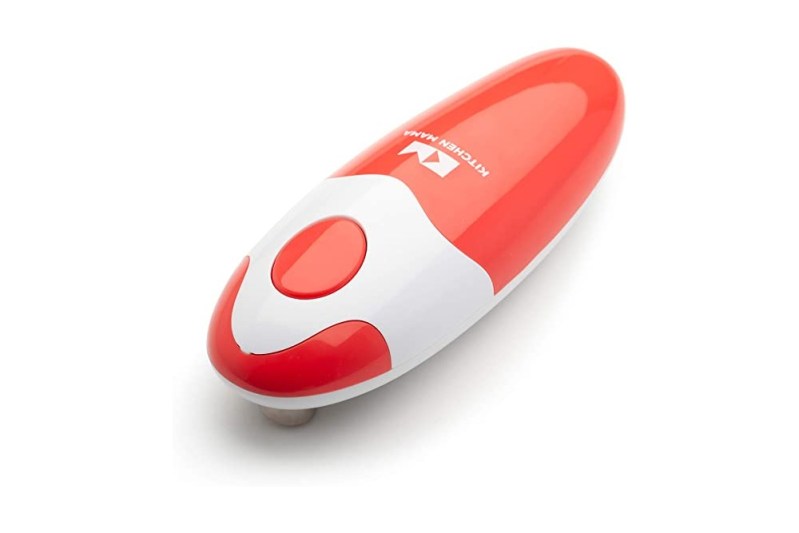 Three easy steps are all it takes for the Kitchen Mama Electric Can Opener to get the job done better than any other battery-operated model. Multitaskers love this hands-free can opener because it's effortless and efficient. Best of all, it's a lightweight cordless can opener that's perfect for busy kitchens or big events.
Most Durable Can Opener: Made in USA Can Opener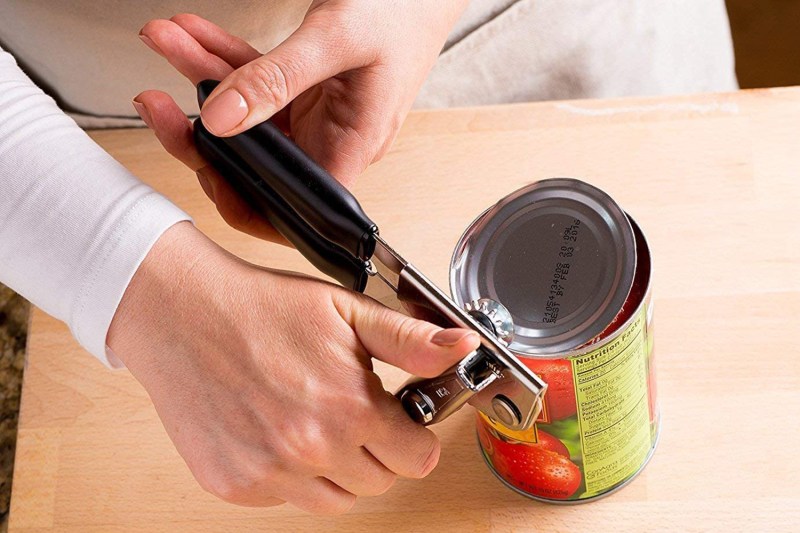 When you need a no-nonsense can opener that lasts, reach for the Made in USA Can Opener. Trusted since 1954, you can count on this classic to tackle those hard-to-open cans that break all the others. If you're tired of flimsy can openers that don't last, you've come to the right place. No task is too small or too big for this heavy-duty kitchen essential.
Most Portable Can Opener: Bartelli Soft Edge 3-in-1
Your outdoor adventures and backyard barbecues are always better with the Bartelli Soft Edge 3-in-1 can opener. Its compact design and innovative mechanism open cans safely no matter where you go. Open your can of bean soup by the campfire and pop open a brewski with this multi-purpose device that also opens jars.
Best Design Can Opener: Kuhn Rikon Auto Safety Master Opener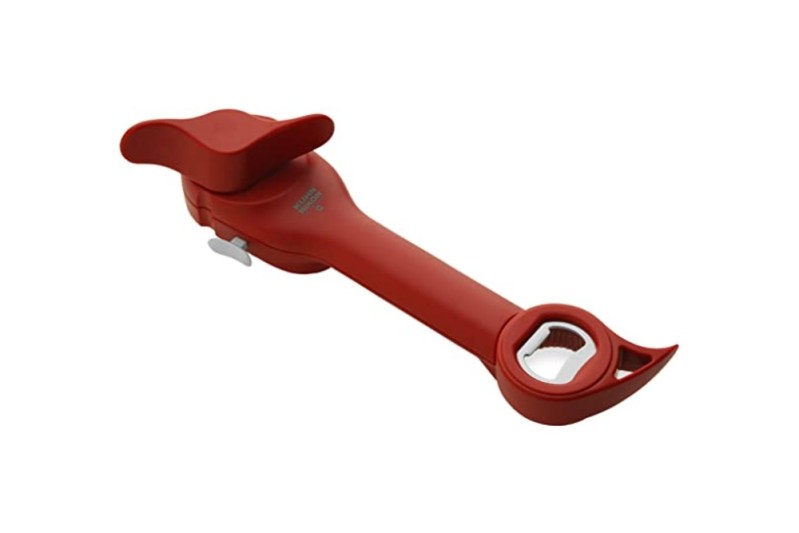 Aesthetics and functionality come together in the sleek design of the Kuhn Rikon Auto Safety Master Opener. With a bold look that stands out, this attractive can opener is the perfect housewarming gift for creatives and fans of modern gadgets. But this can opener is more than just a pretty face. It's a powerful 5-in-1 tool that also pulls tabs, pops crown caps, unscrews bottle tops, and opens jar lids with ease.
Best Budget Can Opener: EZ-DUZ-It 3028
If you want a no-frills can opener that won't break the bank, don't look any further than the EZ-DUZ-It 3028. Made from heavy-gauge chromed steel, this dependable can opener saves you time in the kitchen and money in the bank. It's the top choice for the uncomplicated guy who just wants to open their can of tuna and make themselves a sandwich.
Best Deluxe Can Opener: Cuisineart Deluxe Electric Can Opener
Complete the upscale look of your kitchen and elevate your standard of living with the Cuisineart Deluxe Electric Can Opener. Its brushed-stainless-steel finish and modern operation make it easy to open cans with the single push of a button. Even opening a can of wet food for Fido feels refined when you're using this sophisticated can opener.
Take advantage of all the options and models available to find the can opener that works best for you. Whether you put your can opener to work on a daily basis or only use it once in a while, it's an essential kitchen tool that you can't live without. Even on road trips, special events, or outdoor hangouts with friends, these handy devices never fail to make life easier and more convenient.
Can you wash a can opener in the dishwasher?
Most can openers are not dishwasher safe and should be washed by hand. Putting a can opener in the dishwasher can create rust and shorten its lifetime. The best way to clean your can opener is by hand washing it with soap and water after every use. Once the can opener is clean, dry it thoroughly and store it in a dry place.
How do you stop a can opener from rusting?
To prevent rusting, choose a can opener that's made of stainless steel or other types of corrosion-resistant chrome. After every use, wash and dry your handheld can opener's gears and blades. If you own an electric can opener, review the user manual to find out if you can remove the blades. If so, wash them according to the product's instructions and dry them thoroughly before reassembling.
Editors' Recommendations