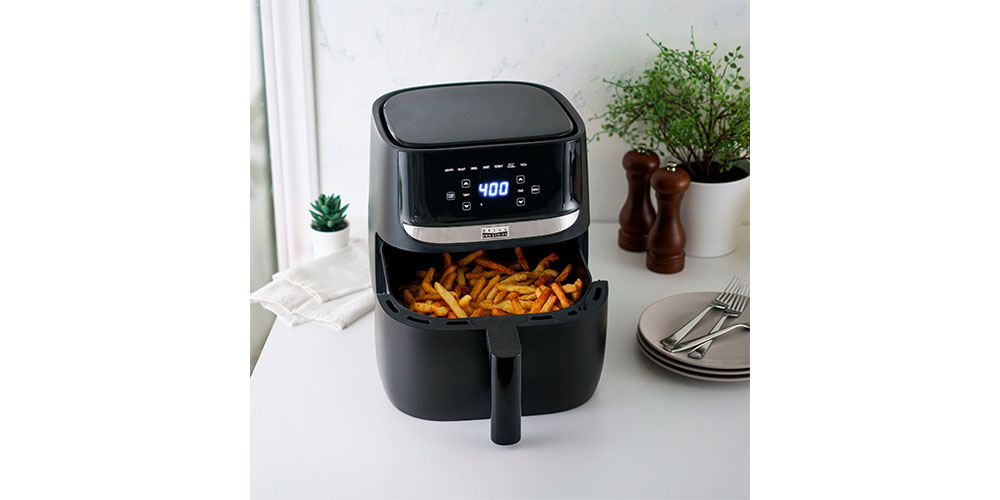 Air fryers are a great way of cooking more healthily and efficiently so being able to buy a Bella Pro Series 6-quart Touchscreen Air Fryer for just $60 is sure to be appealing. Right now, at Best Buy, you can do exactly that, saving $40 on the usual price. If you're looking to save big while also scoring yourself a great new kitchen gadget, this is the offer for you. You'll need to be quick though as we can't say how long this offer will last and you won't want to miss out.
The Bella Pro Series 6-quart Touchscreen Air Fryer offers many of the features you'd see in the best air fryers. If you're keen to try out the best air fryer recipes, you'll be delighted at how easy it is to use. It has a powerful 1,700-watt heating system that delivers fast, crispy, and evenly cooked food every time thanks to high performance circular heating technology. Its preheat time is up to 50% faster than a conventional oven so it's ideal if you're cooking in a rush.
A large 5-pound capacity means you can cook all kinds of things from fried chicken to roasted salmon, French fries, kale chips, pizza, and even donuts, all guilt-free becuseto air frying being a far healthier method than deep-fat frying. Touchscreen controls make it easy to adjust the temperature from 90 degrees F to 400 degrees plus there's an integrated 60-minute auto shut off timer for safety and convenience. Even its nonstick pan and crisping tray are convenient as you can easily wash them in the dishwasher.
Convenient in every way, the Bella Pro Series 6-quart Touchscreen Air Fryer is down to just $60 at Best Buy right now. That's a chunky saving of $40 off the usual price of $100 so this is a great time to treat yourself to a new air fryer. Don't miss out — snap it up today while stocks last.
More Air Fryer Deals
Know you want an air fryer but want to see what else is out there? We have plenty of other air fryer deals sure to save you money and suit your plans perfectly. Check them out now to find the best savings for your living situation.
Editors' Recommendations