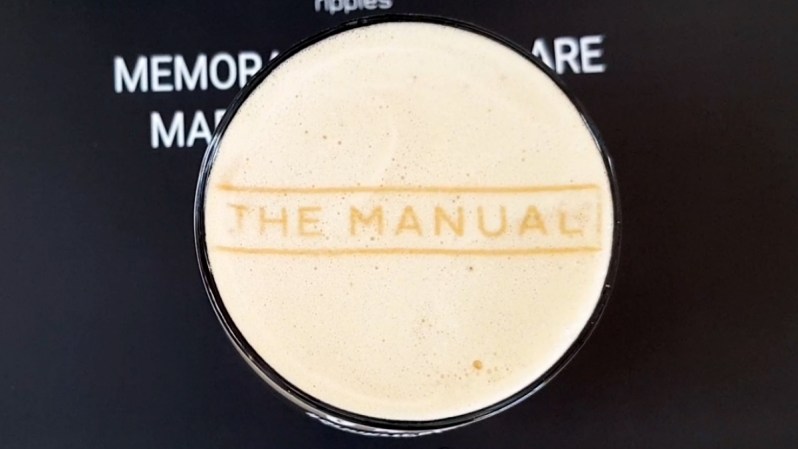 You know those fun patterns coffee baristas are known to make using the foam on your latte or cappuccino? The hearts or swirls or smiley faces and such? They sure are charming and fun, those darling little designs.
But you know what's better than coffee? Beer. Especially beer with unique pictures and notes "printed" atop the foamy head thanks to the brand-new Beer Ripples.
The machine combines some of the latest technology — namely 3D printing and near-field communication with smart devices — with one of of the world's oldest inventions: beer. When you rest a cold, frothy pint of brew atop the Beer Ripples platform and send a logo, message, or pattern to the system via smartphone, tablet, or computer, in just a matter of seconds the device prints out the lettering or image on the beer's head. Don't worry —the system adds novelty without removing drinkability, as Beer Ripples uses malt-based ink to create its miniature quaffable masterpieces.
We here at The Manual being the type of people who like to see to believe, we asked the Drink Ripples guys to print out our logo atop a beer so we could see how well this thing works for ourselves. The results? Just about the best-looking beer around, dammit.
From party-themed pints to romantic messages for a special someone to corporate branding that makes a group of co-workers feel more like a team, the possibilities are endless. (Endless within the confines of a small, ephemeral, single-tones graphic displayed atop a glass of beer, that is.)
Were you wondering if beer could possibly get any better? It turns out it can — for a price. The Beer Ripples is more practical for business use than home use, as the machine costs $3,000, plus an annual $1,500 subscription for 6,000 prints of malt-based ink.
Beer Ripples is available for purchase in the United States, Canada, and Israel. If you live in a different country, you can join a waitlist to get a notification when shipping is available. Caffeine addicts can also get their fix of quirky foam art with the original Coffee Ripples.
Editors' Recommendations