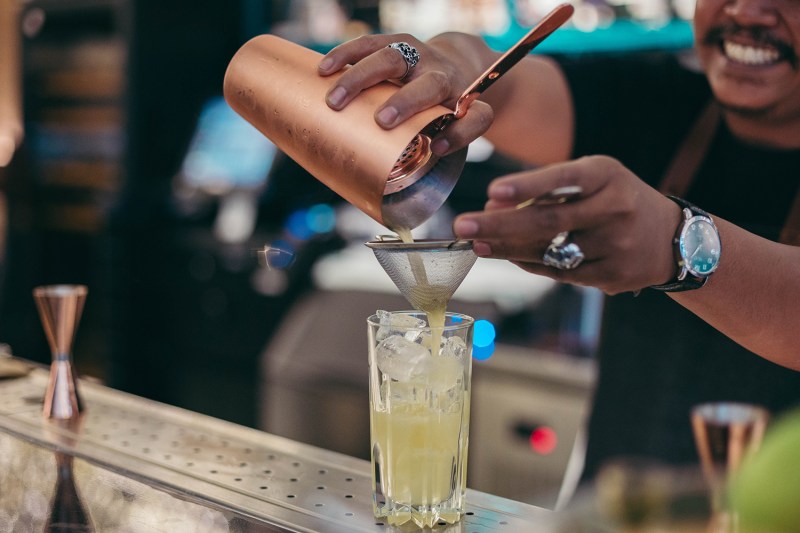 The food and drink industry moves at such a breakneck pace sometimes, you wonder how anybody keeps up. Even the best in the field need special measures to keep their sanity. After all, these are the talented folks staying ahead of trends and emerging styles while taking into account the ever-evolving American palate. It's a juggling act the best of the best truly excel at.
With a new decade now in full gear, we decided to chat with a few pros from around the country. We wanted to know what they liked and didn't like about 2019 and what they hope to see — or fear comes to a boil — in this brand-new decade. Your favorite barkeep or wine director may have been busy working during the busy holiday stretch but they have New Year's resolutions, too, and astute ones at that.
Nordic hotel KEX recently opened in Portland, Oregon. That's where Lydia McLuen tends bar, a veteran of the scene who has worked at esteemed spots like Bar Casa Vale, Palomar, Tope (at the Hoxton Hotel), and more. She thinks the closed-loop cocktail trend will continue to grow in 2020, with bars looking to be more sustainable by creating less waste, especially around things like freshly squeezed fruit juice and shrubs. She also believes alternative acids will become more popular — things like yogurt, acid solutions, cordials, and more.
Another trend she believes isn't going anywhere is the low-to-no-proof cocktail. "Getting f-ed up isn't as cool anymore," she says. "Nowadays, people want to socialize without having a hangover the next day."
As for resolutions, McLuen offers a refreshing change in attitude. "I want to work on being less judgmental," she says. "Bartending is about hospitality. It isn't about how many facts I know about such and such bourbon or how beautiful my Ramos Gin Fizz is. It's about listening to guests and serving them a drink that suits their needs, hopes, and dreams."
Maurice DiMarino is the Wine & Beverage Director with the Cohn Restaurant Group. The organization looks after a portfolio of establishments in Southern California and Maui — places like Coasterra in San Diego, Vintana in Escondido, and the Plantation House in Lahaina. Given the warmer climate of the group's territory, it's no surprise that restaurants have a respect for and work extensively with agave spirits.
"Let's burst the bubble on the celebrity tequila trend," he says, looking ahead to 2020 and beyond. "I'd prefer to recognize and give thanks to the hard-working jimadores, as they are the ones who make such great efforts and allow us all to enjoy great tequila."
Rachel Lowe is the beverage director for Spiaggia in Chicago. The Windy City Italian restaurant has garnered quite the awards list in its lifespan, getting nods from the likes of Wine Enthusiast and the James Beard Foundation. Like so many folks in the drinks industry, Lowe is concerned about the trade wars and the potential for some real dramatic setbacks.
"It's going to be hard to predict trends based on the pending tariffs," she admits. "If they're passed, it will completely change the course of the wine industry, including wines for the U.S. It's not good — it's terrifying and has potential to compromise many jobs. The potential tariffs on all European wine, some cheeses and other goods would double our cost at purchase as the wholesale buyer, which poses a threat to importing entirely."
As 2019 wound down, tariff talk revved up. What began as a nuisance for drinks pros earlier in the year turned into a bonafide threat to their very business model. "My New Year's resolution is praying that they don't go through," Lowe adds.
Lacy Hawkins is the brand mixologist for Monkey 47. The nightclub bouncer-turned-drinks specialist is based in New York and has worked the bar at celebrated spots like NoMad in Manhattan. She likes the growing trend of wellness in the field and hopes that it's here to stay, especially among bartenders. "The change in attitude around the physical and mental health of service industry professionals can be seen in the rise of low-ABV cocktails," she says.
"The classic martini, for example, has evolved from a drink once served weighed down my murky olive brine or made without even a wink of vermouth to something of quaffable conviviality. The best example of this is the delicious fifty-fifty martini, which is to say, a martini made with equal parts gin and vermouth."
Brent Braun toils on the wine side of the bar. He's the wine director at Portland's Castagna, as well as its sibling and adjacent wine bar, OK Omens. In 2017, he was named sommelier of the year by Food & Wine. The 30-something Braun manages to find himself well ahead of wine trends more times than not, digging up great, food-friendly options from all over. This year, Braun wants to get even more in touch with his immediate surroundings.
"I really want to drink more local wine," he says. "Like so many of us in the industry, I taste a lot of local wines and talk about how great they are but I rarely sit down and enjoy a bottle." He adds that treating local wine as a second-class citizen to the European greats is no longer fair, given the quality coming out of the Pacific Northwest.
"As far as the average consumer, I think chilled light reds are finally gonna hit the mainstream this year," he says. "That style has been beloved by somms and highlighted in wine bars but it's still not a category your average drinker thinks about. That probably changes this year."
Editors' Recommendations