As we become more eco-conscious, we're looking for items that not only fulfill that eco-friendly need, but also still look aesthetically pleasing in our homes. We also don't want to worry about if we can put that bowl in the microwave or the dishwasher. That's just too much to add to our day. If you want to switch your kitchen items over to sustainable items, there's a new line from Bamboozle — Bamboozle's biodegradable kitchenware.
What makes them stand out
Why Bamboozle? Every brand wants to be sustainable and eco-friendly. Bamboozle does all that but also looks good in any kitchen.
The ups
Made with sustainable materials

Eco-friendly bamboo, harvested with little to no impact on the environment

Completely biodegradable in under two years

Dishwasher safe products

Won't stain (try it, spaghetti sauce)
The downs
Can't use some items in the oven or microwave

Sharp utensils will scratch the items

How it started
The brand Bamboozle started out with a compost bin that pretty much became the star of the show. Literally. Its compost bin was used on the hit dramedy show Beef starring Ali Wong and Steven Yeun.
If reducing food waste is on your list of priorities, the Bamboozle compost bin is step one. The bin is stylish and doesn't scream, "Here are my scraps," while still being affordable.
If you need an initial setup, the company sells a package deal with everything for the beginner composter that even comes with a filter, so you don't have to smell your good deeds happening.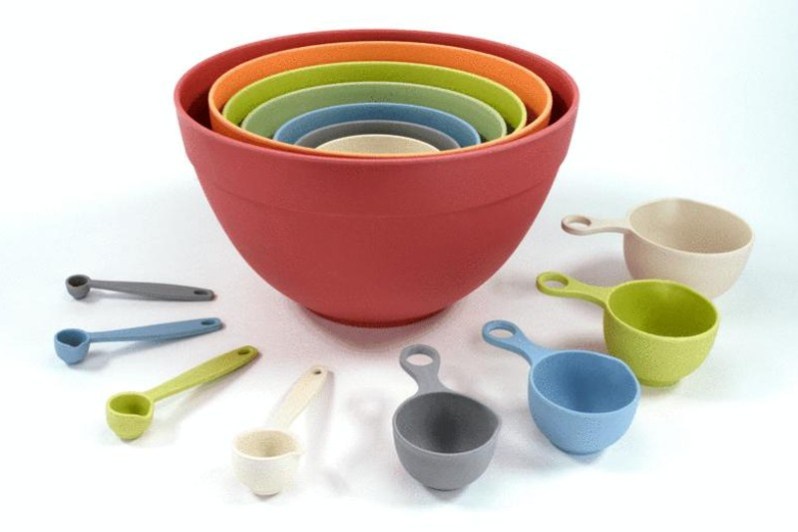 The newest members
It dropped an extension of its line, with kitchenware for any person, any kitchen, any style. In addition to new items, Bamboozle has a new line, Astrik, which offers the same benefits as Bamboozle, but also includes microwave-safe products.
Baking set
To all the bakers out there, everything you need to mix up a treat is available.
Mixing bowls

Measuring bowls

Measuring cups

Measuring spoons

Astrik mixing bowls
For the preppers
Made out of Astrik material, the complete prep and serving trays and bowls are the perfect way to impress friends or have a fancy night to yourself.
For the kids
If you have little eaters at home, the adorable children's line is a must-have. Each themed set comes with a plate (with separate sections), a bowl, utensils, and a cup.
For the adults
While anyone can use the fun kid sets, there are some more sophisticated items to eat your dinner off of. From soup bowls to salad bowls and plates, whatever dinner looks like has a place to go.
Sustainability doesn't mean you have to sacrifice your personal style. Being concerned about where your store-bought plastic kitchenware ends up is a great first step.
Making the switch to Bamboozle's biodegradable kitchenware is an eco-friendly choice that benefits everyone. We love when fashion and function meet at the perfect spot.
Editors' Recommendations