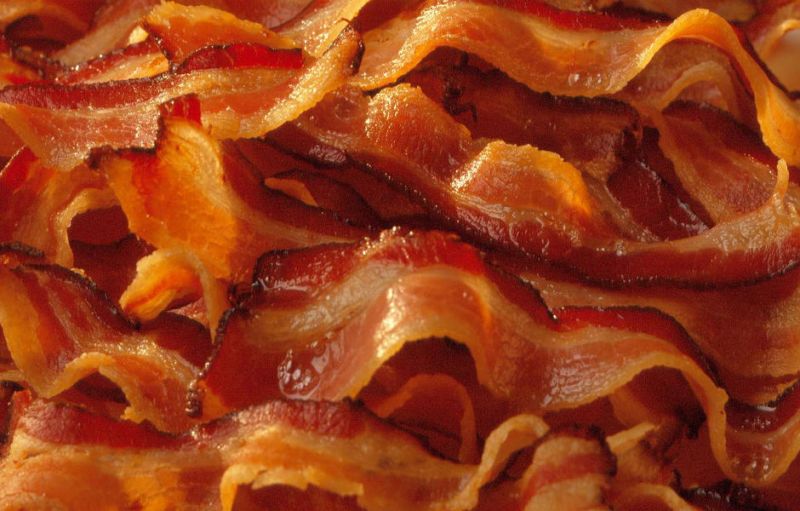 If The Manual post on Theresa Gilliam and E. Jane Armstrong 's book Bacon 24/7 is any indication, you guys love your bacon, and who wouldn't? It's crispy, greasy, and so delicious. Now if you want to mix it up a little, there's a subscription service that's just for you. Zingerman's has a Bacon of the Month Club and for just $400, you get a different variety of bacon shipped to your door. Here's what you'll get:
Month 1: Nueske's Applewood Smoked
Month 2: Arkansas Peppered
Month 3: Hickory Smoked Duroc
Month 4: Jowl and Steak
Month 5: Broadbent Kentucky Bacon
Month 6: Cherry Smoked
Month 7: Spencer's Irish Style
Month 8: Long Pepper
Month 9: Hungarian Double Smoked
Month 10: Newsom's Dry Cured
Month 11: Benton's Dry Cured
Month 12: Juniper Smoked
Who wouldn't love a bacon tour around the world. Savor each flavor and enjoy it with eggs for breakfast, for a light night snack, or even infuse some bourbon with it! Better yet, go for a bloody mary with a slab of bacon in it to flavor it up. Buy it for a present for your father or one of your friends, or if you really love bacon, treat yourself to something nice! If you're wondering just how amazing the Bacon of the Month Club is, all your favorite celebrity chefs have nothing but glowing things to say about it. Featured on the Food Network's Best Thing I Ever Ate!. Mario Batali said it was "amazing artisan bacon," while Bobby Flay called it a "fantastic gift!" How cold you go wrong with that?
For more information, visit zingermans.com.
Editors' Recommendations