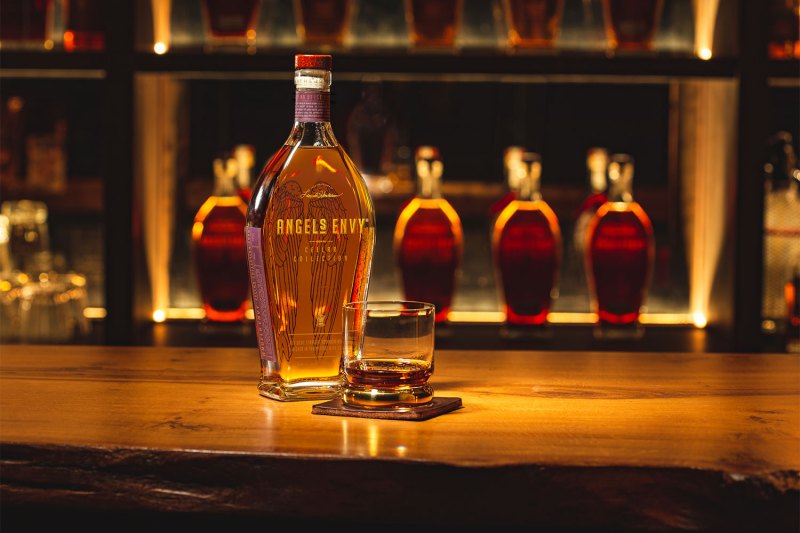 Angel's Envy is known for doing basically one thing, but doing it very well — sourcing bourbon and rye (until the new distillery has enough aged stock of its own to release) and finishing it in different cask types. So far that's included rum, sherry, and port barrels. The newest release in the distillery's Cellar Collection series is a different version of the latter type of finish. Angel's Envy Kentucky Straight Bourbon Whiskey Finished in Tawny Port Wine Barrels will be available this February in a limited release of just 5,400 bottles. The whiskey is a 10-year-old bourbon that was finished for ten months in tawny port barrels and bottled at 111.6 proof. This older bourbon packs quite a flavor punch, with notes of rye spice, maple syrup, candy lozenge, and maraschino cherry all coalescing into a hot but pleasant finish.
"My dad always used to say, 'Taste is never an accident,' and when we first started dreaming up what Angel's Envy could be, we knew we wanted to explore and push the boundaries of bourbon," said chief innovation officer and co-founder Wes Henderson in a press release. "Our tawny port finish embodies exactly that. When you combine the mellow finish from the tawny port barrels with the profile of our 10-year-old bourbon, you get a richness and complexity that I think our fans will really enjoy."
There are a few ways to get your hands on one of these pricy new bottles. Starting February 8, select retailers in Kentucky, California, Florida, Illinois, New York, and Tennessee will have the whiskey in stock for an SRP of $250. The downtown Louisville distillery itself will have bottles as well available for purchase. Or you can join the 500 Main club, and starting on January 31 bottles will become available for pre-purchase.
Editors' Recommendations