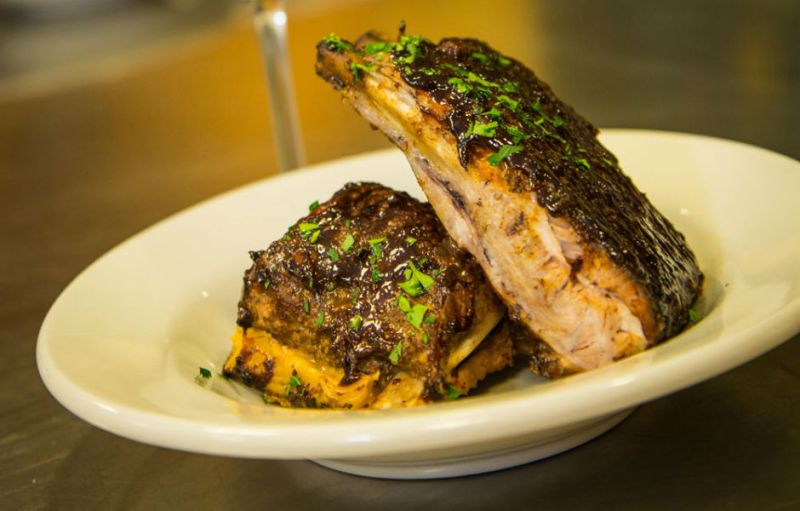 The 4th of July, one of the best grilling holidays of the year, is coming up in just three days, so you better get ready to throw some meat on the grill. Why not take a departure from your usual hot dogs and hamburgers, and try something a little exotic, like Argentinian grilling? Food Network Celebrity Chef Aarón Sánchez took a recent trip to Terrazas de los Andes in Argentina, Chef Sánchez created a few Argentinian-inspired dishes with Churrasco with Creamy Papas Con Rajas and Adobo Rubbed Pork Ribs that pair with Terrazas de los Andes. Below are some grilling recipes and tips from Chef Sánchez:
Low & Slow Heat: For Argentine Flavor and to get a great tenderness from the meat. Here we fire up our grills super high but in Argentina, the where they are masters of grilling and are famous for their Barbeques – which they call Asados, they use lower heat and cook the meat longer for a great tenderness and flavor. They always cook over wood or charcoal by the way, like we're doing here.
Never Oil The Grill: Oil the product. Because when you oil the grill itself, that's going to burn and become acrid. And so oil your product, such as your steak, and then you season it. The oil will help the seasoning stick to the product as well.
Room Temperature: If you're going to cook a steak, for instance, take it out of your fridge and let it come to room temperature before you throw it on the grill. A lot of times people will take it from a cooler or a 40 degree fridge and throw it on the grill and want it medium rare. What do you think the inside is going to be? Cold, right? You have to let your meat come up to room temperature.\
GRILLING RECIPES// ADOBO RUBBED PORK RIBS
AARÓN SÁNCHEZ FOR TERRAZAS DE LOS ANDES
Pair with Terrazas de los Andes Reserva Malbec
Makes 6 Servings
5 pounds St. Louis-style pork ribs
1 small carrot, roughly chopped
2 celery stems, roughly chopped
1 small onion, chopped
4 garlic cloves
2 bay leaves
2 tablespoons salt
6 whole peppercorns
Cut the ribs in half or in sections of four bones, so they will all fit in a large pot.

In a large pot, add the ribs, carrot, celery, onion, garlic cloves, bay leaves, salt and peppercorns and cover with water. Bring to a boil, cover with lid and reduce the heat to let simmer for approximately 1 hour, until the meat is tender but not falling off the bone.

Remove the bones from the water and lay flat on a baking sheet. Immediately season both sides with adobo seasoning and cover with plastic wrap or foil.

While the ribs are resting, heat your grill to medium heat. Place the ribs, bone side down, and cook for approximately 8-10 minutes or until hot. Flip them over and brush the bone side of the ribs with the ancho-agave glaze and cook for another 5 minutes. Flip again, so the glazed side is on the grill, and brush the meat side with the glaze and cook for an additional 5 minutes. Be careful not to burn the already glazed side.

Remove ribs from the grill and glaze one last time before serving.
Related: Chefs Share Their Favorite Grilling Recipes and Tips
Adobo Seasoning
2 tablespoons cumin seeds
2 tablespoons coriander seeds
2 tablespoons fennel seeds
2 tablespoons yellow mustard seeds
2 pasilla chiles, stemmed, seeded, deveined, and torn into small, quarter-sized pieces
2 ancho chiles, stemmed, seeded, deveined, and torn into small, quarter-sized pieces
4 tablespoons dried whole oregano (preferably Mexican)
2 tablespoons onion powder
2 tablespoons garlic powder
2 tablespoons Spanish paprika (pimento), preferably sweet or hot
Heat a dry skillet over medium-low heat. Add the cumin, coriander, fennel, and mustard seeds, and toast, stirring constantly, until it is very aromatic, approximately 3-5 minutes. Transfer to a bowl and set aside. Using the same skillet, toast the chiles until aromatic, approximately 3-5 minutes.

Let the spices and chiles cool to room temperature then add spices, chiles and oregano to a spice grinder and grind to a fine powder.

Store in an airtight container.
Ancho Agave Glaze
4 ancho chiles, stems removed
4 garlic cloves
1 tablespoon adobo seasoning
1 cup agave syrup
In a medium-sized skillet, toast the chiles on medium heat until fragrant. Immediately transfer chiles to a plastic container with enough hot water to cover and let stand, covered, for about 20 minutes. Make sure the chiles stay submerged fully in the water.
2. In a blender, add the chiles, garlic and 1 cup of the waters used to cover the chiles in the previous step. Puree until smooth. Remove and let cool.
Editors' Recommendations