Feasting is our column dedicated to cooking, grilling, eating and discovering what's on the menu across America and the world.
As the official start of summer is upon us, we're loading our grills with meats, fish and veggies for as many meals as possible. If you're feeling a little bored with your latest grill marks, we asked chefs across the country for their favorite tips and recipes to teach us some new techniques and refresh our taste buds in the process. Check them out below before you get your barbecue fired up this week.
The perfect steak
Executive Chef Dusmane Tandia – Mastro's Steakhouse, New York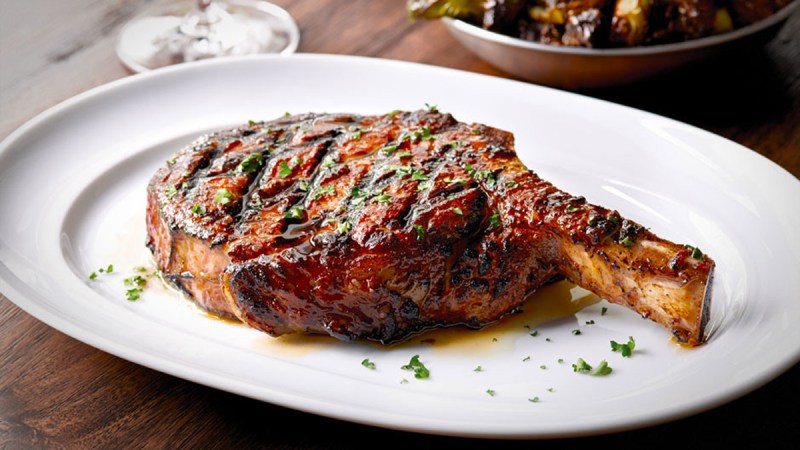 Don't skimp on the beef: Size matters. Steaks that are 1-inch to 1 1/2-inch thick are best for grilling. A thin cut is likely to get dried out. Marbling is also key because the fat throughout the steak gives it great flavor. At Mastro's, we use only USDA Prime Aged Beef. If your butcher does not have this, the next best grade is Certified Black Angus Choice grade.
Bring steaks out of the cold: 30 minutes prior, have your steaks at room temperature before hitting the hot grill.
Get your grill hot, hot, hot: Preheat grill to 600 – 800 degrees F and keep it at this temperature for 30 to 45 minutes before putting the steaks on.
Don't perform surgery with a serrated knife: To see if steak is finished, press on it with the palm of your hand. It will feel spongy when rare, have some resistance when cooked to medium and be firm when well done.

Rare: Squeeze the pad at the base of your thumb. It should feel spongy and feel very little resistance.
Medium: Press on the middle of the palm of your outstretched hand. It should feel firm.
Well: Squeeze the base of your small finger. It should feel firm with no give.

Let your meat rest: Before cutting into it. It allows the juices that are driven toward the center of the steak to redistribute and reabsorb into the outer edges. As a result, less of those precious and flavorful juices will run out of the steak when you cut into it.
KTOWN Dog
Chef Neal Fraser – Fritzi Dog, Los Angeles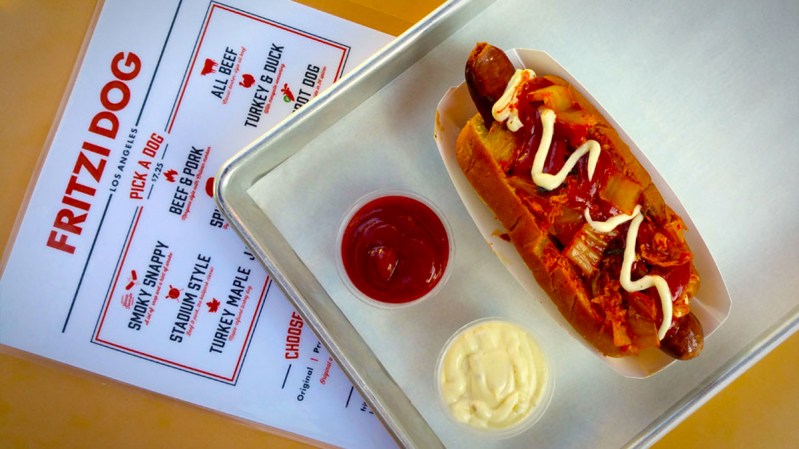 Korean ketchup
1 cup Heinz ketchup
1 cup Gochujang (Korean chili paste)
Mix together and place in squirt bottle
Kimchi
Julleinne the cabbage
Reserve with liquid from kimchi (makes 1 jar)
Black garlic aioli
1 head fermented black garlic

1 cup prepared high quality mayonnaise
Peel garlic from head. Place in a sauce pot with 1 cup of water. Simmer until garlic is soft. Cool garlic and remove from water. Add to a bowl with the mayonnaise until mixed well. Place in squirt bottle.
Grill
Brown the dog for approximately 1 minute per side.
Garnish with aioli, ketchup and kimchi.
Spicy Citrus Grilled Whole Dorade with Salsa Verde
Chef Chris Jaeckle – All'onda, New York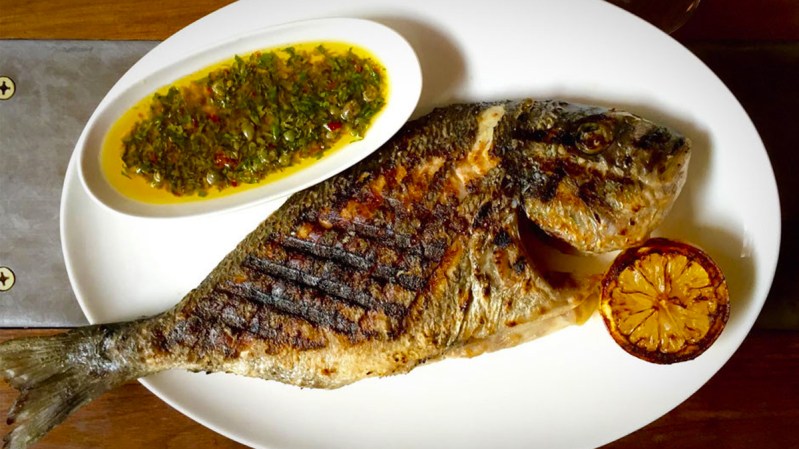 Directions
Make sure the fish has been scaled very well. I like to cut the gills out with kitchen sheers. Using a strong paper towel, wipe the fish dry. Season the inner cavity and outside well with salt. Allow the fish to come to room temperature with the salt on it. Drizzle the outside of the fish with olive oil to coat and spread with your hand or a pastry brush. Cook on a medium to high grill for 9 minutes on each side.
Salsa Verde
1 Bunch parsley, washed and chopped
1 Cup extra virgin olive oil
2 Tbsp chopped brined capers
2 Calabrian chilies, seeds removed and minced
Zest of 1 lemon
Pinch of salt to taste
Place all ingredients in a bowl and mix well.
Spicy Citrus Sauce
1 Jar Yuzu Kosho (150g)
3 ½ Tbsp. White Balsamic
1 tsp Sugar
1 tsp Salt
2 tsp Chopped Rosemary
½ Cup Olive Oil
Combine balsamic, sugar and salt in a pot. Gently heat until the sugar and salt are dissolved. Whisk in the yuzu kosho and olive oil.
Lightly Smoked Jumbo Gulf Shrimp with Grilled Hen of the Woods Mushrooms, Scallion and Garlic Saucisson
Chef Erik Niel – Easy Bistro & Bar, Chattanooga, TN
Ingredients
2lbs. Jumbo Gulf Brown Shrimp (16 & up)
2lbs. Hen of the Woods (Maitake) mushrooms*
2C. Sorghum-Sake marinade**
2 bunches Scallions
1lb Garlic Saucisson (or any garlicky pork sausage)***
2 lemons (for juice)
Method
To prepare the shrimp: Peel to the to the tail, with-out removing the tail. Clean out the vein with a pairing knife by cutting along the top of the shrimp, then scraping the vein out.
**Sorghum-Sake marinade
1 inch fresh Ginger
½ C Sorghum
½ C Sake
½ C White Verjus (or white wine)
½ C water
¼ C chopped Scallion
Peel, grate and juice the ginger into a bowl. Combine with all other ingredients.
*To prepare the mushrooms
Clean and break the Hen of the Woods into large chunks. In a large bowl, combine the marinade and the mushrooms, let sit for 30-45 minutes while you light a Green egg, and let the coals get hot. Using Tongs, place the mushrooms on the grill, directly from the marinade. Every minute or so, dunk the mushrooms back in the marinade and turn. Repeat until the mushrooms are cooked/charred.
***To prepare the saucisson and scallion
Drop the heat of the Egg and add some soaked smoking chips/wood. On a the side opposite the chips, place the saucisson and slowly smoke till cooked throughout. Three minutes before the saucisson are done, add the whole scallion and smoke until wilted. Remove the saucisson and scallion, if you're feeling frisky, wrap the scallion around the saucisson and slice on a bias to present.
To Cook the shrimp
As you pull the saucisson and scallions, place the shrimp on the grill and drizzle some water on the smoking chips/coals to get a good, cool smoke going. Smoke the shrimp for about 3-5 minutes or until they become opaque throughout. The longer the better for smoke flavor, but don't overcook.
To assemble (family style)
Place the mushrooms on a platter or board, then add the sliced saucisson, wilted scallions and then the smoked shrimp.
Drizzle with high-quality extra virgin oil, lemon juice, and a sprinkle of coarse sea salt.
Grilled Radicchio and Bocconcini with Crispy Prosciutto and Burnt Onion Sauce
Chef Vinny Dotolo – Animal, Los Angeles; Trois Mec, Los Angeles; Son of a Gun, Los Angeles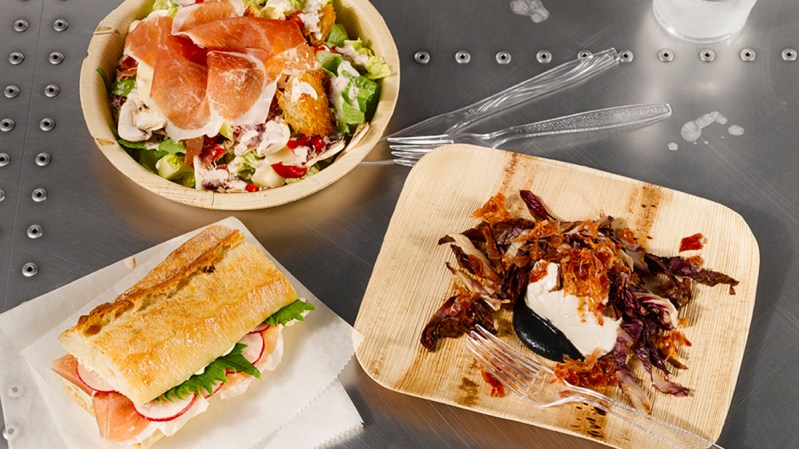 Ingredients
Small onion, peeled and sliced 1/2-inch thick: 1
Roasted garlic cloves, peeled: 4
Brown sugar: 1/2 cup
Mustard powder: 2 tablespoons
Onion powder: 1-1/2 teaspoons
Apple cider vinegar: 1/3 cup
Mayonnaise: 1/4 cup
Large egg: 1
Radicchio: 1 head, quartered
Olive oil: 2 tablespoons
Prosciutto di Parma: 4 slices
Bocconcini (small mozzarella balls): 12
Method
On a large ungreased baking sheet, spread onion rings in an even, thin layer. Broil until edges are very charred, removing pieces as they are done, 10-15 minutes.
Place onions in a blender; add garlic, sugar, mustard, onion powder, vinegar, mayonnaise and egg. Whirl until smooth and set aside.
Heat a grill pan over medium high heat. Brush radicchio with oil. Grill on each side until wilted and grill marks appear. Cut into 1-inch wide pieces.
In a nonstick skillet over medium heat, fry prosciutto slices until crispy, turning once.
To serve, drizzle 4 serving plates with reserved mustard sauce.
Divide bocconcini and radicchio among plates; crumble prosciutto over each.