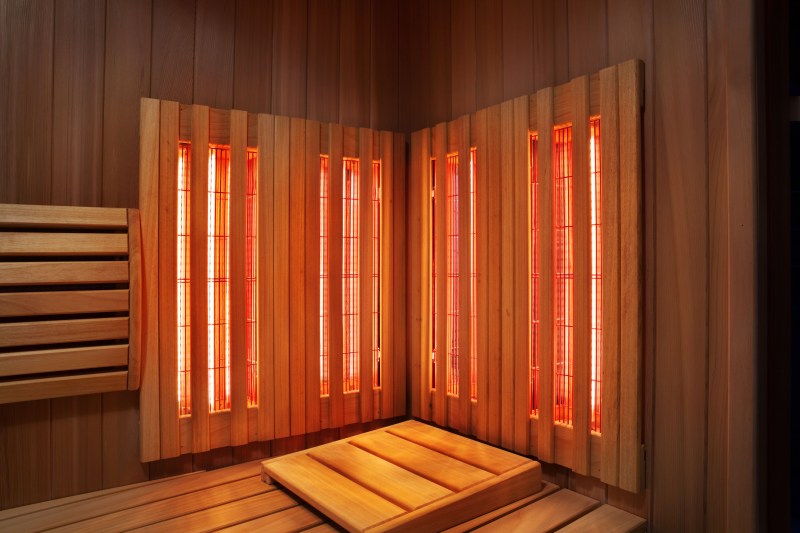 An infrared sauna is a type of sauna that uses infrared heaters to emit infrared light directly onto the body. This is known as heat therapy. Unlike traditional saunas that heat the air to warm the body, infrared saunas use infrared radiation to penetrate the skin and heat the body more directly. This means you sweat much more at a lower temperature, making the practice much more relaxing.
Infrared light is a part of the electromagnetic spectrum, and it comes in three main wavelengths: NEAR-infrared, MID-infrared, and FAR-infrared. Infrared saunas are usually built with one of these wavelengths in mind and may even be designed to emit a combination for the best results.
Regardless of the type of infrared sauna, all offer a more tolerable heat than traditional saunas, making them a popular choice for people seeking the benefits of heat therapy and relaxation. Just make sure that the one you purchase is a low-EMF, meaning it has a low electric magnetic field. High EMF saunas have been known to cause health risks, so avoid these. If the sauna you're looking at does not specifically say low-EMF in the listing, it's probably high-EMF.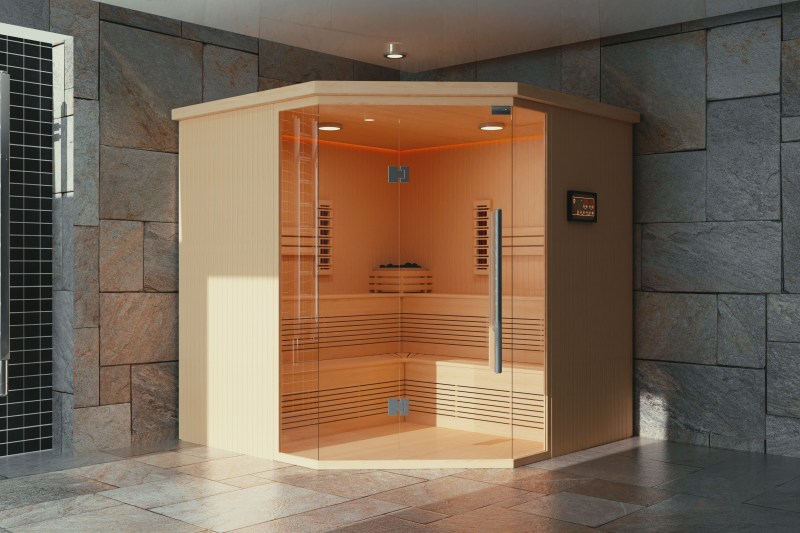 Different types of home infrared saunas
Infrared saunas come in various sizes, from small personal units to larger cabins that can accommodate multiple people. The sauna's interior is usually made of wood, and the infrared heaters are strategically placed to ensure an even heat distribution.
NEAR infrared saunas, MID infrared saunas, and FAR infrared saunas are all types of infrared saunas that use different wavelengths of infrared light to heat the body. The main difference between these types of saunas lies in the depth of penetration of the infrared light.
The benefits of NEAR infrared saunas
NEAR saunas are named after the infrared wavelength, which is shorter than the other two options. Saunas with just NEAR wavelengths are rare, so you will usually find them paired with either MID or Far. NEAR wavelengths are presumed to have potential therapeutic effects on cellular regeneration (wound healing) and pain relief. It's important to note that there have not been many studies on the NEAR infrared sauna, so not many claims online have been scientifically proven. Here are a few facts and speculations about NEAR infrared saunas:
The benefits of MID infrared saunas
MID saunas offer a middle ground between NEAR and FAR saunas, providing moderate penetration and benefits for muscles and joints. This kind of sauna raises your core temperature, so it's a little easier for you to start sweating.
The benefits of FAR infrared saunas
If you know you can stand the heat, FAR infrared saunas will get you sweating like never before. Unlike a NEAR sauna, which usually isn't enough to get you sweating, the FAR wavelength penetrates deeply for maximum detoxification. This type of infrared sauna has been studied the most, and many doctors endorse it for its health benefits.
Conclusion
If you hate sweating and are looking for a home infrared sauna to help with healing injuries, consider a NEAR infrared sauna. That said, those searching for a heavy sweat session might benefit most from a FAR. For a middle-ground option, try the MID. Or, if you want to experience all three wavelengths at once, try out a full-spectrum sauna.
It's important to note that the specific therapeutic claims of infrared saunas are still being researched, and individual experiences may vary. Individuals with certain health conditions, such as cardiovascular issues, should consult their healthcare provider before using saunas to ensure safety and appropriateness. If you ever feel dizzy, shortness of breath, or any other kind of discomfort, it's best to step out.
Editors' Recommendations