Today we meet the co- founder of the Brooklyn based furniture brand, Hellman-Chang, Eric Chang.
I never thought I would be designing or building a brand for a living – I was a little more pragmatic growing up and figured I'd be doing something more traditionally lucrative like law or business. But I was always creative and I've always loved beautiful things and appreciated quality and design. Fortunately, my best friend since the 6th grade, Dan Hellman, and I shared a natural curiosity for the arts. His dad would pull the cars out of the garage and we would teach ourselves woodworking with old library books. This hobby carried through after college in New York City, where we rented a space in a co-op in Bushwick Brooklyn back in 2005. One thing lead to another, and the Four Seasons came calling, which eventually lead to diving-in full time. If you told me then that we would now have our own 16,000 sq. ft. studio in Brooklyn and sell to the biggest clients in the world, I probably wouldn't have believed you.
But through it all, style has been an important aspect of myself and our brand. Without it, I don't think we could have been taken as seriously early on – not knowing anything about design or the industry. Suits became my armor, allowing me to express myself stylistically without saying anything, and perhaps bringing about credibility before we had any. So much so that our well-recognized national advertising campaign was sponsored by Canali, who provided us with bespoke suits. Now, I explore a lot of custom and MTM (made to measure). There's something about suiting that inspires me – the details, the craftsmanship, the colors, and textures, and most certainly the lifestyle. It prepares me for the day and keeps me working hard all year. Like my brand, my style has to be timeless, have an enduring quality, and exude confidence.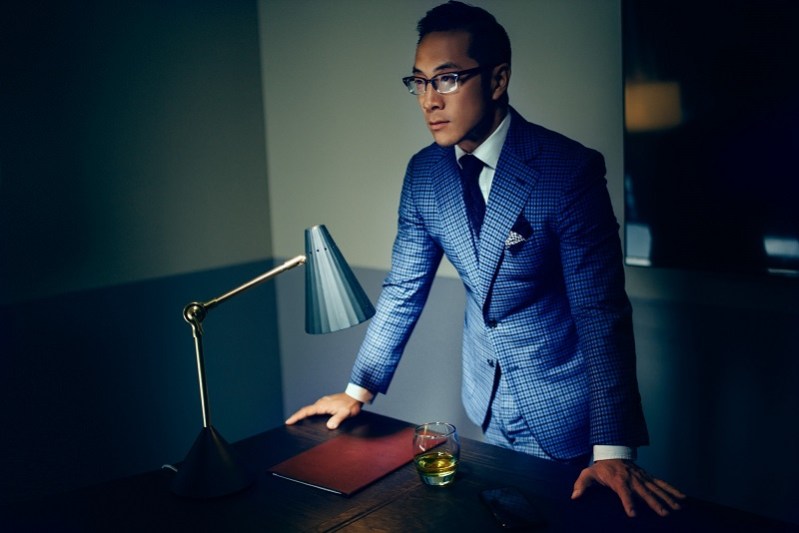 As for my personal style:
Jeans: Acne's "North Used" Jeans in Black– they have the best fit and are the most comfortable. And they keep their washes timeless.
Shirts: Tom Ford's White Slim-Fit Cutaway-Collar Cotton-Poplin Shirt. Despite all the shirts I have, I always pull out a clean, crisp, white shirt to pair with a jacket or suit. It never fails to work the best with anything and declare confidence and style.
Pants: For casual wear, Theory's Neoteric Zaine Pant– comfortable, relaxed, but still extremely flattering to the silhouette. For an evening out, something sharply tailored and bespoke by my friend, Rich Freshman (find him on Instagram). He knows how to really push the limit, but respect classic tailoring. And we pick out some head-turning fabrics together.
Suits: Tom Ford's Three Piece Windsor Suit – nothing out there has beaten his fabrication quality, and detailing. For men's suiting, the sum of the details is what makes all the difference. But for unique, perfectly-cut statement pieces, bespoke suiting from my friends Musika-Frere or Manolo Costa cannot be beat. They're Instagram stars for a reason.
Shoes: For the money, Magnanni has the best styled, best burnished, best quality shoes. They complete every look and are the underrated stars of an outfit. Not to be outdone, Manolo Costa offers bench-made shoes by Spanish atelier Norman Vilalta that are incomparable in style and comfort. The first day I wore them, I ran through the JFK Delta terminal, and thought I was wearing Nikes. For casual wear, Common Projects Original Achilles Full-Grain Leather Sneakers, but I also love the John Lobb Levah sneakers, which can be fully customized!
Accessories: I like the thin leather braided bracelets that my girlfriend got me by Bottega Veneta and Tom Ford. But there are some simple silver, gold and rose gold bracelets by Buck Palmer that are also beautifully done, but also artfully masculine (you can find him on Instagram as well). On the flip side, anything from Catbird as a gift for your significant other is guaranteed to be appreciated. Excellent for any occasion.
Outerwear: My favorite all-time outerwear is a custom overcoat from Manolo Costa (see here) made from a dusty purple Loro Piana cashmere – we spent months working out all the little design details together until it was perfect. It was a worthy investment.
Favorite cologne: Tuscan Leather from Tom Ford's private blend has an understated sexiness and richness that always sets the right tone year-round.
Favorite app: The Delta app, I'm constantly in the air, so I rely on it. But I love the NPR app to stream the latest news and stimulating podcasts. Of course I love Instagram.
Favorite Podcast: By far, Radiolab. What's not to love about entertaining and learning at the same time?
Next style/gear purchase: A custom-made, half-lined, open weave, teal blazer by Michael Andrews Bespoke (see here). They've made some style changes recently, and this is one of those pieces that are a must-have for the season.
Feature photo: Frank Wang