Today we speak with craftsman and woodworker, David Rasmussen.
David Rasmussen is a designer and craftsman whose elegant and detailed work is a unique interpretation of Danish modern design. He is one of very few designers who also handcrafts his work, which includes everything from his vibrant line of home products, to furniture and architectural built-ins.
Raised and educated in New England, David was exposed to the Northeast's rich culture of fine furniture making from a young age. Trained by furniture masters Wayne Marcoux and Dan Mosheim, David learned about composition and construction techniques. Eventually, he took this foundation and began to experiment by drawing from Danish, Ming Dynasty, and contemporary American studio furniture as he progressed in his career. Today he continues to work within these traditions, while pushing them forward with his own brand of style.
David's background includes working as lead carpenter with the Vermont-based Forever Young Treehouses on a number of modern handicap-accessible tree homes from Los Angeles to Chicago, Cincinnati and Pennsylvania.
He also worked as an architect for three years but he returned to his roots in furniture design, armed with new inspiration taken from years spent building within trees. In 2005, he began David Rasmussen Designs and quickly gained a core following of folks who sought out his work.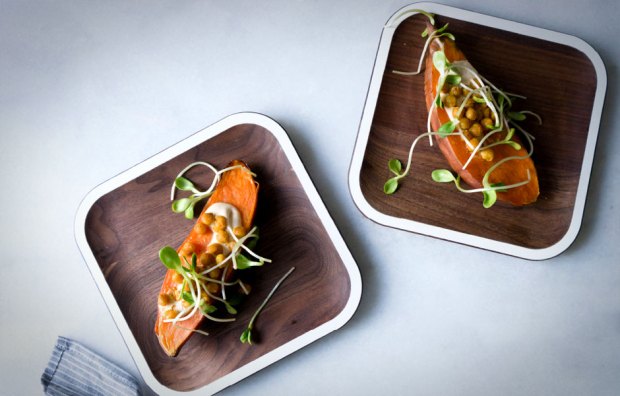 In 2011, David all but lost everything when his studio, full of beautiful old, but restored machines and hand tools, caught fire and burned to the ground. Sometimes, what seems like the worst tragedy can actually become the greatest opportunity. Rasmussen moved his shop downtown, and with the help of a supportive community, was able to increase the quality and scale of production to higher levels.
Today, David Rasmussen Designs, and its brother company, Villarreal Rasmussen Cabinetmakers, are happily rooted in Carbondale, Colorado, where they continue to innovate and elevate modern designs for kitchens and homes all over the U.S.
As for Rasmussen's personal style:
Jeans: Kormáks and Skjaldar, a small men's store in Reykavik Iceland that carries Japanese denim.
Shirts: Norse Project black tee shirt w/ flecks of color
Pants: Givenchy
Suits: Givenchy
Shoes: Stan Smith black leather Adidas for Barneys
Accessories: Tom Dixon square brass watch
Outerwear: Margiela black leather aviator jacket
Favorite Cologne: Bois 1920
Your favorite App: Instagram
Favorite piece of technology: My sailplane
Next tech purchase: A new iPad