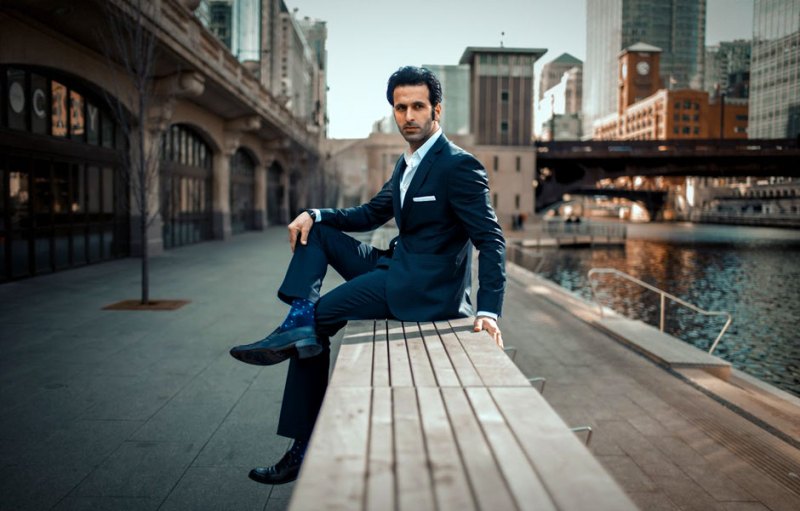 Every new fashion brand begins with a single idea. For many, it might be a signature suit or a trendy jacket, but for the founders of Maison Impeccable, it turned out to be the perfect sock. 
Inspired by a  love for both fashion and science, designers Ben Yelian and Kevin Shih developed the Stealth Sock, an aptly named product that combines a sleek and trendy design with performance technology.  For the designers, the sock embodies the practical yet stylish aesthetic they hope to achieve in their new line of menswear.
"As an article of clothing, the sock is generally overlooked," begins Yelian, "but really, if designed correctly, it can boost an entire outfit."
Yelian and Shih believe this boost comes from socks that are fashion-forward while also stealthily eliminating odor with fabrics that are comfortable, breathable and supportive.
"We combine bacteriostatic silver ions, which suppress odor­causing bacteria, with porous carbon nanoparticles, which absorb the remaining odor. In addition we stitch our socks in a tight-knit hexagonal pattern, which creates extra padding and support."
Related: Stepping Out – The 5 Best Spring Dress Shoes
Science jargon aside, the bottom line is that these socks (priced at $23 a pair) are built to keep feet dry and smelling fresh, even after hours of wear.
And they look great, too, coming in ten different patterns, which include the soft-blue polka dots of the Nocturne, the light solid grey of the Wraith, the bold crimson and navy stripes of the Rugger and the rich charcoal of their signature pattern, the Redact.
"This sock is for anyone on the go," says Yelian, "for people from literally all walks of life who want to wear clothing that is meant for living. Unlike other socks, the Stealth Sock is meant to move with you, to retain its color, fit and dryness under the most strenuous circumstances."
Check out their Kickstarter campaign (which ends today!) and their website for more information.
Editors' Recommendations