Editor's note: Through December 25, use the code MANUAL25 or click here for a special discount applied at checkout!
—
We all know how the saying goes: Sometimes, less is more. However, the "less" factor should be something that does "more" than just minimize what you carry. The "less" factor should advance the way you carry things, too, both evolving your lifestyle and your comfort in it. Wayfinder, a Portland, Oregon-based maker, crafts a trio of modern and minimal wallets and accessories that will help eliminate this enmity and inspire you to explore.
And we're not just talking about exploring new countries and horizons — we're talking about exploring your better self. It might sound crazy, but Wayfinder accessories offer methods for you to reduce your everyday necessities without sacrificing functionality.
Wayfinder has unique accessories every minimalist has been looking for (and if you haven't been looking, you are now). Founded by former Nike bag designer Hrag Nassanian, the brand is backed by years of cutting edge experience and ingenuity, resulting in a line of products that both enhance and simplify your daily grind.
Each product is made with an innovative TPU-coated polyester textile that utilizes high-tenacity yarn and is bonded with RF-welded construction, resulting in a fabric that is as durable as a couch. The all-conditions material is laser-cut from one big piece, then precisely folded and bonded together at the seams for adhesion that resists fraying and promotes longevity.
"Performance and simplicity were the goals for our first collection of accessories," Nassanian tells The Manual. "The polymer-coated material and RF-welded construction play a role in achieving both of these themes. The manufacturing process of RF welding eliminates seams as well as the need for additional finishing, which could complicate the product visually. RF welding also increases the performance of the product as the RF-welded bonds turn multiple pieces of the material into one, making the item virtually indestructible."
TPU is an environmentally preferred material over other polymer coatings such as PVC. The tactile fabric feels fantastic to the touch, boasting micro-sensing textures that are exciting, functional, and exude a refined aesthetic. Its features include high-performance hydrophobic protection, unmatched flexibility, and stout resistance to everyday wear and tear.
"The fine texture increases the surface area of the material, so it increases the stimulation to your fingers as you interface with the product," says Nassanian. "The texture and the elastomeric property of the TPU make it stick firmly in your hand and your pocket. These qualities make it harder for pickpockets. The accessories will also stay in your pocket if you're involved in activities with a lot of motion, such as cycling, running, or skateboarding."
The Wayfinder Flux Cardholder boasts a slim and small stature, which is perfect for hiding in your front pockets without notice. It's just big enough to snuggly squeeze in about five business or credit cards, your driver's license, and a small stack of folded cash. If you're truly looking to minimize what you carry on a day-to-day basis without all the friction and bulkiness of a wallet, you don't need any more space than what the Flux Cardholder provides.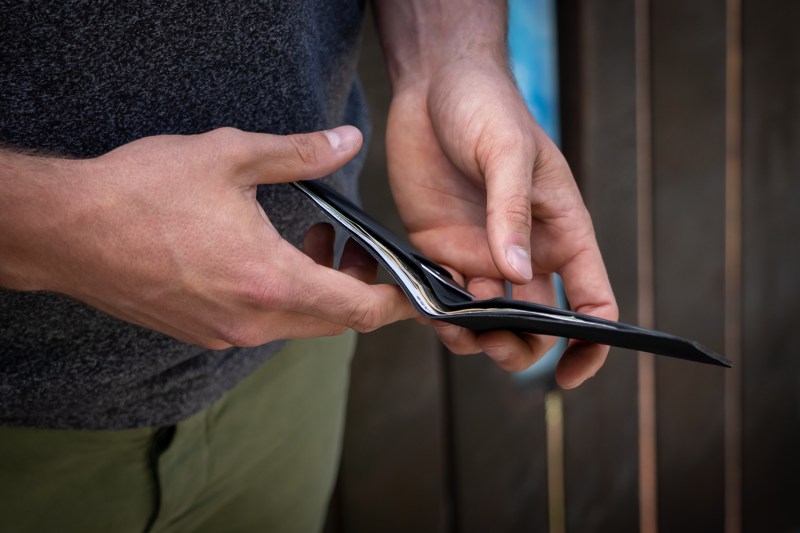 The Wayfinder Daybreaker Billfold is the brand's reinvention of your everyday bi-fold wallet. The Daybreaker is slimmer than your typical wallet, making for a great travel companion or your soon-to-be everyday wallet. It also offers more carrying capacity, as its front slots are able to host about 16 cards (if necessary) and the billfold is big enough to hold different sized currencies as well as a boarding pass. To put it simply, the Daybreaker has enough space to hold everything you need throughout the day, without you even noticing it's in your pocket.
Lastly, we have the Wayfinder Borderless Passport and Notebook Holder. This is one of those items that you may not think about often. If you already have a passport holder, it's likely too big and impractical to travel with comfort. If you're someone who travels frequently overseas, though, a passport holder is essential. Not only will your passport be protected by the TPU-coated textile, but the holder also features two card slots that can carry four to six cards for added versatility.
When you're not traveling, you can replace your passport with one of Wayfinder's notebooks so you have space to take notes and write down all of your own genius ideas on the go. The Wayfinder Carry Let's Go "Forest Bath" Notebook provides 60 blank pages that are waiting to be explored and a listed description of places around the world where you can experience a forest bath, such as Bear Mountain State Park in New York state or Arashiyama Bamboo Grove in Kyoto, Japan.
"We want every step of the consumer experience to be one that delights and brings the user joy," Nassanian says. "We want the product experience to be invisible without visual or functional friction. The products should work and work well throughout its lifespan. We want to improve the lives of our users by helping them carry less and help simplify their lives as it pertains to what they carry. Future products and collections we release will continue to build and develop on this theme of simplicity and minimalism."
With grinding day jobs, social media influence, and the everlasting pressure of a day-to-day work week, it's important to try and reduce your baggage in every way possible. Wayfinder wallets and accessories were designed to restrict unnecessary friction from getting in your way.
If you're looking for a variety of other EDC items, we've put together a collection of some of our favorite everyday carry essentials.
Editors' Recommendations