These days we guys have been stepping up our fashion game, but when we travel how many men do you see cramming their quality made duds into a gym bag or some cheap ass Chinatown suitcase?
Understandably, we all can't spring for a luxury line brand over night but if we want to keep our clothing consistent with our luggage, Chief Trunk is the way to go. There is some serious heritage in this company and yes, we know Vuitton, Prada and Goyard have been around a long time. But those brands can be a little too flashy for our taste (and most of it is made in China and then assembled in Italy or France!).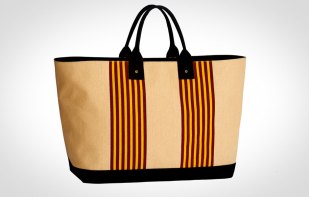 Originally called The Oshkosh Trunk Company, the brand was relaunched in fall 2013 as Chief Trunk Company. Why the name change? They didn't want to be related to OshKosh B'gosh, which was also founded in Oshkosh, Wisconsin. Oshkosh's hallmark red and yellow canvas series was known as The Chief so the company thought it made sense to move forward with that name (and because Chief just sounds boss!).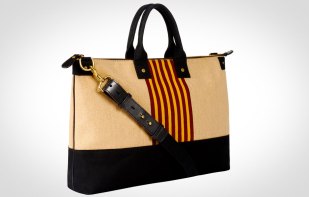 The stripe originated when a Spanish embassy in the 19th century commissioned a mill in the US to produce a canvas with a yellow and red stripe in honor of the Spanish flag. After the Spanish-American war, Spain lost its remaining American colonies and the mill was stuck with the canvas and sold it to Oshkosh. In 1910 a buyer from Marshall Field & Company visited the factory, saw the trunks and placed an order. They became an instant hit. From the 1930s-1950s Oshkosh was a major player in the luxury world opening flagships in London, Paris and New York but by the 1960's other brands rose in popularity and Oshkosh folded.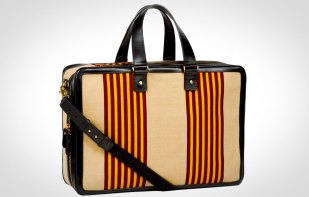 Today the brand is again inspired by the "American Good Life" and Chief Trunk is still made in the USA and is now based in New York City. This is all thanks to its new owner, Konrad Duchek, who previously was Director of Business Planning and Development at Chanel in New York. He had grown up around his grandfather's Oshkosh trunks with their bold stripes, and when he found some in a Paris flea market it sparked an idea to relaunch the luxury line.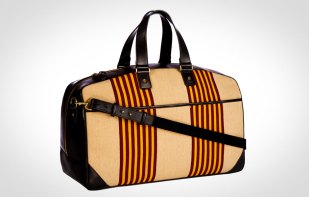 Although Chief Trunk only launched several months ago it is now one of the most buzzed about brands in the nation. To keep up with the times they just launched a soft sided bag perfect for use as a carry-on. The 24 oz. canvas is accented with rich black leather and brass hardware (retail: $995). The price isn't out of bounds (especially related to the previously mentioned European brands) and the totes are in the same price category as Filson. While there are only nine items for now, keep a look out for the brand to be expanding for all of your travel needs. We are really hoping they re-release a proper old school trunk. While it may not be ideal for travel it would look damn good nestled into our apartment for handsome storage.