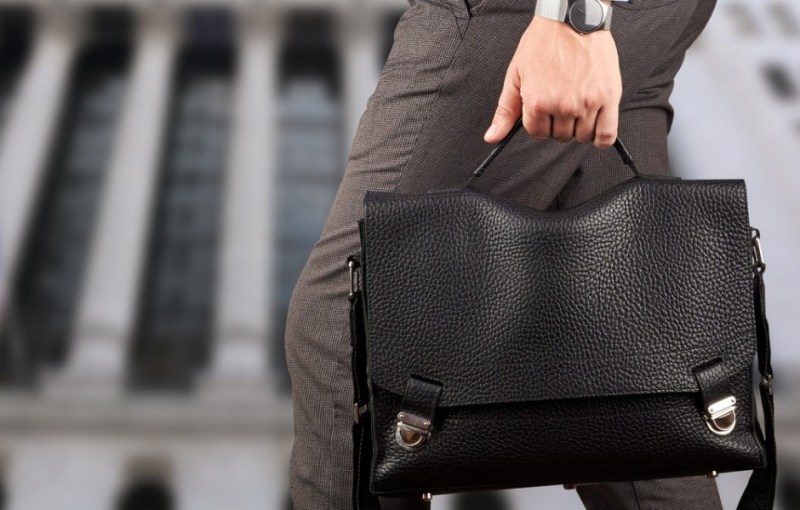 In an ideal world, all your belongings would levitate alongside you wherever you went. Since this isn't an ideal world, however, we need bags. Fortunately, bags aren't so bad; in fact, a bag is a particularly useful way to express your style. To help you find a good-looking bag that suits your needs, we've put together this list of some of the best fall bags for 2015. Whether you're the outdoorsy type or a desk jockey, a daytripper or a world traveler, at least one of these bags should hold your attention (and your stuff).
If you're in the market for a stylish rolling carry-on bag, then you might consider this handsome number from Filson. It works a lot like your typical rolling suitcase, but boasts the iconic Filson Bridle Leather body tabs. It also has plenty of pockets and compartments for everything you could possibly need, plus rugged twill and heavy duty wheels that will perform well for decades.
$595
For something a little smaller, you might check out this handy little bag. This fella is made from 100% American-sourced hemp, and is assembled in Montana. It makes an excellent traveling companion whether you're going across an ocean or across town.
$136
Related: 7 of The Classiest Laptop and Tablet Bags Out There
If you need a big duffel bag with some serious space, check out this bag from SWIMS. Not only does it have enough space for virtually all your possessions, it's waterproof, too. In fact, SWIMS recommends tossing ice and refreshments into the bag and using it as a cooler in a pinch.   
$238
Instead of letting miscellaneous items get loose, you can keep them organized with the handy Lowell EDC Pouch. This bag may be little, but it's tough, thanks to its heavy duty 18 oz canvas exterior. Fact fact: This pouch gets its name from Lowell, Massachusetts, which has a long tradition of textile manufacturing.
$25
The Hook & Albert 3-Way Carryall comes in two elegant materials: cotton melange and leather. It has hideable padded leather backpack straps, retractable leather handles, and a removeable leather shoulder strap, earning it the name "3-Way Carryall." The removeable weatherproof nylon rain guard can keep this bag dry no matter how you choose to carry it.
$395
This exquisite bag from Satchel & Page was inspired by a WWII map case, and just screams Trans-Atlantic espionage. Made with 8 oz of rich, vegetable tanned leather, this gorgeous briefcase is great for tablets, laptops, books, documents, and whatever else you might lug around. Just look at it. This thing could be a family heirloom.
$350
Editors' Recommendations