The Omega Seasmaster 300m might be the most common vehicle for Omega limited edition pieces.  A reliable movement, wearable measurements, and reasonable price point makes this a great model to mold.  The most recent limited edition, The Omega Seasmaster 300m ETNZ Chronograph, is the most detailed limited edition yet.  Created to commemorate the partnership between Omega and the Emirates Team New Zealand America's Cup sailing team, this titanium timepiece might be the best looking Omega for the money.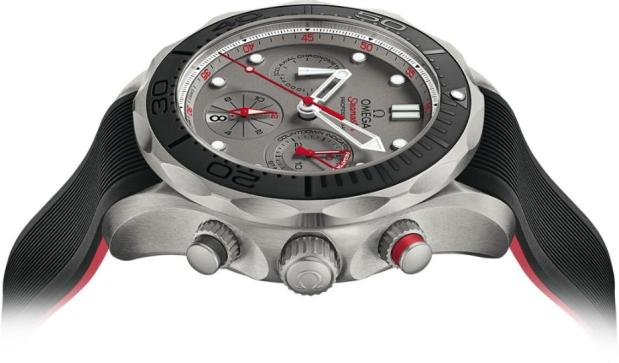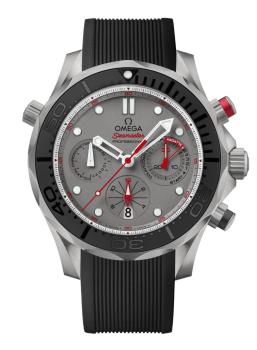 At a sporty yet reasonable 44mm in diameter, this timepiece shares some resemblance with the Rolex Yachtmaster; just larger.  A grey matte dial is paired with a black ceramic inlayed bezel.  Red accents color the dial, pushers, and the inside of the rubber strap in a pattern reminiscent of boat sales.  Under the dial lies an Omega in house caliber column-wheel chronograph with a silicon balance spring. Omega is known for making an extremely high quality movement for the money and this piece is a perfect example their value.  In the past, these limited editions have come with both the rubber strap and a metal bracelet.  Chances are this one will be the same.
In my eyes, this ETNZ limited edition is the best looking limited edition to to be made in the 300m case yet.  Although the matte dial and black inlayed bezel remind me of a Rolex Yachtmaster, the red accents and chronograph movement set the piece apart from its swiss cousin.  Another variable separating this from the Yachtmaster its the price point.  With the past limited editions in the $6,000 price range, this piece should fall right in there as well.  This combination of in-house movement, titanium case, and updated styling will surely make for another successful Omega 300m Chronograph limited edition.
Editors' Recommendations