My name is Chris Weidman. I am a mixed martial artist fighting in the Ultimate Fighting Championship, or UFC. I defended the Middleweight World Title three times after I won it against Anderson Silva, the greatest of all time. As a 4x world champion I believe I am the greatest Middleweight of all time and my next fight will be a huge event at Madison Square Garden in November.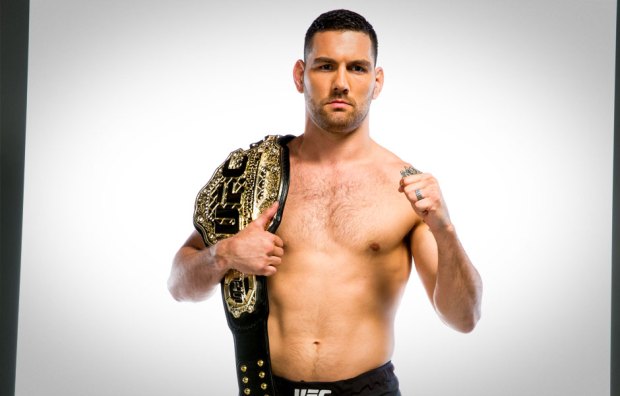 Until a few months ago, MMA was illegal in the state of New York, the last state to have such a ban on the sport I love. I wanted to change that and I teamed up with the UFC and campaigned for several years to educate state officials on the sport and how valuable athletes like me are to the economy of New York. We finally got a bill passed earlier this year in the state assembly that legalized MMA in NY for good. It was an awesome feeling. Knowing that I would get the chance to finally fight in front of all of my friends, family, and fans from my home state. I will now get that chance.
I grew up in Baldwin, New York and I've been wrestling my whole life. I was a 4x All-American at Hofstra University and had gotten there because of my talent. When I realized I had more to give and when my wife and I seriously considered having kids I realized that it would take hard work and focus to accomplish my new goal of becoming a world champion in the UFC. My talent was great, but my effort would have to be greater. I surrounded myself with people who worked just as hard and knew that I was serious about that goal. It was a grind, coming up through smaller promotions like Ring of Combat. I am forever grateful for that grind because, on July 6, 2013, I knocked out Anderson Silva to win the World Middleweight Title. I am going to get that belt I bled for back. And I won't make the mistake of letting it go again.
Because of my family I'm able to train smarter and really focus on getting better. Before my family, I was selfish and thought I knew everything. Having a family definitely humbles you and it helped me to focus on getting better for them every day.
The QALO partnership couldn't be a better fit. I love that they stand for family values and I love wearing their ring. I haven't lost my QALO ring yet. When I'm training, I always used to take my wedding ring off, which I hated doing because I was afraid I would lose it. Now, I can wear my QALO ring during all of my training and in the shower, anywhere really, and I never have to worry about losing it.
As for my personal style:
Jeans: Levis 511s
Shirts: Hugo Boss
Pants: Hugo Boss
Shorts: Reebok Combat Training MMA Shorts
Suits: Hugo Boss
Shoes: Reebok Z Print 2.0
Accessories:Breitling watch, QALO ring
Favorite Cologne: spicebomb
Your favorite App: Clash of Clans
Favorite piece of technology: iPhone
Next tech purchase: Movie theater equipment