On Your Feet is all about that new shoe feeling- from the first time you open the box until they're worn into the ground. Sometimes we'll sift through the constant Air Jordan releases to bring you the gems other people will leave on the shelves, and sometimes we'll slide on reclaimed leather loafers from Prague, but we'll always focus on comfortable shoes with appealing and creative aesthetic. So lace up your new kicks and stand on the precipice of adventure, where will we go together?
The Sperry boat shoe is classic summer footwear – perfect for sitting on the dock, or grilling up some steaks. There's nothing wrong with that, except that they aren't water-proof by design, and if you want to keep wearing the treasured silhouette into the fall, Sperry has you covered as well. No strangers to collaboration, Sperry reached out to Copenhagen wet-weather brand RAINS to trick out two pairs of shoes – the Top-sider and Cloud CVO – with a special rubber coating that will keep your feet from feeling the downpour.
It all starts with the boat shoe. RAINS ups the ante with a two-texture pairing in all black. While the toe is covered in a smoky matte finish, the upper and cuff are adorned with a semi-gloss python print. It's a nice twist on the classic 2-eye boat shoe look, and one that seems simple from afar, but grows more intricate on second glance. To keep things simple, Sperry fitted these boat shoes with bungee laces – no more stopping in the rain to re-tie your soggy laces.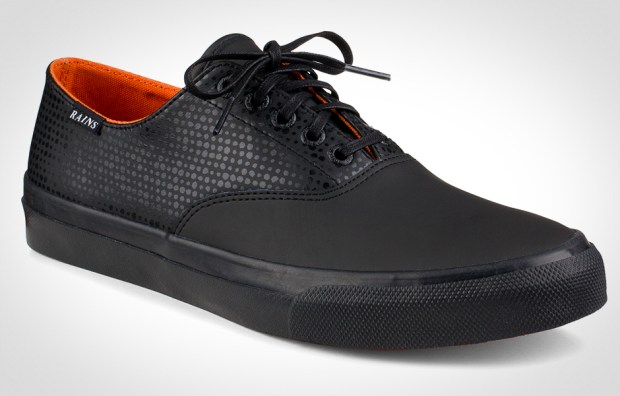 With a shift further towards a true sneaker, Sperry's Cloud CVO places more emphasis on the python print leather. The matte black is restricted to the front of the toe, and the upper cuts dramatically down towards the sole, so the entire backside of the shoe is speckled. Speaking of the sole, the Cloud CVO boasts a vulcanized one, with a black rubber coating around the outside.
If you're looking for something casual that will hold up through the winter, both options will have you more than prepared for the wet season. At the same time, you can hang onto a little slice of summer to keep you warm until it comes around again.
Both pairs are available from Sperry's landing page.