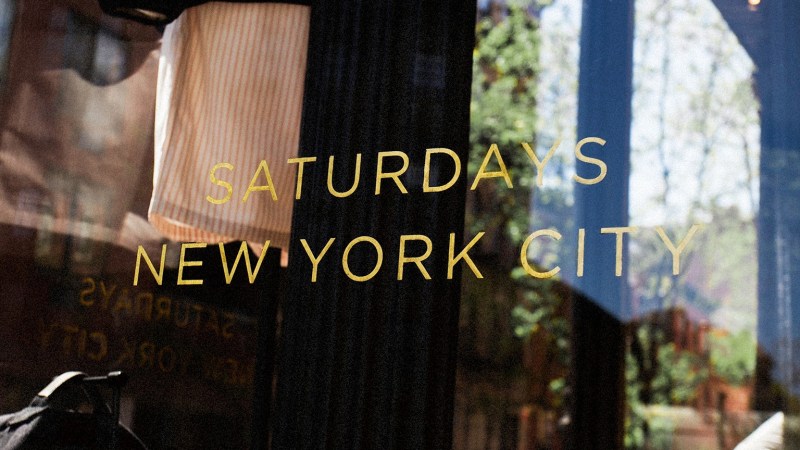 Founded eight years ago by a trio of friends – Morgan Collett, Colin Tunstall and Josh Rosen – Saturdays NYC began as a shop-cum-café in SoHo dedicated to socializing and the New York City surf scene. Since then it has evolved from a multibrand store to a monobrand one, added another location in the West Village and several standalone stores overseas in Japan and Australia, dropped the word "surf" from its name, and emerged as a celebrated men's ready to wear label that offers everything from tailored clothing to denim, boardshorts, accessories, and grooming products.
Yet, despite all the changes, its founding principle – to be a brand that celebrates and is a part of New York's cultural and style scene – has remained the same. Collett and Tunstall recently caught me up on the amazing growth and progress this terrific label (which is sold at its own stores and specialty retailers worldwide) has made, and continues to make….
The name of the brand is Saturdays NYC but eight years ago when you started it was Saturdays Surf. Why did you change the name?
Collett: We've always called ourselves Saturdays and refer to ourselves as that. Initially before we started making clothing we included the word "surf" in the name to give the whole concept but fast-forward now and Saturdays NYC is what we focus on. It's not to deter any influence of surf culture or anything like that because it's still a really big part of who we are and our DNA but we also do create really beautiful collections of contemporary ready to wear for men.
But even yesterday on our homepage we helped produced a film by a really talented surf filmmaker whose film will be coming out in May so we are always incorporating surf influence and things that we find beautifully inspiring. And surfing is a big component in our magazine as well. But I think by not being so literal it gives us more opportunity to expand the concept.
So what is that concept?
Tunstall: The concept was always about being a part of the community and it wasn't about producing one shoe or a sock. It was all about this attitude and feeling about what Saturdays kind of means and so it has been nice to use that in all the different ways that Saturdays is. It used to be surf and now it's New York City. So even though the name has kind of gone through a little bit of a difference it has always kind of been the same thing.
Continuing to push the collection and really elevate the quality of the products is never going to stop and then just keep doing the things that feel right.
How large is your current collection?
Collett: It's massive. A few seasons ago we started doing tailoring and did a collaboration with Mr. Porter and that has carried over. It's everything from your casualwear like fleece made in Portugal to T-shirts and swimwear and boardshorts to tailored suits and really strong outerwear, woven shirts and knitwear. These last few seasons have been really big for us because we have changed a lot of our manufacturing practices and have been really searching out some of the best suppliers and fabrics and really playing with elevated fabrics. That has just helped give us the opportunity to make clothes that can last a long time and make us stand by the quality.
We also have our own sunglass range that we hand-make in Japan with Italian acetate and glass lenses.
What is your favorite piece in the current collection?
Collett: That's a tough one. There's a lot. Spring was a huge change for us in terms of design, production and fabrics we were working with. But the one I would say is the Clyde trench coat. It's this really thin garment-dyed fabric. It's two different fabrics to make the one fabric so it dyes at two different temperatures. So you have to dye it twice. It has oversized lapels and is a different kind of silhouette for us. It's just really special. It's around $450.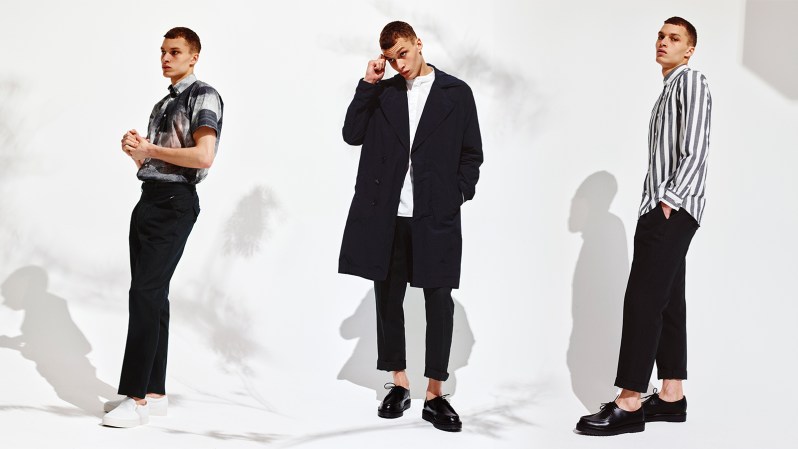 Tunstall: What's new for us is that we have been doing some boxier fits and some different drapes. And using some different blends. The Pacho is perfect for now when the weather is transitional. It's a cashmere blend short-sleeve sweatshirt with no seams so it's raw at the ends. It's just a comfortable everyday shirt, which is new for us. We've been selling T-shirts and a lot of fitted stuff so we have both this semi-slim cut but then we have also expanded into looser, baggier stuff.
What is next for Saturdays NYC?
Collett: We want to open a few more flagships. Certain cities that interest us are definitely Los Angeles and the U.K. and Paris are definitely two markets we spend a lot of time in and have a strong presence there now. Continuing to push the collection and really elevate the quality of the products is never going to stop and then just keep doing the things that feel right – pushing creativity and things that excite us.
In terms of product categories we just launched part of our grooming range and four more products will come to market in May or June – soaps, shave cream and face wash. I think the future is this exciting white board.
Editors' Recommendations