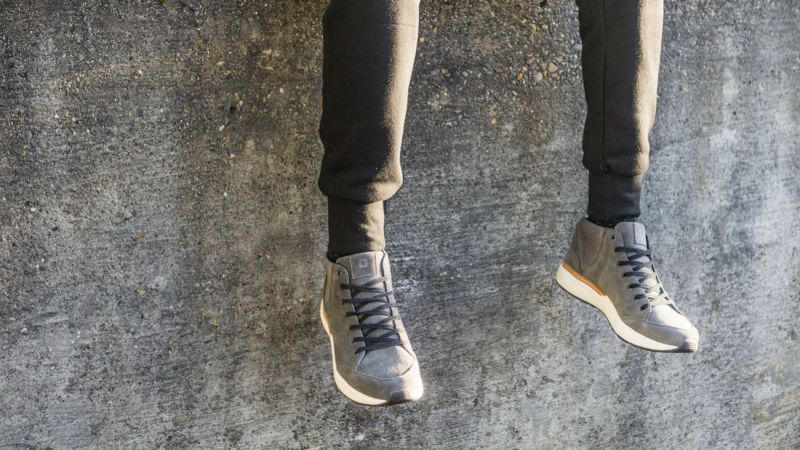 In Japanese, the word tsubo has two meanings. The first is an area of measure equivalent to about 35 square feet of area. That … well, that's not really relevant here. The other use of the word refers to pressure points found on the body that can relieve pressure and stress, providing enhanced comfort and relaxation. That's the provenance of the name Tsubo, a 20-year-old shoe company based in Japan that strives to make its footwear "cas-letic." That's a blend of casual and athletic, as you probably figured out.
Truth be told, I'd not heard of the brand until a rep reached out to me a few weeks back. Now, having worn a pair of the Tsubo Kenson Mid Sneakers around for a few dozen miles, I can tell you that they are my new go-to brand for casual shoes. Cas-letic? Well … we'll see about that.
The first thing you'll notice when you stand up in a pair of Kensons is that you're standing a bit taller than normal. These shoes give me about an extra half-inch of height, which, surprisingly, I do notice and even have to adjust to a bit each time I wear them. With the thick sole comes lots of foam padding; these are comfortable, supportive shoes that cushion the arch and soften heel strikes. The unique serpentine coils of the tread pattern provide ample grip for use on pavement, asphalt, indoor flooring, and other surfaces you're likely to encounter (and the bottoms look pretty cool too.)
As for the uppers, they are made largely of full grain leather (that's high quality leather that has not been buffed, sanded, or aesthetically altered in any way other than dyeing and shaping) with some cloth patches and detailed stitching. The Kensons come in two colors right now: gray and black.
The shoes really do look like a cross between a refined dress shoe and a sneaker, so, in that regard, I'm on board with the cas-letic claim. As for using these shoes for anything more than walking around town or hanging out and such, I'll have to break them in a bit more; my one complaint is that the rather thin collar of the shoe cuts into the skin of the ankles some, precluding the tight lacing that would facilitate a bit more active use of the shoes.
Editors' Recommendations