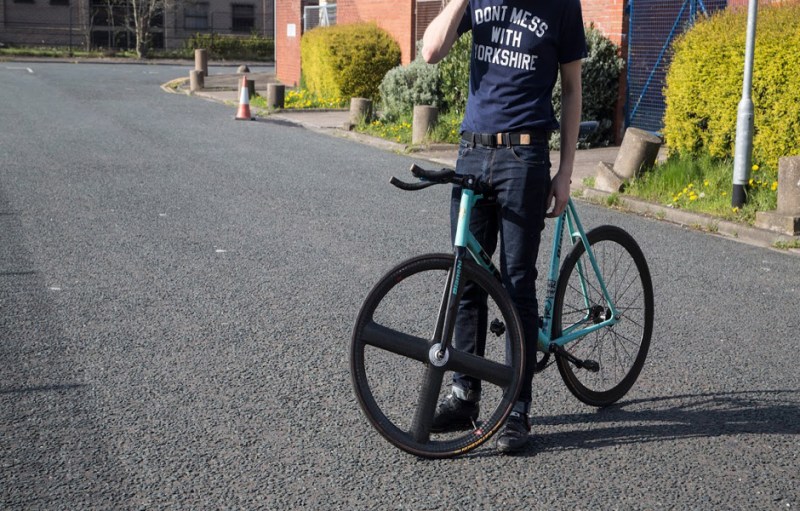 For nearly six years, Restrap — a cycling accessory company started by Bingley-based entrepreneur Nathan Hughes — has produced some of the most durable and high quality cycling gear available. From its famous pedal straps to its functional lineup of bags and pouches, everything bearing Restrap's "Made in Yorkshire" logo touts superior craftsmanship and stellar design. Despite humble beginnings which saw Hughes working out of his home to start the business, an abundance of support, feedback, and backing allowed Restrap to continue to bring its first-rate products to cyclists all over the globe.
Related: Sole and Ecco team up to craft an ultra-stylish commuter bicycle
Looking to add to its already impressive lineup of accessories and gear, Restrap recently took to the popular crowdfunding website Kickstarter to help launch its brand new line of belts called Link. Ultra-functional yet incredibly stylish, Restrap created the Link belt to help those with active lifestyles find a belt which remained comfortable during the most rigorous of activities. While most belts require constant adjustments and fitting, the Link belt utilizes a unique magnetic buckle capable of being fastened, tightened, or removed all with the use of just one hand. After completing its highly successful campaign — it raised nearly $82.5k to an $11k goal — Restrap now has the ability to bring these uniquely tailored belts to life.
Built with 30mm super strength elastic, a magnetic 30mm buckle, and finished with a leather Restrap label and belt loop, each Link belt has been constructed to last an eternity. To back this up, Hughes and company endorses each purchased Link belt with a lifetime guarantee against manufacturer defects. Moreover, each one of Restrap's Link belts — along with all of its products — utilize locally sourced materials for construction and are carefully hand made at the company's workshop in Leeds. Not often do you see a company as totally committed to its craft as Restrap, and this dedication allows the consumer to reap immense reward with the product.
Armed with a successful Kickstart campaign — plus a stylish and functional design — without a doubt, Hughes and company created the ultimate on-the-go belt. Perfect for weekend warriors, avid adventurers, and everybody in between, the Link belt is an excellent addition to any summer repertoire. Though the crowdfunding campaign ended at the end of May, Restrap still allows customers the ability to pre-order this incredible belt through its website, and promises — even while filling its Kickstarter orders — to have them delivered by the end of July. We recommend getting onboard with these now; you won't want to let this fantastic product pass you by.
Editors' Recommendations