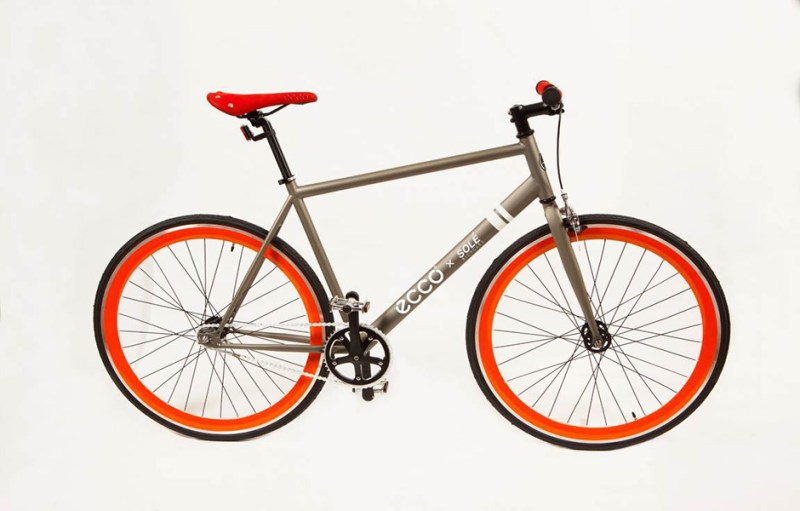 The relatively young (yet wildly successful) bicycle company Sole continued its annual tradition of limited edition bike collaborations this year, teaming up with Danish footwear brand ECCO to create what they're dubbing the ECCO x Sole. Like many of its past collaborations with brands like Beats by Dre and Zico Coconut Water — and events like Chicago's Lollapalooza — its partnership with ECCO goes beyond just producing a simple bike; it's a celebration of what both brands do best.
Despite a gap in company tenure of roughly 40 years, ECCO seems a perfect fit for putting its unique touches on a premier Sole bike. Since the 1960s, ECCO's carved out its legacy by providing top-of-the-line footwear which has always been as flexible as it is light and comfortable. With several of its products devoted to those with active lifestyles — the brand boasts styles for hikers, golfers, and even had a launch which celebrated the 1972 Munich Olympics — this union with Sole seems a natural progression for the company.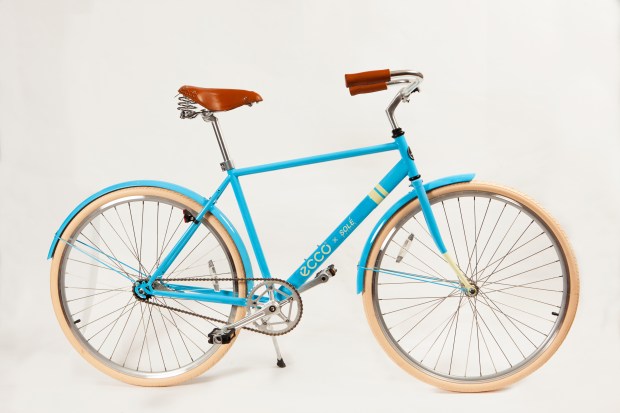 To celebrate the partnership, ECCO and Sole held a one-day pop-up event in San Francisco on April 17th, to display the exclusive collection and give attendees an opportunity to pre-order — and drool over — the stunning bike. The all-day event, held on Haight Street just a short jaunt from the famous Haight-Ashbury intersection, provided those in attendance the very first public viewing of the collaboration. Afterwards, the bikes made their way to both of ECCO's San Francisco-based retail shops, which remain the only stores in the entire United States to carry the partnership's exclusive design.
As for the ECCO x Sole itself, the gorgeous finished product affectionately combines Sole's clean, stylish aesthetic with ECCO's trademark Scandinavian elegance. The entire collection — comprised of four custom models — comes in a single speed, fixed gear option, as well as the always popular city cruiser edition. Sole wrapped each of the bike's seats and handlebars in ECCO's rich, signature leather, outfitted the body with an ultra-lightweight frame, and includes each high performance feature native to its entire product lineup. To put it simply, ECCO and Sole's collaboration is functional artwork on wheels.
Befit for anyone with an active and outdoorsy lifestyle, the ECCO x Sole is a worthy summer companion, perfect for the daily commute to work or a longer weekend adventure. At a price point of $700, it certainly isn't the cheapest bike of the bunch, but where else would you find the kind of superior craftsmanship akin to Sole and ECCO's collaboration for less than that? Take a stroll through any neighborhood bike shop and it's clear it's not possible; Sole and ECCO struck gold with their partnership, thought it's users of the bike who easily benefit the most.
Editors' Recommendations