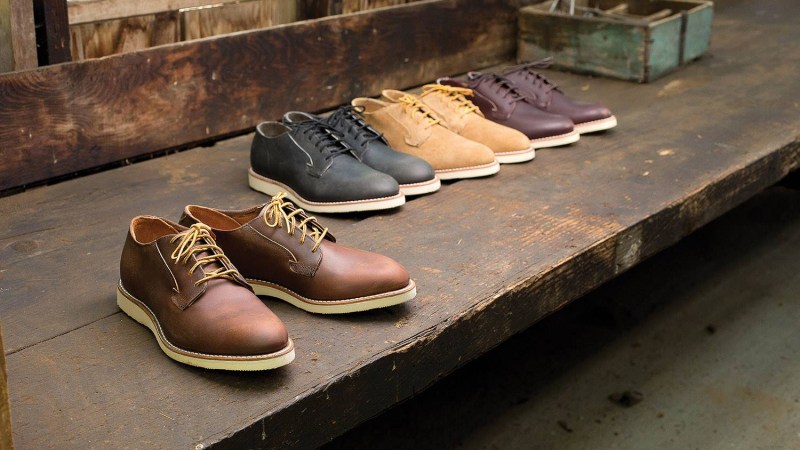 As winter nears its end (it's getting close to ending, right?), it may be time to do some maintenance or upgrade those work shoes or boots of yours after a harsh six months of hard work in the extreme elements. Luckily for you, Red Wing Heritage released a new foam leather cleaner and four new styles of Postman Oxford just in time for the spring season.
The newly vamped models — numbered 3117, 3118, 3119 and 3120 — come freshly updated with an Atlas Lite Tred outsole that provides a slimmer, sturdy, and stunning silhouette for a work boot. The Postman line was originally established in 1954 to deliver comfortability and durability to U.S. Postmen across the country.
Over 50 years later and the oxfords are still popular among working men who demand a comfortable shoe for those long days on their feet. Better yet, the boots are now offered in some of the best leathers Red Wing Heritage and partner S.B. Foot Tanning Company have to offer: Oxblood Mesa, Copper Rough & Tough, Charcoal Rough & Tough, and Hawthorne Muleskinner.
Enough talk, let's take a peek at these beauts:
Red Wing Heritage also released a brand new Foam Leather Cleaner if your boots still have some life left in them, but need a little TLC. Cleaning your winter boots in the spring means you won't have to scramble to polish and wax them when that first surprise snow hits. The revamped Red Wing cleaner uses foam to lift ground-in dirt and stains from the leather exterior in order to leave the ideal leather finish–supple and shiny. The cleaner is best suited for Red Wing Heritage leathers, but it's not limited to them by any means (but spot test before applying anyway).
The new Postman Oxford styles ($259.99) and Foam Leather Cleaner ($13.99) are available for purchase at Redwingheritage.com.
Editors' Recommendations