In line with its mission to provide customers with no-frills, quality outdoor wear, American-made lifestyle brand Ball and Buck is introducing its first ever leather jacket, the Perfecto, which might just be the most classic one on the market this fall.
Ball and Buck developed the jacket with Schott NYC, a brand synonymous with quality leather wear.
"What we love so much about Schott's silhouettes is how timeless they are," began Ball and Buck founder Mark Bollman. "In developing our own jacket, we spent a lot of time going through the Schott archives to find a core style we liked before tweaking it to fit our brand."
"We wanted to evoke the iconic look of a Schott that, while not necessarily on 'trend,' is guaranteed to look as great today as it will 50 years from now."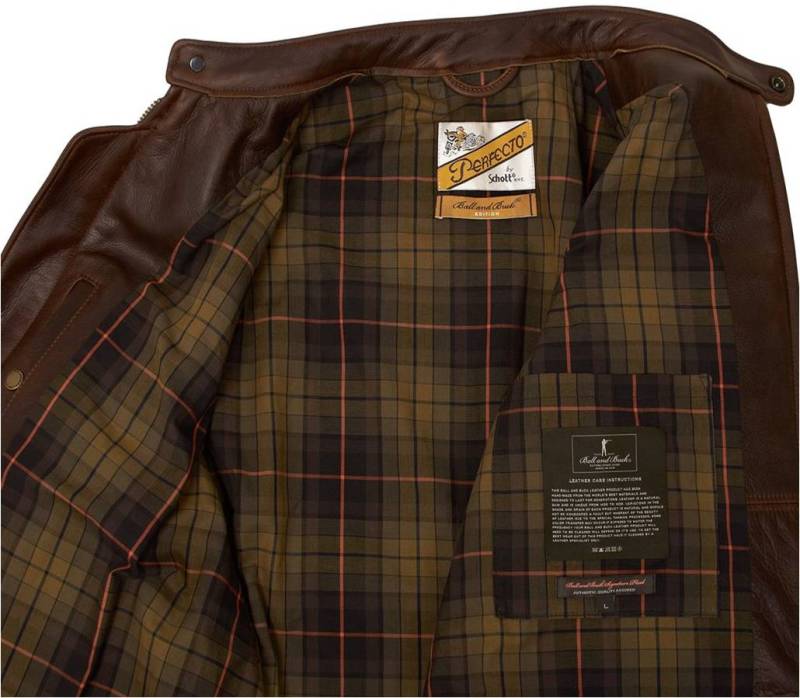 To pull off this ambitious feat, Ball and Buck kept things as straightforward as possible. Here, there are no bells or whistles, just straight-up American-sourced cowhide leather, 100 percent cotton lining, and custom antique brass hardware. The effect is something durable, warm, and undeniably attractive.
"The thing that's truly great about the Perfecto is that it's such a staple item," remarked Bollman. "It's meant to be our customer's favorite jacket, that one piece they can always turn to knowing it's going to look amazing."
"Plus, the jacket has some heft to it and the serious leather hide is extremely protective," he continued. "This jacket is built to last a lifetime."
In addition to its streamlined cut, the Perfecto boasts an inside pistol pocket (ideal for a phone or wallet while riding a motorcycle), hand-punched labels, custom waist buckle tabs and zippered sleeve cuffs with wind flaps.
And for those urban-dwellers, Bollman assures that the jacket was constructed to look just as natural on the open road as it does criss-crossing the busy streets of any city.
The Ball and Buck Perfecto Leather Jacket retails for $798 and is one of just several items featured in the brand's fall look book, including totes, hunter's shirts, scout shirts and other fantastic outdoor essentials.
Editors' Recommendations