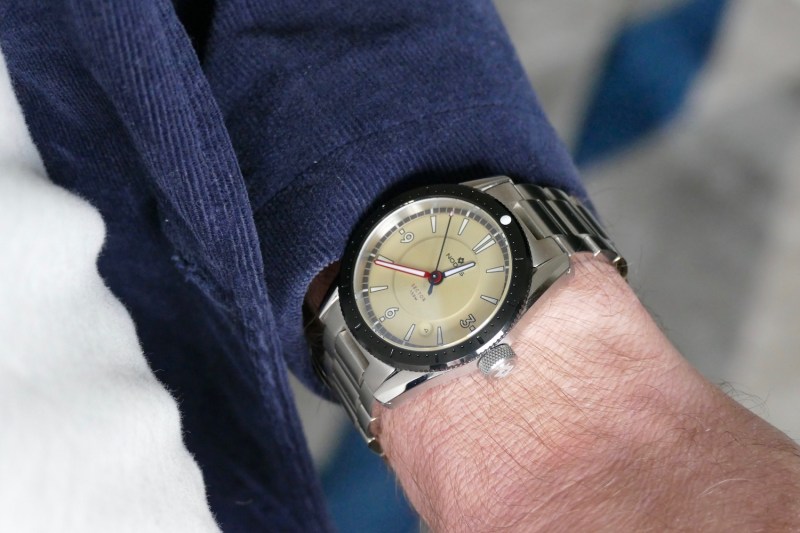 Buying a watch that will be part of a small collection is as hard as buying a car that will nestle up against your others nicely in a garage, and just as expensive, too. We're here to make this daunting decision a little easier by introducing you to the Nodus Sector, the latest model from the Los Angeles-based watchmaker.
Why the Nodus Sector? It's extremely good looking, highly versatile, classy enough for most situations without sacrificing the necessary sporty style, and it costs $425 — a very reasonable price for an automatic diver's watch of this quality. Let's take a closer look at the Nodus Sector.
How the Nodus Sector Looks On Your Wrist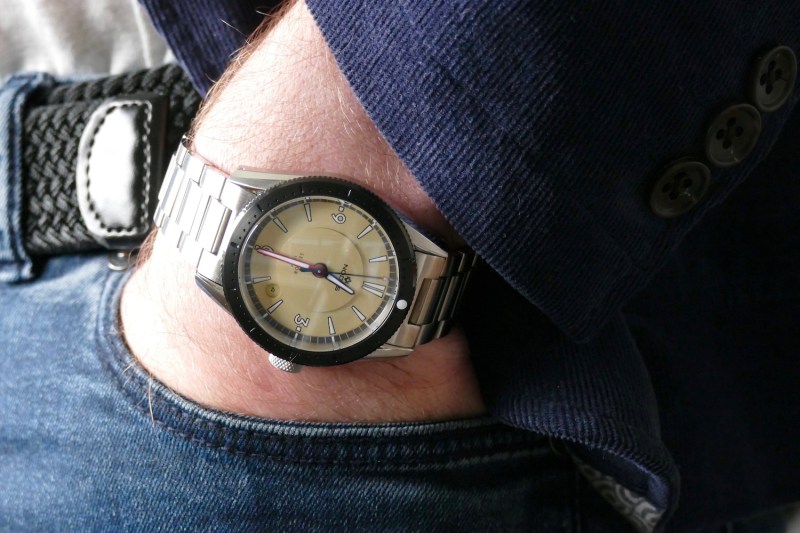 Wearing the Nodus Sector says you're not content to follow the crowd by buying a complex diver's watch, despite potentially never going near the ocean. The name won't be known to everyone, but the micro brand has a growing fanbase in the watch world with nearly 13,000 followers on Instagram despite only starting out in 2017. Nodus designs and hand-assembles its watches in Los Angeles.
Reading a blog post on how the founders, Wes and Cullen, first got into watches, it's no surprise to see them discuss early additions to their own watch collections, which include the established classic Seiko SKX007. The Seiko remains desirable today and the solid reliability, superb movement, and unfussy design makes it the starting point for many watch obsessions. What does this have to do with the Sector? The Nodus watch is the one you buy after falling in love with the SKX007.
It has everything you want from an everyday watch, with added class. The Sector is a slim, lightweight, not overly large divers watch, and this gives you flexibly to match it with your lifestyle and personal fashion choices, and that's important when you don't have tens of thousands to spend on building a small watch collection. Each watch has to do be able to work in multiple situations, and the Sector does this very well.
But this wouldn't matter if the Nodus Sector was a no-go in terms of build, materials, and accuracy. Nodus knows what boxes to tick to make the Sector desirable. The case is made from 316L stainless steel and is surprisingly small for a dive watch, measuring just 38mm. The dial in our review model is a sandy gold color, matched with a black and white hour hand and a red and white minute hand. The three, six, and nine positions are marked with numbers, while all others have simple shaped markings. The second hand sweeps round with a fast, short tick.
It's eye-catching and mature, given some personality with a raised plinth in the centre of the dial, and the printed branding. Without this 3D touch, the dial would be rather flat and dull, especially given its diminutive size. Domed sapphire crystal covers the dial and its small date window, giving it a wonderful sheen in the right light. The black diamond-like-coated (DLC) bezel rotates and clicks solidly into position.
Wearing and Keeping Time
An oversized, machined, screw-down crown is on the right of the case. This unscrews and pulls out onto two positions to adjust the time and the date. The watch has a stainless steel bracelet that's light and comfortable, and never once caught on my wrist hairs. However, adjusting it to size does require a tiny precision screwdriver, as the pins are screwed into the bracelet. This is often seen on more expensive watch bracelets fitted to luxury brand watches, and I needed to visit a specialist to get it done properly.
Nodus may do the design and build in-house, but it still takes the sensible decision to let others take care of the movement inside. Here, rather appropriately, it's a Seiko NH35 automatic movement, and it has kept good time, gaining at most a minute over three days with it on my wrist, and one day sitting on my desk. However, at first it did completely stop a couple of times, but pulling the crown out restarted it.
When asked about this, Nodus told me the NH movement does like to be wound a little to get started, something I hadn't done. Since doing this, it has kept going without issue. I also found the luminescent finish on the hands, numbers, markings, and pip on the bezel took a while to "charge." The watch uses minty green BGW-9 lume, which is longer-lasting than many other lume finishes, but doesn't glow quite as brightly. The lengthy charging time may have something to do with the recent dark wintery days, too, of course.
Versatile and Desirable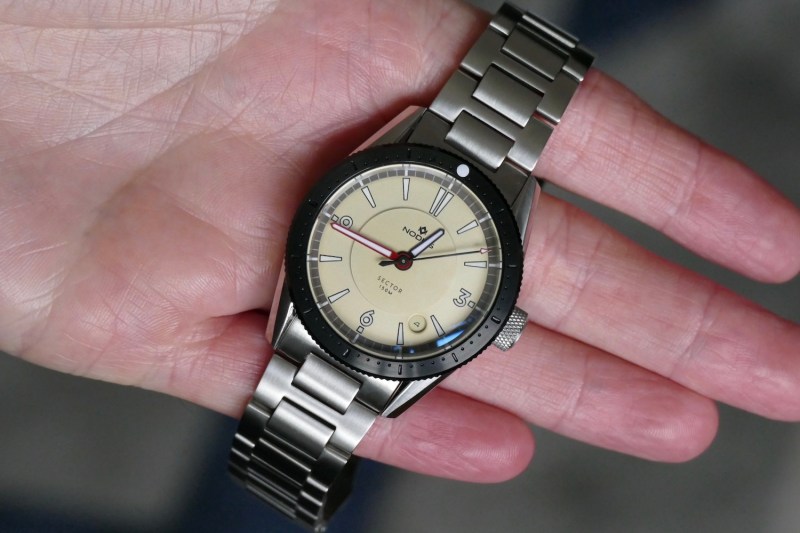 For a dive watch, the Nodus Sector has a subtle look. This comes from it being inspired by watches worn by skin divers, making complications for timing unnecessary, and the reason the black bezel has basic time measurement markings. Wearing it doesn't make you look like a diver, wannabe or otherwise. For this reason, you can wear it with more outfits and not look like you're making a statement.
Taken on its own, the Sector Dive you see in our photos has a strong yet versatile design; but when you look at Nodus's Sector range as a whole, things get even better. The Sector Dive is joined by the Sector Field, which as the name suggests, is modeled on a field watch design. It has a cleaner bezel than the Dive, paired with a busier dial. Whether you choose the Sector Dive or Sector Field, there are subtly different designs and color schemes for each, giving a pleasing variety from which to choose, even when you've decided you want the watch itself.
This, combined with the build quality, premium materials, and Nodus' growing reputation in the world of watches, means if you've got under $500 to spend, the Sector Dive is a great purchase that may be your go-to watch whatever the day or situation, no matter how many watches end up in your collection.
Editors' Recommendations