Surviving a motorcycle accident prompted Zach Cohen to re-evaluate his career path, quit his job, and launch his menswear line Cohen & Sons three years ago. A reboot of a company his grandfather founded in the 1940s and shuttered five decades later, this Los Angeles-based line offers heritage-looking classics with modern upgrades such as high-tech fabrics that enhance the items' appeal. Sold directly online and in selected indie boutiques, Cohen & Sons is a brand that's well worth a test ride. Cohen recently shared the story behind the line….
What is the overall aesthetic and feel of your brand?
It's made for the guy who is totally hung up on the spirit of adventure but also a fashion enthusiast alike. A lot of our stuff is very fashion-forward and a lot of our cuts are very modern and contemporary but they are interwoven with a lot of performance and technology that makes the garment look great and perform really well. All of our denim is integrated with a moisture-wicking technology so they look like standard slim-fit jeans but they come with the same characteristics as your Under Armour or Lululemon. They actually perform four times better than those but who's counting?
You also do classic cut jeans as well though, right?
Exactly. We have three different fits: a slim fit, a slim straight and then we also have a selvage straight which is a more traditional pant with a high-grade red line selvage.
What are some of your other favorite pieces?
We turned a five-pocket into a luxury casual pant. We took a five-pocket and made it out of mid-weight woven terry. It's pretty much the most comfortable pant I have ever worn. I really don't want to wear any other pants anymore! I feels a little bit like pajamas but it looks like a five-pocket. You walk around and look like you are totally together with a standard five-pocket but you are literally wearing pajamas to work. It's pretty amazing.
How has motorsports influenced the line?
We are very involved in the community – the sort of café community. We build motorcycles and we have an amateur group of guys who get together and we do flat track racing and we whip around with guys from Cycle Magazine and we've done collaborations with brands like Suzuki, Ducati and we're working with an indie brand, Iron & Air. We carry a lot of the features forward in a fashion-forward sense. You can see that in our motorcycle jackets like our Rambler Jacket. It's a fashion-forward denim piece but it has a lot of motorcycle influence.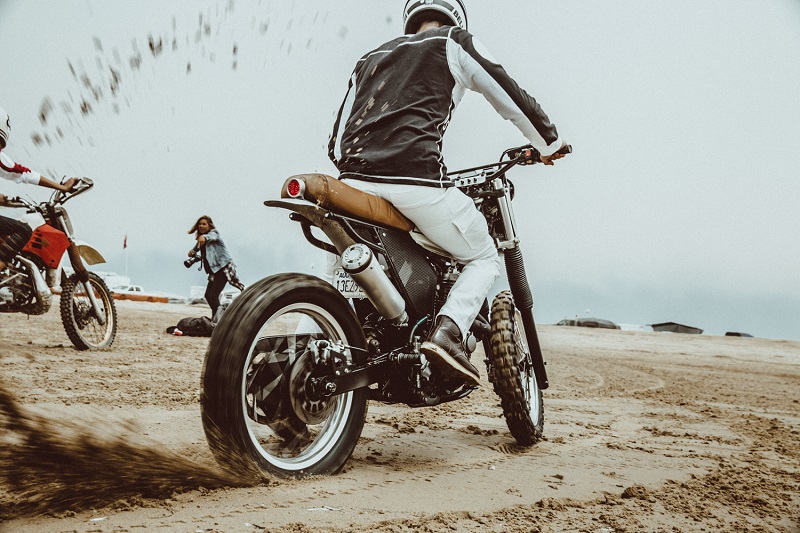 Who is your typical customer?
He's probably a guy from about 27 to 35 who usually works in a creative environment and likes to get his hands dirty a little bit but also appreciates a sense of subtle style.
What's ahead for you?
One of the things we have been focused on is the balance between a clean aesthetic and modern performance which is taking more heritage styles like a contemporary five-pocket or waxed jackets. We take a lot of notes from our heritage which is something my grandfather would wear and take a lot of the cool details that have been lost in this hyper manufacturing world. All these details just went away because they were hard to do. Now we are bringing all of those back and taking a lot of hints from the past and modernizing them. For example we will take a modern denim jacket and without interrupting the aesthetics of the jacket we will integrate it with moisture-wicking technology or stretch denim without affecting it. It's like taking a '68 Camaro, which is a beautiful car, and putting airbags in it and modern engine so it's drivable every single day. You get the benefit of everyday wearability without the drawbacks of a traditional pant.
What sets Cohen & Sons apart?
I think our commitment to authenticity. Everything we do has to have a story behind it and be able to answer: Why are you doing this? The answer half the time is to improve our customers' everyday life like with the woven terry or the moisture-wicking warp stretch technology. We want to tell a really authentic and motivational and inspirational story that makes guys want to get out there and actually feel their best when they put on our clothes and take on the mentality of our spirit for adventure and thirst for life. It's definitely a lot of fun and we like to translate that into everything we do.
Editors' Recommendations