Founded in 2003 by brothers Daniel and Michael Casarella, Barking Irons began as a T-shirt brand that specialized in graphics based on the history and folklore of 19th century New York City and The Bowery a la "Gangs of New York." It later expanded to a full-on clothing collection, which is still produced and sold online today.
However, in 2009, the brothers started creating cobranded tour T-shirts for the band The Kings of Leon, which were so successful that they soon shifted their business concentration to producing tour merchandise for musicians. Today they work with about 15 acts, including The Kings of Leon, Billy Joel, Beirut, Jake Bugg, Dawes, Albert Hammond Jr., Manchester Orchestra, Sean Lennon and Yoko Ono.
Now they are looking to return to fashion that is not music-related and will release a new collection of bags ($100 to $300) on their website in mid September.
The pair recently spoke to me in their SoHo studio about their creative evolution and what the future holds for their brand.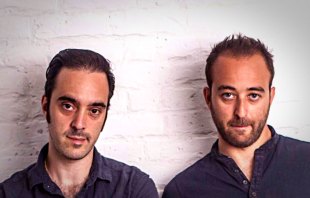 How did you first get involved making music merchandise?
Michael: It came about really organically. It was about 2007 or 2008. And at the time one of our favorite bands, The Kings of Leon, called us up and asked us if we would be interested in sponsoring an afterparty. About six months later we got a call asking if we would be interested in doing some limited merchandising T-shirts for the band because they were looking for something cooler than was offered in music merchandise.
Daniel: A lot of these bands that we love don't really have someone minding their brand on the merchandise level. Let alone the visual in general. Some of them were missing the boat entirely. That's really where we saw the opportunity.
Michael: Our product went on tour with The Kings and we were only doing about 20 percent of the offerings and our shirts were the bestselling by far. And they were about $10 more than the other ones.
Aside from price, what sets your product apart from typical concert merchandise?
Michael: People like wearing their band T-shirts and it has always been such a disappointment to me when I go to buy my band T-shirt and I get it home­–or I sober up the next day–and it doesn't fit and I realize that it's a shitty shirt. That was our mantra was to make shirts that when people buy them that they would say, "This is an awesome shirt." And that actually resonated with the bands.
Why is all your band merchandise cobranded?
Daniel: We really wanted to tell the artist, as a fashion label, this is what we do. By having us develop your visuals and your merchandise you are actually adding value to your brand. Without that fashion-label end, I don't know that the attraction would have been as strong.
Michael: We started realizing in 2008-2009 that music merchandise is a big category and it's still in its prehistoric days and there's no actual brand in it. It's all Acme-branded stuff, which the customer feels. They don't feel like they are getting anything special. They feel like they are getting a big shadowy corporation that puts logos on shirts and sells them under the name.
Daniel: We also thought: Why not think bigger and with more of an apparel mind? Develop better garments. People will buy denim jackets at an Iron Maiden concert that are duded up. And likewise for other artists. We were talking to Sean Lennon, who is one of our clients, about doing blazers with patches and personal drawings. So stuff like that also made us think: Let's also break the mold of what's going on these merchandise stands.
How involved are the musicians in the design process?
Daniel: It depends on the artist. For bigger artists like Billy Joel it is not a collaboration at all and he doesn't want to be involved in it. And for Yoko Ono the best we'll get is that she will tell us that she wants a white shirt for that particular art. But for people like Sean Lennon I can work directly with him on things. So it is really a full gamut.
What's new for Barking Irons on the non-music front?
Daniel: We are actually weeks away from releasing a capsule of very cool bags. We've done bags before and gotten good attention. They're all-purpose bags in waxed canvas and leather and mixed media. But they still have the Barking Irons old-world urban identity. We developed these bags ranging from a very cool everyday tote to a weekender and a knapsack. Conceptually they are all white or a natural color and the idea is that they will gain hues by rubbing against your denim and start to discolor. We are also doing a black version for the customer who just wants a black bag. Of course T-shirts and henleys will be a part of this offering because we do them day and night.
How would you say the brand has evolved over the years?
Daniel: If you think about what we were originally hooked into, which was this old New York history and largely folklore, and if you think about what folklore was on The Bowery, it transcended music. That is still kind of what the brand is all about. It's just a wider breadth of folklore now, which at one time would have been on The Bowery from punk in the 1970s to tap dancing in the 1870s.
Editors' Recommendations