Alpha Industries began in 1959 as an apparel supplier to the Department of Defense. Today, this global military-inspired brand that is based just outside of Washington, DC still does a bit of government-issued production, but has primarily evolved into a fashion label, offering military-based jacket and coat staples that are stylistically timeless. To mark the 50th anniversary of Alpha's iconic M-65 field coat this year (and Veterans Day on Wednesday), Mike Cirker, the third-generation CEO of this still family-owned company, spoke to me about Alpha's new limited edition M-65 Anniversary line (sold via its website and in selected stores) and the history and evolution of the brand.
Your iconic M-65 field coat has just turned 50. What is its history?
The M-65 was actually the third model of the general infantryman and pilot field coat. It began in 1943 when the US Army, which at that point controlled the Air Force, developed the M-43. That jacket lasted for quite a bit. The M-51 was its successor. It did not have a lot of updates–still just a basic cotton twill but it did have a few about how it was constructed and it allowed the guys to crawl on their bellies and not snag. Once we got into the late '60s and we started to ramp up for the Vietnam era, they developed a new fabric that is a 50-50 blend of nylon and cotton that was virtually indestructible. It was super windproof and super tear-resistant so the military selected this fabric to be used in both the Army and the Air Force, which had split by that time. The M-65 silhouette became the dominant player for both branches, which is not normal at all since most branches want their own look, their own design and their own color but both selected the M-65 for its fabric and its color, that olive drab, and it has lasted for quite a long time.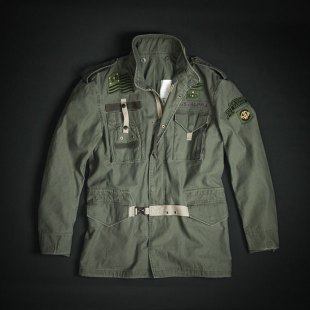 And how did the 50th anniversary edition of the jacket come about?
We've been in business over in Japan for a long time. Alpha Japan has always been a leader for the global brand in terms of cutting-edge fashion. We have been selling to one of the e small army-navy surplus shops in the heart of Tokyo, Kamikaze. The guy who owns it is a huge fan of Alpha. The Japanese are very nostalgic when it comes to vintage military product. I went there and asked him if he would be interested in designing a couple special pieces for us. He developed four one-of-a-kind designs. Then we took two of those styles and we replicated them for mass production. The idea was to take this jacket, make it a limited edition and something really special. We also did the liner, which buttons in or out, and we made them into a very limited run.
There are also M-65 anniversary backpacks and other accessories…
We really wanted to expand the M-65 anniversary into much different categories. We are an outerwear company but we wanted to collaborate with other brands to really express the heritage. A bag was a no-brainer. We got in touch with Manhattan Portage, another heritage brand that is well-known in Japan, and we gave them a bunch of the fabric and they produced three bags that are co-labeled: there's a big rucksack, there's a messenger/laptop back and there's a kind of hiking backpack. They have the heavy-duty brass features that resemble items used on the M-65.
How much of Alpha's business is military versus civilian today?
We are heavily civilian. We still do very small runs with some organizations in the military but we are not currently with the Department of Defense but we do programs with local law enforcement and we had a recent sale to a division of the Navy that sends sailors and pilots up to Alaska to train in extremely cold weather. They buy our N-3B parkas and use them to wear during their training exercises.
What are some of the key items in your current menswear offering?
The fall 2015 collection is about 20 to 25 jackets and we always keep our core collection in there. We have a collection of five or six of core jackets that are based upon military spec jackets. We make sure that they stay true to the original specifications determined by the government. Those jackets are always in our collection every single year. Then we kind of build fashion versions of these jackets. We're not getting outside of these silhouettes of a flight jacket, a field coat and a parka, a pea coat and a fishtail. The development builds from there and we mess with color and fabric and trim to make it look and fit a little bit more contemporary.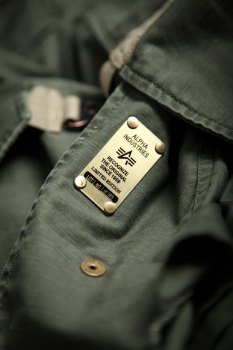 You work with a lot of other labels…
Yes. We are doing jackets with Stüssy and Burton and Undefeated. We also did a great jacket with Opening Ceremony.
How much of your product is made in America?
A very limited amount. We still work with military-specs products like Nomex flight jackets that we sell to foreign militaries and we sell to civilians as well. The factory in Knoxville, Tennessee where we do our Made in USA Nomex jackets is the original factory that Alpha owned back in the day when my father and grandfather operated it starting in the early '60s.
Tell me about your company's extensive product archive.
For about 20 years my father collected Alpha jackets. There are tons of military jackets out there that you can pick up from eBay but he knew the rare and interesting and hard-to-find. I found this collection in our warehouse in Knoxville about four or five years ago and I instantly recognized the value of it so we brought that collection up to our HQ in Washington and I hired an archivist, a woman who used to work for The Smithsonian. We have a pretty extensive archive of all the jackets that basically take us through all the decades and all the military conflicts that Alpha has been a part of and all the different types of product that we made. In terms of the M-65, I have seen some very cool jackets in there. I've seen jackets with bullet holes and bloodstains.
Editors' Recommendations