The 2014 year in watches is coming to a close. The variety of timepieces reviewed here on The Manual Wind has ranged from the practically unobtainable high end, to well designed values. The common trend of the past few years and even more so in 2014 has been the tribute timepiece. Brands celebrating their history with new versions of old designs was the dominant theme and expect to see more for 2015.
Personally, being immersed in the watch industry allows me to be hands on with many timepieces. After careful consideration of both the pieces I have encountered as well as reviewed, I have a pick for watch of the year. This timepiece to me is one that not only has great design and a reliable movement, but is a good value and investment. For 2014, the watch that encompasses it all, residual value, design, reliability, and fair price point is the Tudor Black Bay Blue.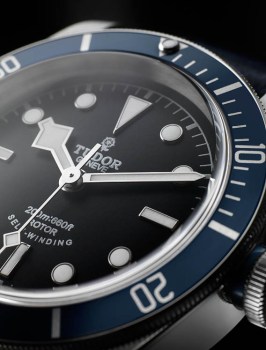 This 40mm timepiece is the anchor of the Tudor brand in the United States. Solidly built, this Rolex cousin shares some attributes with the classic Rolex Submariner but still stays true to Tudor heritage. The snowflake hour hand and matte dial have a vintage essence to the old Tudor subs. Solidly built, The Black Bay Blue is water resistant with a screw down crown and comes on a very well made bracelet and additional NATO strap. Introduced with the blue bezel this year, the Black Bay changed its personality from being more of a weekender in red to being an all around pick for your wrist in blue.
Priced at a retail of $3,425 and holding great residuals on the secondary market, the Tudor Black Bay Blue is no question my strong buy recommendation when your bonus comes through in the first quarter. History, reliability, design, versatility, and value. The Tudor Black Bay Blue has it all and is The Manual Wind watch of the year. Inquire about purchasing one here.
Editors' Recommendations