Our new watch column will feature a weekly post by Ian Schwam, a gent entrenched in that world. Follow him on Instagram @TheHairyWrist.
Why do we pay tribute? Simply put, out of respect for what is classic. The original Mark II Speedmaster by Omega made its debut in 1969. One of a series of speedmasters that was introduced in the late 60s and early 70s, this piece followed what is commonly known as The Moonwatch. Taking a leap from the classic round case design that NASA chose to go to the moon, the futuristic design of the Mark II was instantly recognizable. Housing the same Caliber 861 that landed on the moon, watch theorists believe this was to be Omega's next in space.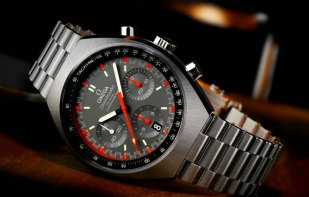 Holding true to the current trend in the watch world today, Omega looked back in time for inspiration. Paying tribute to that iconic original Mark II Speedmaster from 1969 the 2014 Mark II was introduced. 2014 technology meets modern 1969 design. So ahead of its time its design elements need not be changed. Boasting a substantial brushed stainless steel case and two dial configurations true to form; black and orange racing. Powered by an advanced new engine under the dial, Omega has truly held to both its history and innovation with this reissue.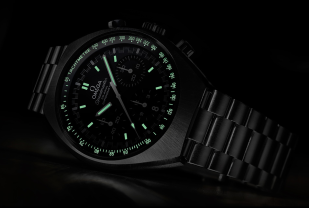 The Omega caliber 3330 incorporates a silicon balance spring with a sturdy column wheel chronograph system to create a reliable and cost conscience movement. As previously seen in the Seamaster 300m Americas Cup Limited Edition, Omega offers a well made co-axial chronograph in yet another great design at a reasonable price. The 3330 is not technically considered a fully in-house manufacture movement but this caliber is still nothing to scoff at. Forget the bragging rights of an in-house caliber and take the savings Omega is offering. Their 9300 fully in-house caliber chronograph will set you back further. With an MSRP of $6,250, the Mark II reissue offers great horological value; a tough formula to concoct in what some argue is an over valued watch environment.
So iconic in design, other brands have taken notice and paid their homage to the Mark II. Officine Autodromo is a prime example. With design cues straight from the Omega record books, their Prototipo Chronograph offers the marketplace an affordable ($625) high quality Quartz timepiece that also encapsulates the appeal of the 1960s and 70s era of sport and racing.

The respect and recognition given to the 1969 Mark II has been shown on many levels. From the reissue by its original manufacturer, to smaller brands bringing its legendary design to the masses, the word classic is clearly defined by tribute.
Get deeper into the world of Omega on there new Youtube channel.
Learn more about the Prototipo Chronograph at Autodromo.com.
Editors' Recommendations