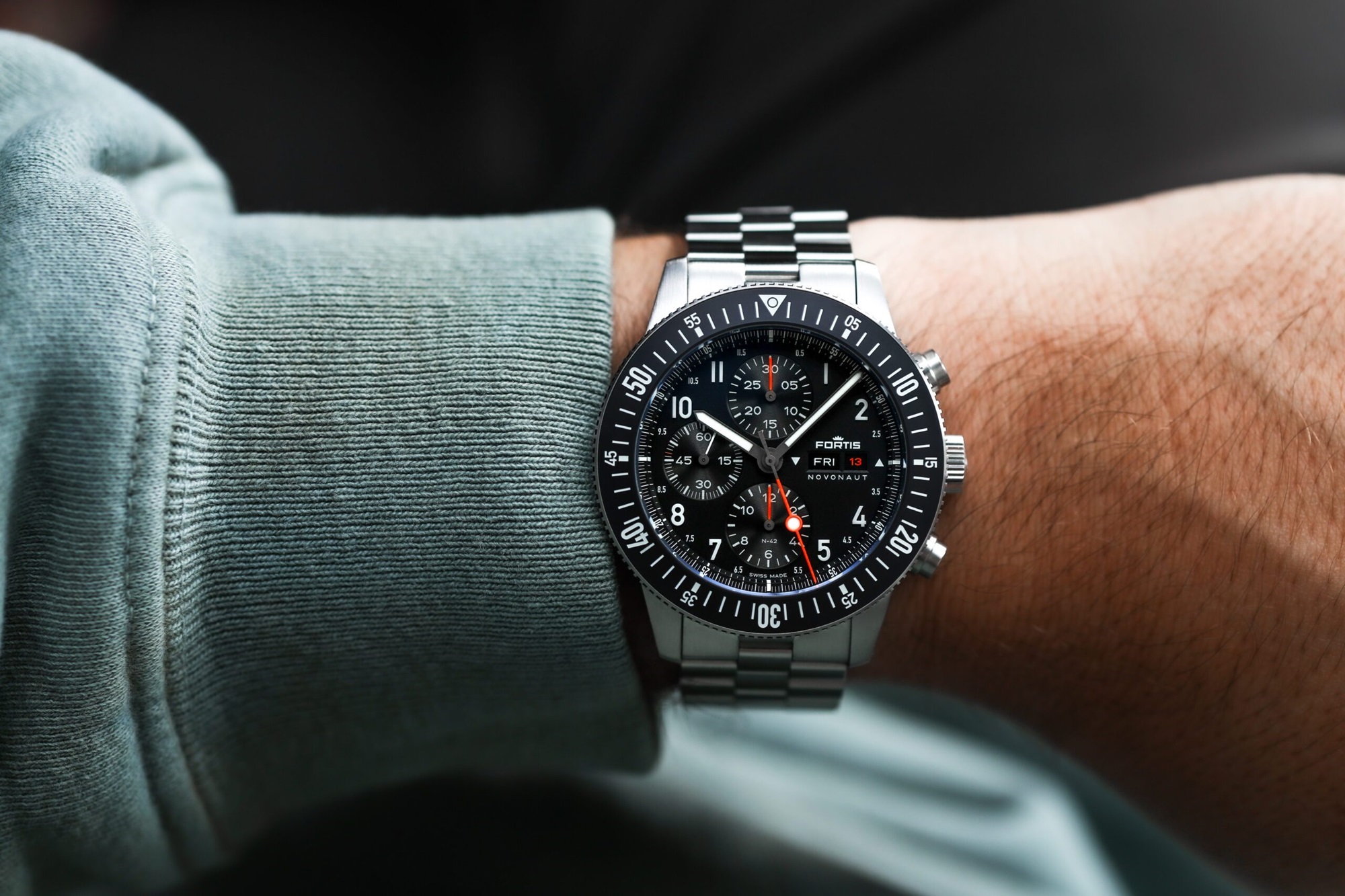 In the grand universe of men's watches, there's a niche that belongs to the brave, the bold, and the cosmic adventurers among us. These timepieces are more than mere fashion statements; they're works of mechanical artistry, precision instruments, and often, historical relics. After all, who doesn't want to own a watch that's good enough for space?
You likely know the story of the Omega Speedmaster. Known as the "moon watch," this classic timepiece has a storied history with NASA astronauts (and the organization itself). The Omega Speedmaster Professional is one of several watches that NASA has deemed qualified for spaceflight and is the only one qualified to go outside of the spacecraft.
Of course, NASA isn't the only program to send people into space. In 1994, Fortis introduced the Official Cosmonauts Chronograph, and it became (perhaps not surprisingly, given its name) the first official watch of the Russian Space Agency. It regularly flew on missions for nearly a decade until the Fortis B-42 Official Cosmonauts Chronograph replaced it. Now, twenty years later, the relaunch of the Novonaut Chronograph is proving that some legends never fade.
The Novonaut's stellar resurgence
The Fortis Novonaut Chronograph has a case diameter of 42mm, making it a watch that commands attention without being overly ostentatious. The sleek case is constructed from recycled stainless steel, a nod to Fortis's commitment to sustainability.
The Novonaut doesn't shy away from depth, boasting a water resistance of 200 meters. Whether you're exploring the cosmic abyss or diving into earthly waters, this watch has your back. One of the standout features of the Novonaut is its bidirectional Sirius Bezel. Made of polished ceramic, it's not just a rugged accessory; it's also equipped with SuperLuminova markings. This means that even in the darkest reaches of space (or your local dive spot), you won't lose track of time.
The Novonaut's sapphire crystal, complete with an anti-reflective coating on both sides, is your window into the cosmos. It's a barrier against scratches and a portal to the intricate dance of gears and springs inside. Flip the watch over, and you'll discover a smoked sapphire case back, providing a glimpse of the watch's beating heart. It's a design choice that adds an extra layer of intrigue to this cosmic timepiece.
Crown & pushers: The unsung heroes
Watches for men are often defined by their bold design choices, but it's the subtle details that truly set them apart. The Novonaut features a screw-down crown with a triple gasket system, ensuring that it remains watertight and dependable in any environment.
The pushers on the Novonaut are the key to its chronograph functionality. They're not just there for show; they're designed to start, stop, and reset the chronograph with precision. For those who demand accurate timekeeping, these pushers are your trusty companions.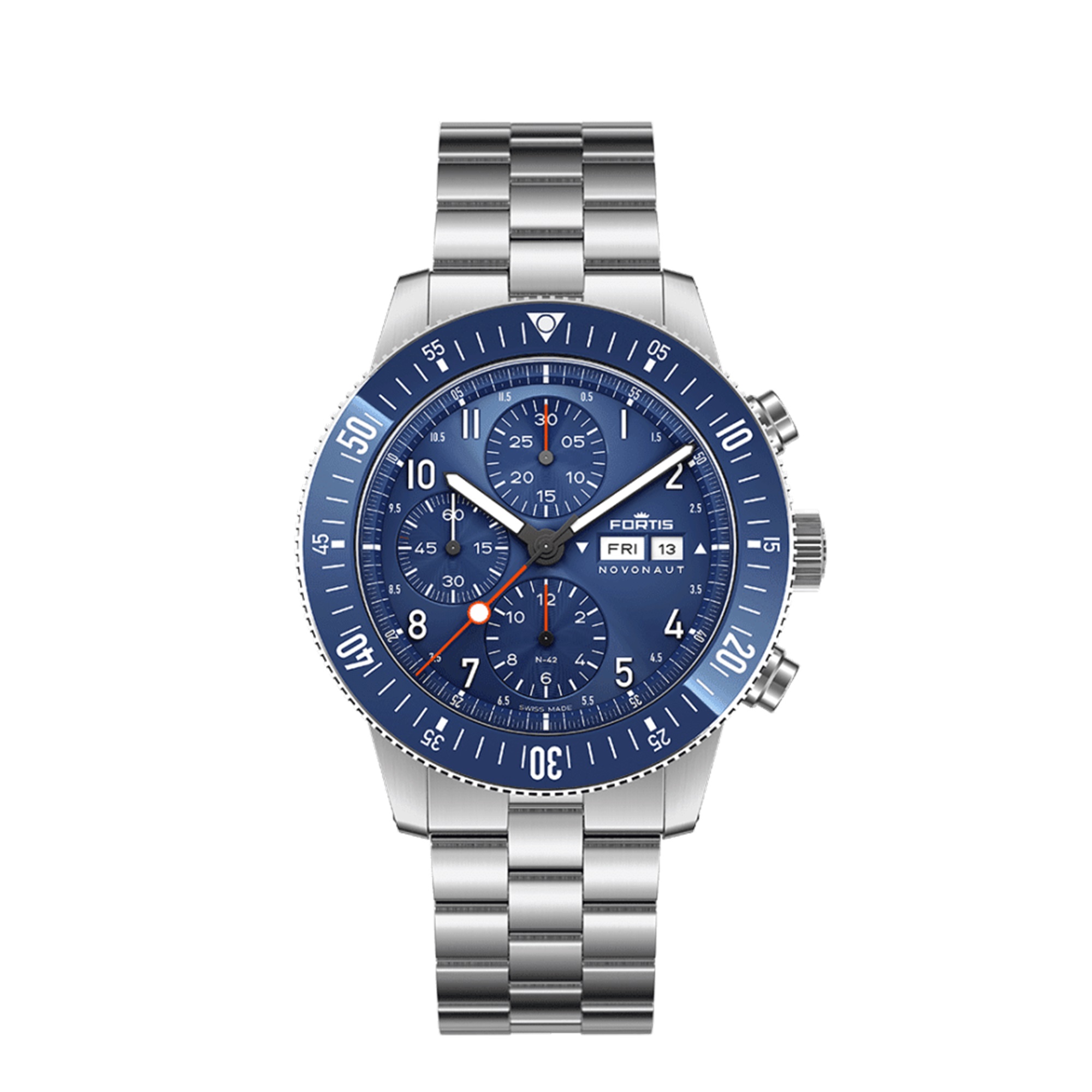 Dial & hands: A splash of cosmic color
The Novonaut boasts a stunning cobalt blue or deep black dial with a sunburst and grooved totalizer pattern. It's a visual spectacle, and it's made all the more impressive by the applied SuperLuminova X1 Lumicast numerals. Whether you're exploring the cosmos or simply navigating your way through a dimly lit room, the Novonaut's dial ensures that you're never in the dark.
The luminous hour and minute hands are not only functional but also elegant, and they add a touch of sophistication to the watch's overall design. The stop second hand and counter pointer in Berlac fluor orange provide a striking contrast against the blue or black canvas, making for a visually captivating experience.
But what truly sets the Novonaut apart is its self-winding Column Wheel Manufacture Chronograph, lovingly dubbed WERK 17. This is where the Novonaut proves that it's not just a pretty face. The stratosphere-tested movement is a testament to Fortis's commitment to precision and durability. This self-winding marvel boasts a power reserve of 60 hours, ensuring that it'll keep ticking even during extended cosmic journeys.
The verdict
Upon close examination, it's evident that Fortis has crafted a robust and intentionally hefty tool watch, a characteristic that aligns with the brand's signature style. This timepiece appears poised to withstand a considerable amount of wear and tear, making it a practical choice even for hypothetical space voyages.
Fortis has successfully breathed new life into the Novonaut's design language, infusing it with a contemporary and fresh aesthetic. For enthusiasts of the original Novonaut seeking a modern, and perhaps more dependable, upgrade, Fortis has certainly delivered a compelling option.
Editors' Recommendations