As Kickstarter timepieces continue to develop and evolve, designers and developers are challenged to improve on existing trends.
Aviation continues to be one of the most dominant trends that we're seeing across the industry.
Vancouver, BC-based Ferro & Company is offering an interesting take on the look with their "AGL" (Above Ground Level) Series. It's a collection of 12 watches inspired specifically by 1940s airplane culture coupled with quality, Swiss-made components.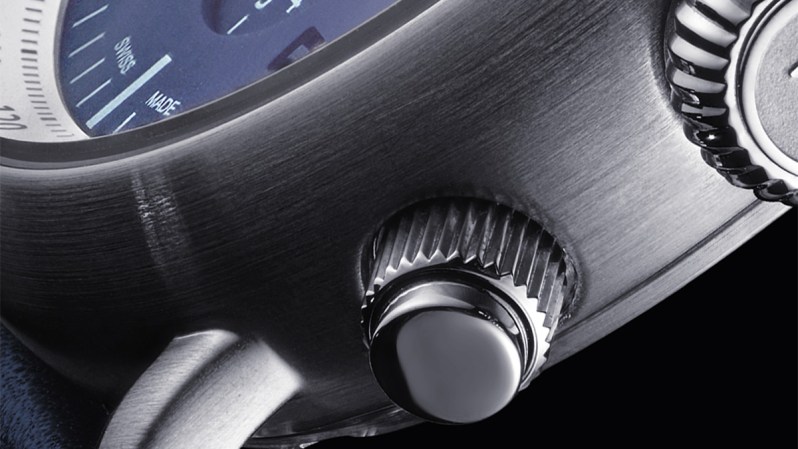 Brothers Bob and Ary Shahbakhshi started the company in 2014 after they couldn't find a watch built with the quality components they appreciated at a price point they could afford. They built a reputation via three prior crowdsourcing campaigns–their most successful was last year when they launched a Porsche-inspired watch that exceeded its funding goal by more than 1,000%.
The AGM series comes in automatic or quartz movements with respective standard or chronograph styles. Both feature scratchproof 42mm sapphire crystal cases and handsome leather bands with accented stitching. The watch hands are stylized in the spirit of the same gauges pilots would see in the cockpit of a 1940s aircraft.
In early 2016, they decided to move their manufacturing from Asia to Switzerland and this latest round of watches represent an increase in standards for the company as a whole. The automatic has a see-through back, showcasing these new mechanisms in an intriguing, yet subtle way.
It seems that watch enthusiasts are on board with the brothers' work yet again. The AGL campaign has already raised more than 400% of its goal, with more than three weeks left to go. Interested buyers still have time to join in, too. They're offering sizable discounts off retail for pledges as well as an opportunity to have one of the initial limited run of AGL designs (some will be as a few as nine examples).
You can purchase your own timepiece here.
Editors' Recommendations