FEIT made a name for itself as a minimalist, masculine shoe line focusing on careful material sourcing and hand-sewn details.
But aside from their street style blog-worthy silhouettes and covetable construction, the company is also deeply purposed — and their winter shoe drive effort to support homeless populations in New York City is no exception.
Effective charity drives take a serious dream team
New York City's homeless population is a staggering 61,000 as of 2017, including 15,000 families and 23,000 children. The problem is actually at its worst since the Great Depression. And of all the ways brands, organizations, and citizens can come together to pitch in, supplying people with a fresh pair of kicks can actually make a big difference.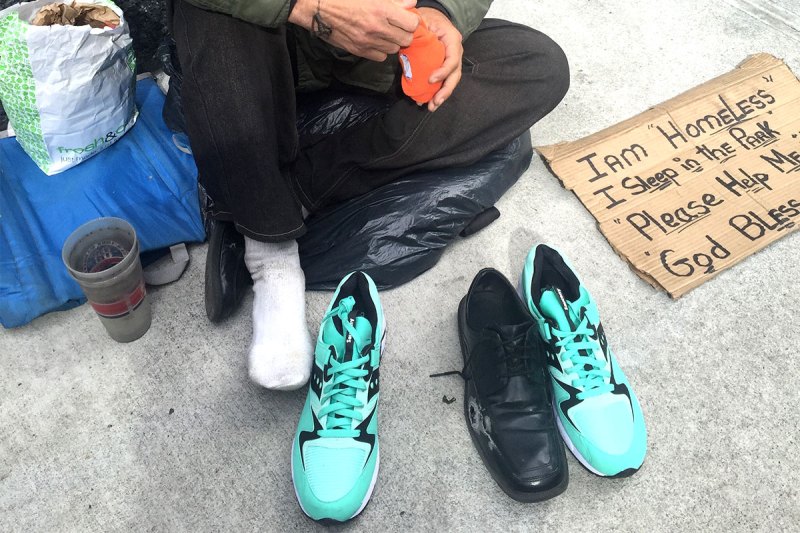 FEIT's partnership with the New Museum and the International Center of Photography (ICP) is drumming up donations with the Bowery Mission, an organization specializing in recovery programs for homeless men and women to help them get back on their feet. With the help of the Bowery this winter will be a little bit warmer for hundreds of New Yorkers in need.
"For over 138 years, The Bowery Mission has met immediate needs – such as meals, clothing and shelter – for each person walking through our red doors. Last year, the Mission distributed over 56,000 articles of clothing, and we are grateful to partners like FEIT who help us provide shoes for those in need. With nearly one in every 130 New Yorkers experiencing homelessness, it is more important than ever for our local businesses to support their neighbors," says David P. Jones, President and CEO of The Bowery Mission.
It's time you upgraded your winter boots, anyway
So here's how it works: You donate a pair of gently-used kicks when you purchase from the FEIT site. Enter the code SHOEDRIVE and you'll get a UPS shipping label in your inbox right away. Use the prepaid label to send your old shoes on their way to someone who'll appreciate them way more than the back of your closet will. And once your shoes are received, you'll get a 20% refund off your FEIT order. Not too shabby.
A percentage of the price of your new shoes will also go toward refurbishing all those donated pairs, so their recipients will get your shoes with fresh laces, insoles, and a little extra tender love and care. Also, the New Museum and ICP Museum will give a free one day admission to both museums to those who donate, along with 10 percent off at the ICP Museum shop.
The drive runs from November 16 to December 31, 2017. If you're a New Yorker yourself, you can swing by FEIT's brick and mortar locations.