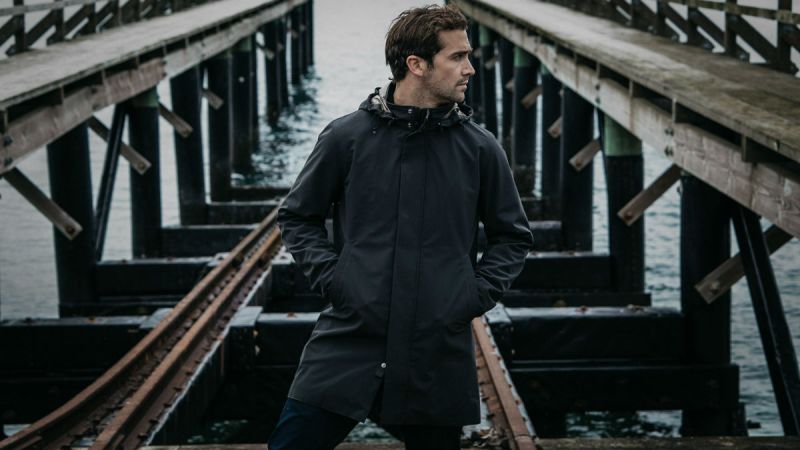 When the idea for Coldsmoke first came to be, its founder was on a mountain peak in the backcountry of Whistler, Canada, being toured around by a legendary heli-ski guide. It was the morning after a huge three-foot snow dump — a perfect bluebird morning — when the guide described a phenomenon where fresh snow, sunlight, and wind combine to form clouds of sparkling powder that rise off the mountain like smoke.
"The guide said 'when the snow is perfect it's coldsmoke,'" says Liam McAuliffe, Coldsmoke's creative director. "This vision of perfection, when all these elements come together, was the spiritual inspiration. We take that metaphor and apply it to how we make gear."
And Coldsmoke gear is nothing short of perfect.
First and foremost a technical apaprel brand, Coldsmoke began toeing the line into lifestyle simply by responding to its customers. "We live and are based in Venice Beach, [California], and people here are traveling all the time," McAuliffe says "It's technical apparel tailored to the urban environment. Different from your standard REI outdoor gear."
Coldsmoke balances technical and wearable. In fact, if McAuliffe could outfit any iconic man throughout history with Coldsmoke apparel, it would be Hunter S. Thompson. "I love that he was really intelligent and articulate, but also had a really free-spirited way of living and that way of living took him to really rugged parts of the world and into pretty manly and active activities."
The brand opened its first shop in Venice Beach earlier this year. Alongside Coldsmoke apparel, the storefront offers handmade axes from Swedish heritage brand Hults Bruk, eyewear from revered Japanese makers Native Sons, sustainably harvested incense from Incausa smoulder, and American-made bags and accessories by Colfax Design Works.
"There's a synergy of quality — a complementary nature — to all of our goods. Each are special versions of whatever they are. It's not just any axe; it's an axe forged and founded in Sweden that has been around since the early 1600s," McAuliffe says.
Even the layout of the flagship store mimics this melding of function and form. Bathed in natural light, the space incorporates minimal modernist design elements with the traditional Japanese technique shou sugi ban, in which cedar wood is burned for both preservation and a unique color. Curated furniture from Milwood Design inspired by American artist Donald Judd outfit the floor, and ephemeral mountain landscapes from Italian photographer Walter Niedermayr take us to far-away places and inspire new adventures. Oh, hey, that coat would go perfect with that trip …
Coldsmoke has redefined the production calendar based on its preference for Made In The USA apparel. "Having small-runs made here in America helps us be flexible to our customer requests," explains McAuliffe. "We can literally go downtown the next week after releasing a jacket and add details or make changes. The time is cut down, meaning we have the power to design, produce, and release apparel in the same season."
So what is Coldsmoke doing with all that quick-to-customer power? Well, they're not trying to distract with sparkle and shine just to sell another jacket. Instead, McAuliffe gets inspired by blending technical fibers with the most classic, long-worn fabrics of the apparel industry — like wool, for instance. "We update classics," he adds, "using the good parts of these tried and true materials and then add tech."
This may result in a blend of traditional Japanese wool with 50-percent cashmere and Polartec Alpha (a fabric so advanced it was originally designed for U.S. Special Forces) in a style that pulls from classic Japanese and Scandinavian workwear.
"Form follows function, but you don't lose sight of form. You take the form that's left and make it perfect," says McAuliffe. "It's craftsmanship, but also artisanship."
Venice Beach residents can visit Coldsmoke at 222 Main St.; everyone else can easily shop the lineup online.
Feature image showcases the C-Change Fishtail Parka.
Editors' Recommendations