Style inspiration has been springing from a more minimalistic source in the last few years. Mark Zuckerberg's wardrobe of gray T-shirts and…oh yeah…gray sweatshirts (okay, okay, he wore a navy blue suit to his Congressional hearing) became a meme of epic proportions. Barack Obama's post-presidential uniform of a black suit and white shirt reflects a kind of austerity that would make a lot of men uncomfortable. Like them, many men have decided to create an easy-to-wear, easy-to-maintain look that doesn't require a lot of thought.
More Wardrobe Ideas
Admittedly, we are constantly bombarded by information in this data-centric era, so it's easy to understand why putting together outfits can be viewed as yet another distraction. And yet, in an age where everything is Insta-fabulous, and personal branding is a must, creating some buzz with diligent personal style can not only make you stand out in the crowd, it can also actually be a lot of fun.
We assembled some of our favorite celebrity looks for inspiration. Of course the well-heeled also have personal stylists constantly on the watch to ensure every outfit is on-trend, fits right, and requires little or no Photoshopping, but with a little practice, even the most sartorially unsavvy among us can have camera-ready presence.
Ben Barnes
We like this young Brit as much for his grooming acumen as for his wardrobe. Not bad for a guy who, as Billy Russo, AKA bad guy Jigsaw in The Punisher, is supposed to be completely disfigured. At the recent season premiere of the show, we like the sophisticated pairing of a perfectly tailored, formal navy suit, with a dark floral shirt so sophisticated that a tie is not required…if that's the rule in your office, too, then this is a perfect look for work. Speaking of grooming, the star of upcoming BBC series Gold Digger and HBO's Westworld may be more familiar to you as Prince-perfectly-coiffed-Caspian of The Chronicles of Narnia…not that's a wardrobe.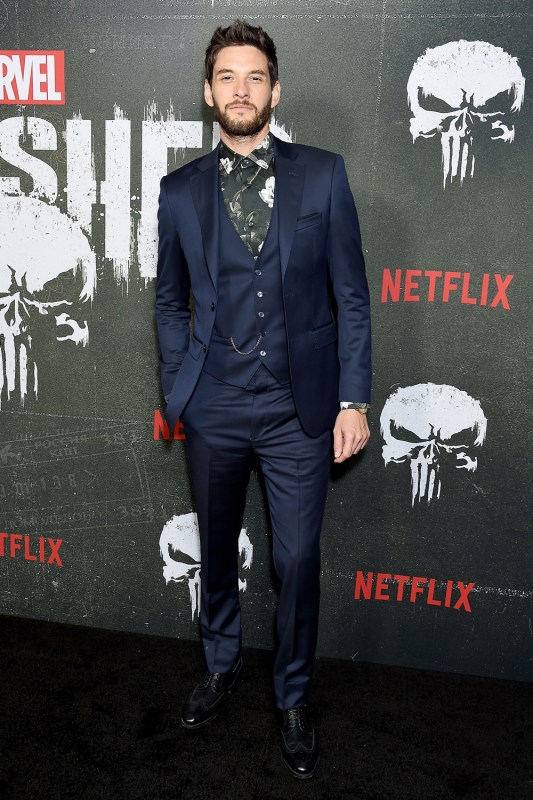 Stephan James
At the Critics Choice awards, James sported an all-time classic look of a short, white blazer with crisp, black trim, a throwback to the jackets worn by British rowing clubs and the American Ivy League. The Canadian actor has established himself as "one to watch" with his recent roles in Homecoming (with Julia Roberts), and the screen adaptation of James Baldwin's If Beale Street Could Talk. Put this jacket on your "must have" list for Spring 2022, and all eyes will be watching you.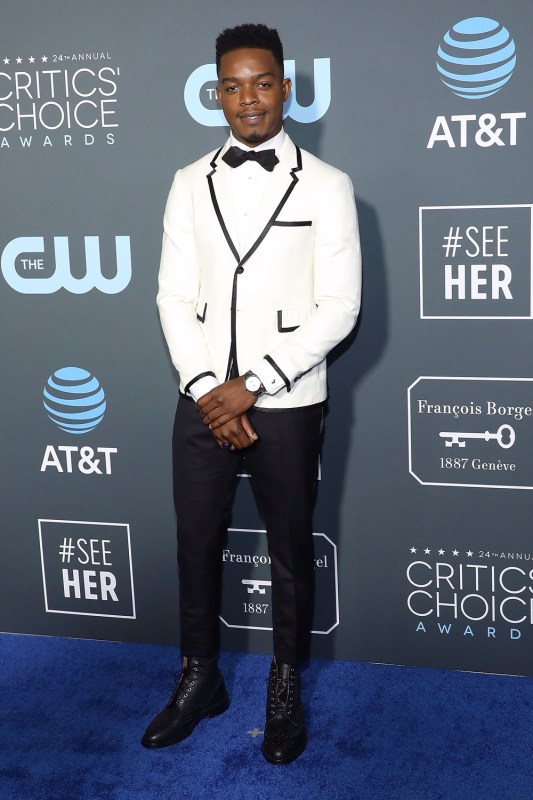 Idris Elba
Elba sported this jade green jacquard, shawl-collared tuxedo jacket at the Golden Globes, while further denying the plausibility of his succeeding Daniel Craig as James Bond in the 007 franchise. We like the formal look in an unexpected—but dignified—color and fabric combo, something you may consider for your next black tie affair…after all, you only live twice.
Henry Golding
As the handsome, and yes, crazy rich, leading man in Crazy Rich Asians, Golding had a serious wardrobe for his jet setting ways (How do you get wine out of a white shirt? Simple: have servants.). Left to his own devices, though, Golding sticks to a classic Hollywood formula of nonchalant glamor, a la Cary Grant or Rock Hudson. Here his gray-on-gray plaid suit is emboldened by the black necktie on black shirt combo. Just say "I do."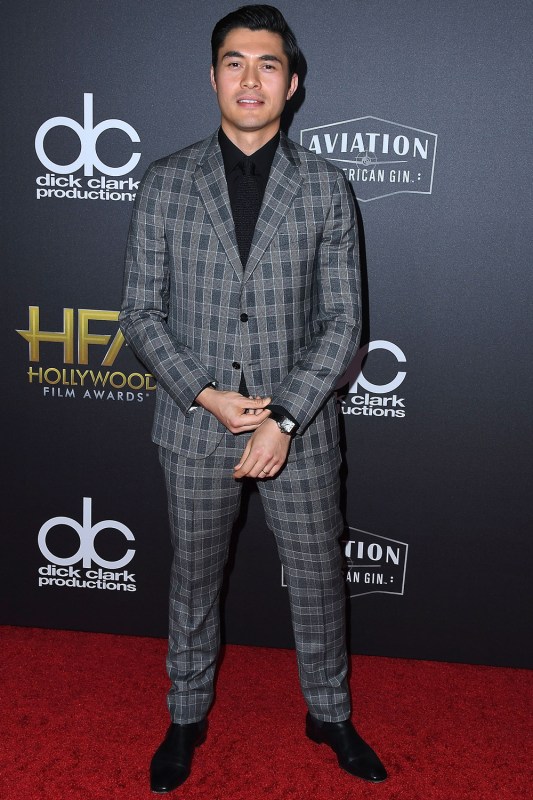 Rami Malek
Although Malek's persona in Mr. Robot basically dons the aforementioned Mr. Zuckerberg's wardrobe, but dyed black; in Bohemian Rhapsody, he soared in Freddie Mercury's signature excess. Now, let's not bring tank tops and sequins into your everyday, just yet. Malek's off-screen style seems always to be polished and sophisticated. Here, at a Japanese press event, he sports a pared-down black-on-black varsity jacket with elegantly cut plaid trousers. Rock this on a night out with the guys and you'll be the champion, my friend.
Dwight Howard
Washington Wizard Howard has demonstrated some Dumbledore-like action in the NBA, and, although he had a lumbar microdiscectomy (trust us…don't ask) late in 2018, he's headed back to the court ASAP. In the meantime, his style game hasn't been challenged one bit. Known to show up in custom-made suits, Atlanta-native Howard is definitely a style-icon, a very tall (6'11") style icon. Here we like the casual look of this "zip-up track jacket meets rip-and repair" denim shirt, paired with khaki trousers for a look that's nothing but net.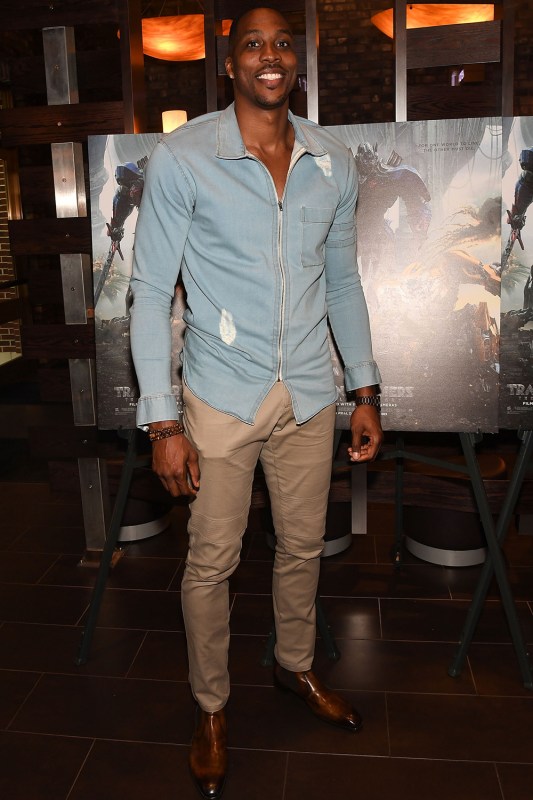 Hasan Minhaj
We'd like him for his hair alone, but actor and writer Minhaj, known for The Daily Show and Netflix's Patriot Act, has proved that his personal style is as nuanced and sophisticated as his comedy. That subtle sage motorcycle jacket is as immediately appealing as your favorite denim jacket, but a hell of a lot cooler. Then the subtle pairing with the neutral crewneck sweater and black jeans? Genius.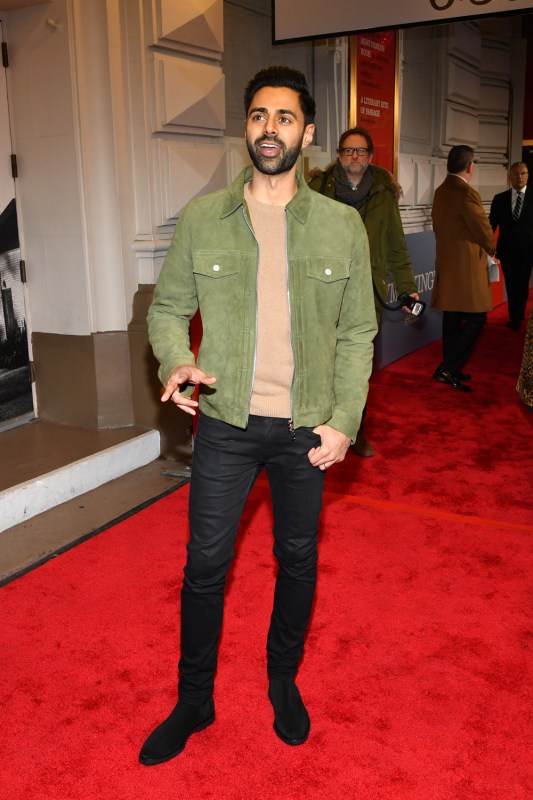 Speaking of over the top, if you're going to do it, do it right. Celebrity chef Samuelsson has made as much of a name for himself with his knock-out restaurants as for his recent PBS travel/culinary show No Passport Required, and for his signature sartorial swagger. Maybe it's the impact of Swedish design (witness Eton, WeSC, Fjällräven), and his Ethiopian heritage, but he always looks great in often mismatched prints and patterns, colorful hats, and vibrant scarves. Here we like the earthy palette of the medallion print shirt with caramel khakis and pop of the logo'd scarf.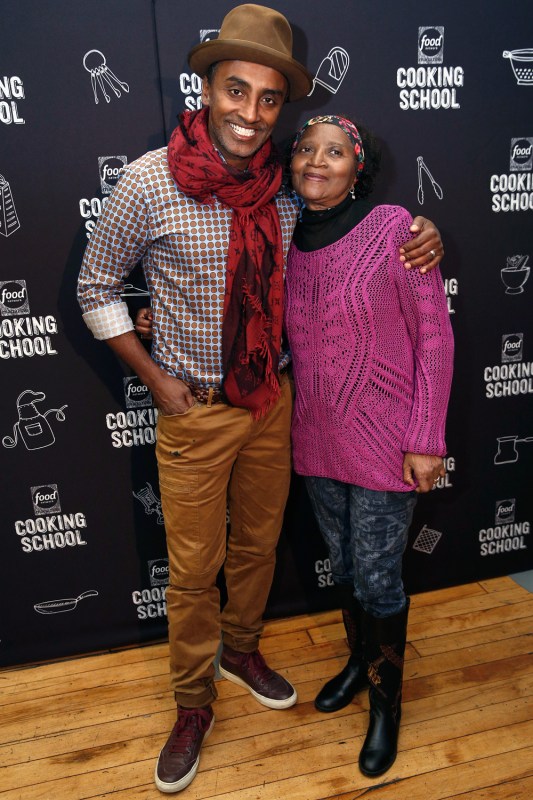 Billy Porter
On the other hand, there's over the top, and then there's category-defying, capital letters OVER-THE-TOP. Porter, known for his portrayal as house ball emcee Pray Tell on FX's Pose, has been known to show up to the red carpet swathed in a floral cape, or pairing a black leather motorcycle jacket with matching swing pants and a portrait hat. We're not saying his look is for everybody…'cause it ain't! But be inspired: this glossy gray tweed suit is a perfect solution to "black-tie alternative" events when worn with a classic white shirt and tie. But throw that on with a simple black-and-white patterned shirt for an expensive date night? Category is: handsome.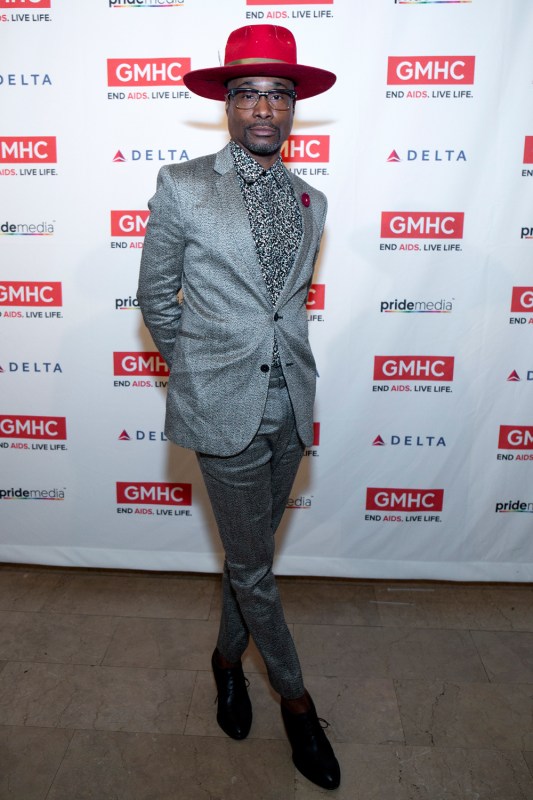 Daniel Norris
See there's style, and then there's style. Daniel Norris is the millionaire MLB pitcher for the Detroit Tigers that…well…lives in a vintage Volkswagen van. With his T-shirt and shorts style—and kind of awesome beard—we'd be tempted to cast him as a part of last summer's "scumbag" style trend, but the poignant photographs and touching stories about homeless people on his Instagram feed bely a truly caring soul. He's also a cancer survivor and an ambassador for sustainable fashion brand Outerknown. Now that's style that we find inspiring.