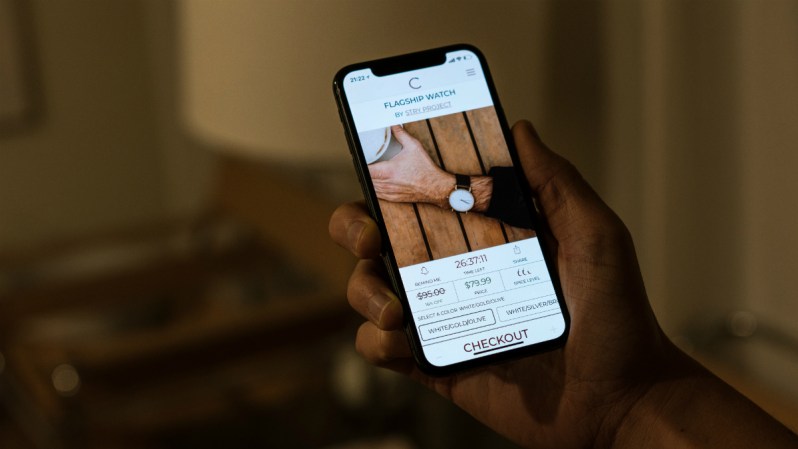 Nothing boosts your confidence like hitting the streets knowing you look fresh as hell. But not everyone has time to hit up a personal stylist or wants to embark on a grueling all-day shopping spree to overhaul their wardrobe. That's what inspired Cayenne Clothing, an app that is built by and for men who want to look put together but don't enjoy shopping.
The concept is insanely simple: the app features a single curated item per day. Just pop open the app, decide whether you want to purchase that day's featured product, and either order it or don't. The most work you'll have to put in is choosing a color and size. Seriously, it's that simple.
And the app's interface is as simple as its concept; you don't need a subscription or password and the only thing you see when you open Cayenne are images of that day's product. Scroll down and you'll find pricing, a brief description, a breakdown of the materials used, size and fit info, and a checkout button. Even the menu is completely minimalist, with only four links: notification settings, opportunities to earn discounts, a feedback form, and a description of their return policy (by the way, you can return most items for free within 30 days if you decide you don't like them once they arrive).
Every item featured on Cayenne Clothing is hand-tested and hand-picked to meet the following criteria: it has to be high enough quality to last a long time, versatile enough to work with your existing wardrobe, made by a hip and reputable brand, reasonably priced, and stylish enough to look fresh, but timeless enough to last several years. Basically, by the time a product shows up in the app, the Cayenne team has already done the grunt work of shopping for you. All you have to do is decide whether to tap that Checkout button.
If you've been looking for a way to build a wardrobe that looks like it took a lot more planning than it actually did, Cayenne just might be your ideal solution. Day by day, you can build up a personal style that's always on-point without having to sacrifice your precious free time to shopping. Then all you have to do is sit back and enjoy the compliments.
Editors' Recommendations