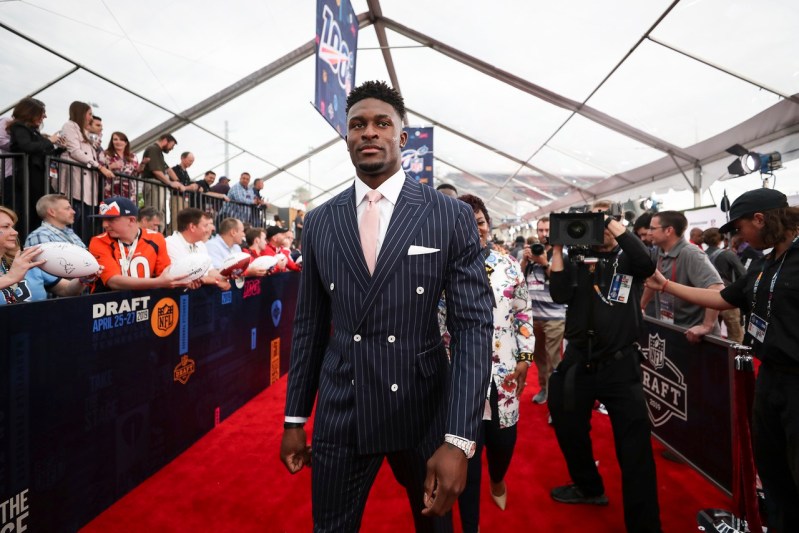 Most athletes today are pretty damn good dressers. Case in point: Dwyane Wade, LeBron James, and James Harden. The 2019 NFL Draft, held in Nashville, Tennessee, is no exception when it comes to finely outfitted athletes. From warm-colored suits to bow-ties, pinstripes, and plaids, these guys know how to work the dandy look on one of the most important days of their lives.
Here are The Manual's picks for best dressed players from the NFl Draft (so far).
The Best Dressed Players of the 2019 NFL Draft
Brian Burns
A single button suit in a plum color, paired with a deep purple tie and offset by a light blue shirt and matching pocket square combine to create a bold, but classically styled outfit for new Carolina Panthers linebacker Brian Burns.
D.K. Metcalf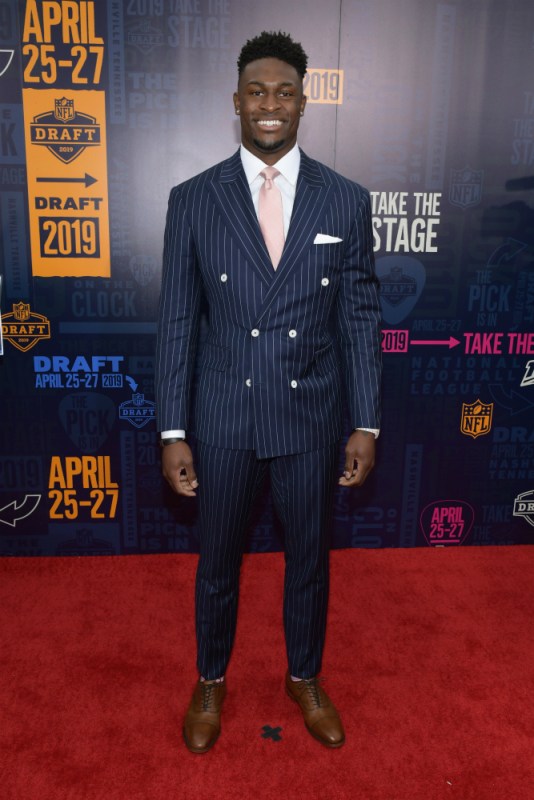 D.K. Metcalf went straight to the navy blue with accenting white pinstripe on a double-breasted suit with white buttons for his NFL Draft red-carpet look. Pairing it with brown shoes and a pale pink tie was a subtle style swerve we commend.
Greedy Williams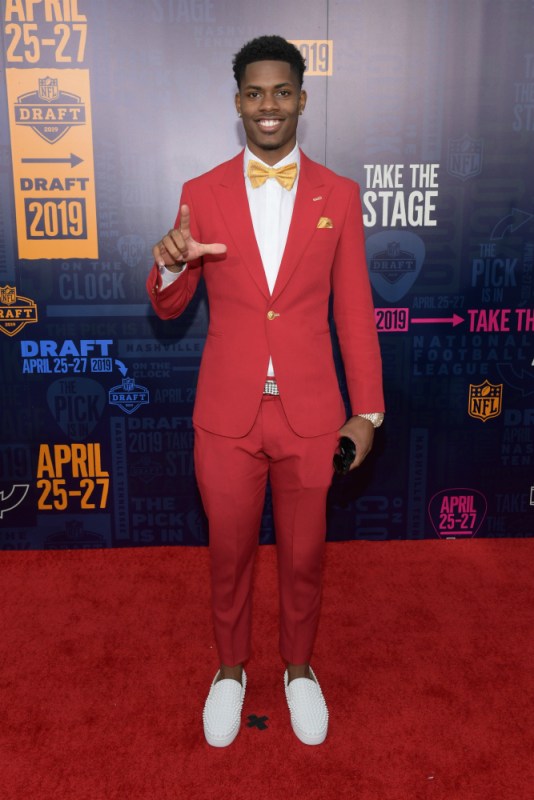 Cornerback Greedy Williams went for a bright red look accented by pure white, thick-soled shoes and matching shirt. Contrasting the bright red, Williams wore a subdued gold bow tie with matching pocket square, and perfectly-sized, large gold watch.
Jonah Williams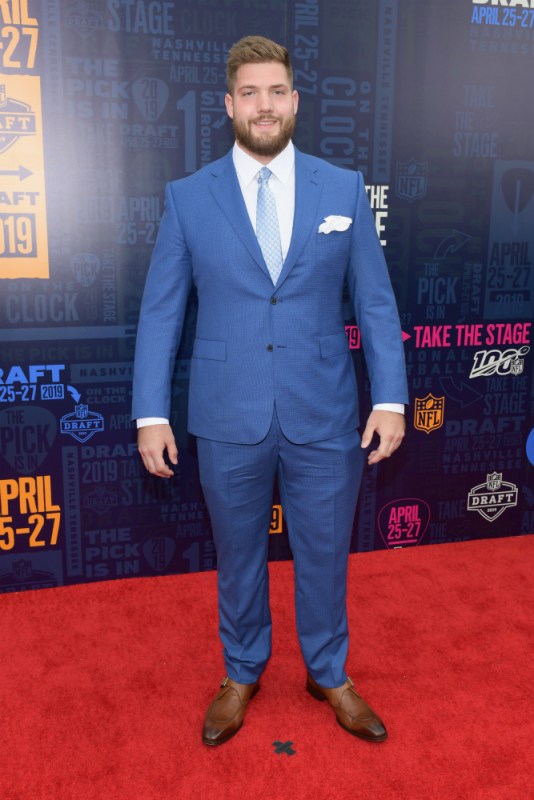 The Cincinnati Bengals' newest offensive tackle, Jonah Williams wore his size well in this dashing blue single-breasted number with brown kicks and pale blue tie.
Kyler Murray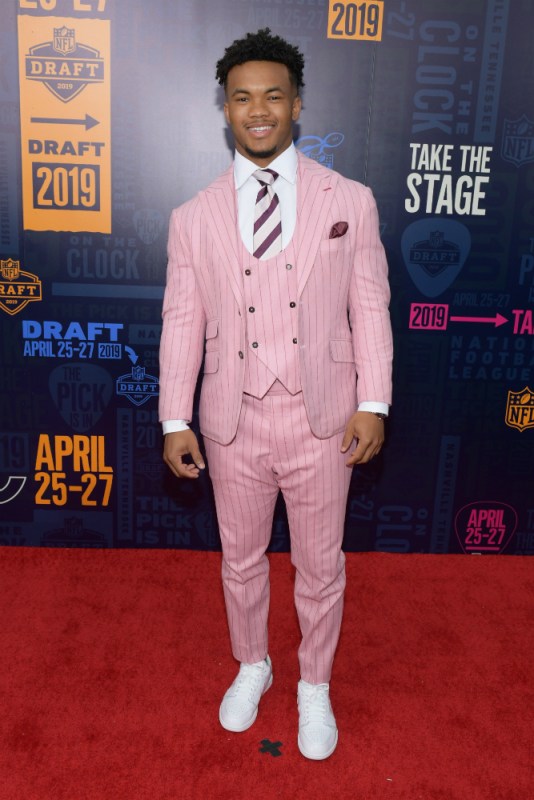 Heisman Trophy-winner and fresh member of the Arizona Cardinals, Kyler Murray walked the Draft red-carpet in a pink pinstriped number and striped tie. Murray proves that with enough confidence, you can wear anything without worry.
Marquise Brown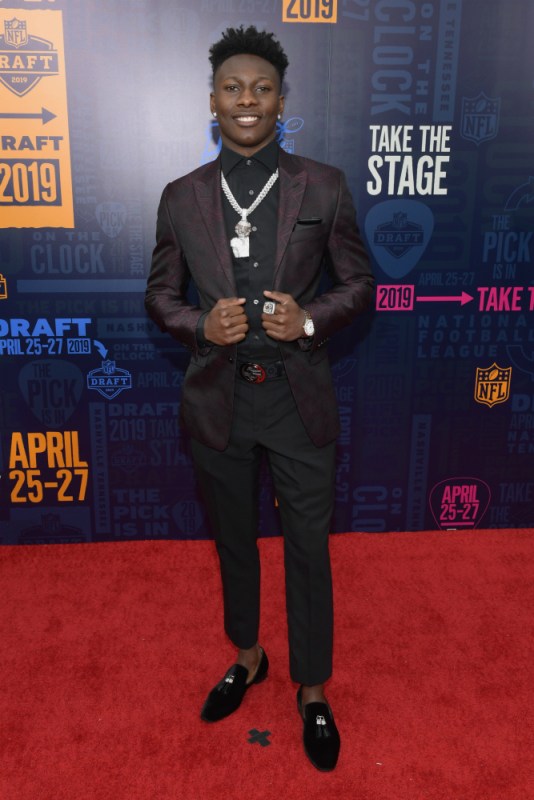 The Baltimore Ravens snatched up Marquise "Hollywood" Brown in the first round of the draft and, if we were drafting only on style stats here, we'd have snapped him up, too. The subdued, tie-less jacket and pants look, paired with velvet loafers and offset by some massive neck and hand bling, is quintessential contemporary footballer chic and we're loving every detail of it.
Noah Fant
The Denver Broncos welcomed Noah Fant to the team as tight end and he walked the red-carpet looking tight himself in this all-gray, lightly patterned number paired with dark loafers and a burgundy bow-tie.
Not Players: Tim McGraw & Nephews
While none of these three will probably ever find themselves playing quarterback on the gridiron, Tim McGraw and his nephews certainly blended in with the NFL draftees with their gray and charcoal suit ensembles, including McGraw's signature cowboy hat.
Looking for more famous men to study their style? Check out 10 high-style famous dudes to inspire your looks in 2019.
Editors' Recommendations