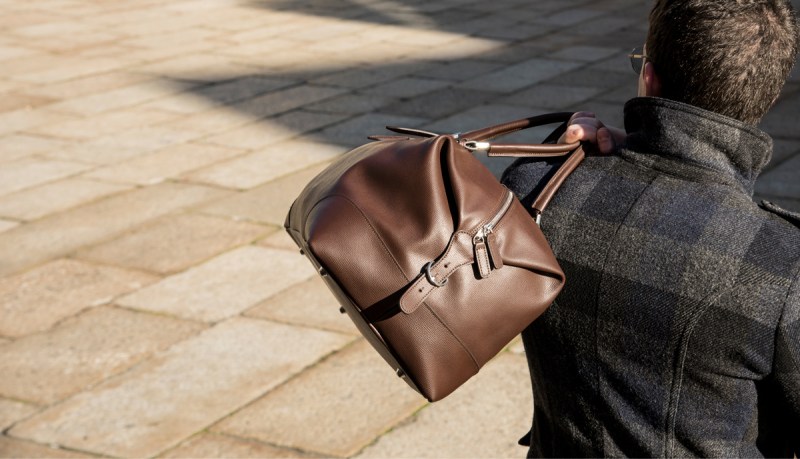 Comprised of a quality that speaks for itself, Italian leather stands head and shoulders above its material competition.
Understanding this for the fact that it is, a new high-quality leather goods company named Aequa (a combination of aesthetics and quality) turned to Italian leather to help launch its new line of customizable goods — with the help of a Kickstarter campaign, as well. Judging by how well it's already done with its run on Kickstarter (over $14,000 raised with 35 days remaining), it appears as though its attention to quality and design is already a massive hit.
While the entire stock of goods oozes with Italian tradition, Aequa's lineup is led by a product simply named the Aequa Bag. A weekender of sorts, the Aequa Bag's unique construction gives it ample storage space which allows for when those weekend getaways turn into full week getaways. Additionally, Aequa finished the bag to make it stain, scratch, and water resistant which further increases its durability and makes it as timeless as its Italian leather exterior.
"Nowadays it is difficult to have complete knowledge and control of where a product you buy comes from and how it is assembled," reads Aequa's Kickstarter page. "Most of the times we are not entirely aware of both the origins of the product and most importantly if it really fits our lifestyle and personal philosophy overall. We keep on buying products that are highly overpriced due to the brand and we end up by not really feeling related to what we have in our hands."
Manufacturing and selling a quality product is important, no doubt, but what sets Aequa apart from the crowd concerns its customization. Backers start by picking the kind of leather finish they prefer in Classic or Tech — while Classic speaks for itself, Tech is a softer, sportier version — then choosing the color of the bag's lining and stitching before adding a personalized monogram. Because of this wide range of available options, Aequa says there exist more than 130,000 variations of its products. In other words, owners may be hard pressed to see another identical Aequa Bag in the wild.
Listed on Kickstarter for just $259, the Aequa Bag's price is yet another incredibly attractive feature. Though the bag figures to increase in price at the conclusion of the campaign, having the ability to buy a quality Italian leather weekender — that's customized, no less — for under $300 is an incredibly rare occurrence.
Editors' Recommendations