Few materials embody the warmth, timelessness, and handsome good looks of leather. There's a reason it's been the go-to choice for outfitting everyone from cowboys to athletes to businessmen for centuries. Filson, one of our favorite outfitters, has been dealing in fine leather goods since the turn of the 19th century. This year, however, the brand has just announced one of its sharpest collections yet.
This month, the Seattle-based outfitter released a limited-edition collection of one-of-a-kind, hand-tooled leather goods. From inside the Filson Workshop, the company's leather experts "specialize in salvaging, restoring, and breathing new life into well-used Filson luggage and bags. They darn, whipstitch, patch, and reinforce worn fabric or replace leather – whatever is required to forge new from old." While the brand is no stranger to leatherwork, this ultra-limited collection takes the craft to a whole new level. By hand-tooling the leather with intricate patterns in the Sheridan style of leatherwork, each bag features a beautiful character and patina.
Filson sourced premium hides from Pennsylvania's Wickett & Craig. The company has specialized in high-quality leather for the better part of two centuries. Its process has changed little in that time, and it still relies on vegetable tanning for every one of its hides. Most leather currently on the market is chrome-tanned with harsh chemicals to aggressively tan in a fraction of the time of Wickett & Craig's more traditional methods. By contrast, the brand's vegetable tanning process takes up to six weeks from start to finish. While it's costlier, labor-intensive, and more time-consuming, it's also more eco-friendly, relying on all-natural ingredients, which are far better for the environment. The finished product is more durable and boasts a unique, lustrous look that gets better with age.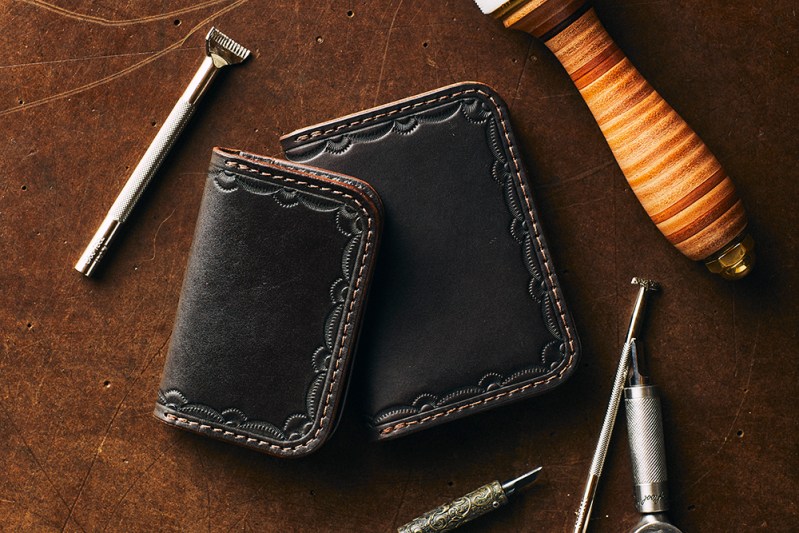 Just seven products comprise this latest Filson collection, although three have already sold out. At $250, the Workshop Hand-Tooled Leather Card Case is currently the most affordable entry into the line. For a larger, more versatile carry solution, the Workshop Leather Possibles Bag is finished in Dark Cedar and priced at $950. Whatever you do, don't call it a murse. Filson swears it's "inspired by bags that historic mountain men used to carry munitions and powder for their muskets." The $1,800 Workshop Hand-Tooled Weatherproof Leather Briefcase looks just as handsome in the boardroom as it does on the back of your two-wheeler. The flagship bag is based on Filson's original Hand-Tooled Weatherproof Leather Briefcase but meticulously detailed with heirloom-quality embellishments.
Filson's hand-tooled leather goods collection is available for a limited time only — basically until they sell out.
Whatever your choice of leather apparel or accessory, be sure to properly care for it with these leather care tips from third-generation Guatemalan artisans.
Editors' Recommendations